This month, renowned poet Lawrence Ferlinghetti, the co-founder of North Beach's City Lights Bookstore, will celebrate his 100th birthday.
To mark the occasion, Mayor London Breed has officially proclaimed the poet's birthday, March 24th, as Lawrence Ferlinghetti Day. But throughout the month of March, North Beach neighbors will be celebrating the milestone, as well as the publication of his new book, Little Boy.
A pre-Beat, bohemian voice, Ferlinghetti helped to spark the city's famed 1950s literary scene. Born in Yonkers, New York, he studied and worked in North Carolina, New York City and Paris before moving to San Francisco in 1950, where he painted, taught French and wrote art criticism before co-founding City Lights with Peter D. Martin in 1953.
His most famous collection of poems, 1958's A Coney Island of the Mind, has sold over a million copies. But Ferlinghetti isn't just a poet: he's also composed theatrical works, art criticism, essays, film narration and translations. 
He's particularly well-known for his efforts as a publisher at City Lights, a project he founded in 1955. City Lights' 1956 release of Allen Ginsberg's controversial Howl and Other Poems led to Ferlinghetti's arrest on obscenity charges, and the subsequent court case drew national attention to issues of free speech.
Ferlinghetti was eventually acquitted, but the controversy put the bookstore, and the San Francisco literary scene, on the map.
The biggest of the Ferlinghetti celebrations will be held on the poet's birthday, with City Lights hosting a party and events throughout the afternoon at neighboring North Beach venues Canessa Gallery (798 Montgomery St.), Café Zoetrope (916 Kearny St.), and Vesuvio (255 Columbus Ave.).
While Ferlinghetti won't be at the bookstore on the 24th, dozens of poets plan to read his work throughout the day and say a word or two about what he means to them.
"The main thrust of the tribute is Lawrence and his poetry and people wanting to read it," said City Lights editor Garrett Caples, who's been Ferlinghetti's assistant since 2006. "It's the poetry world giving back to him."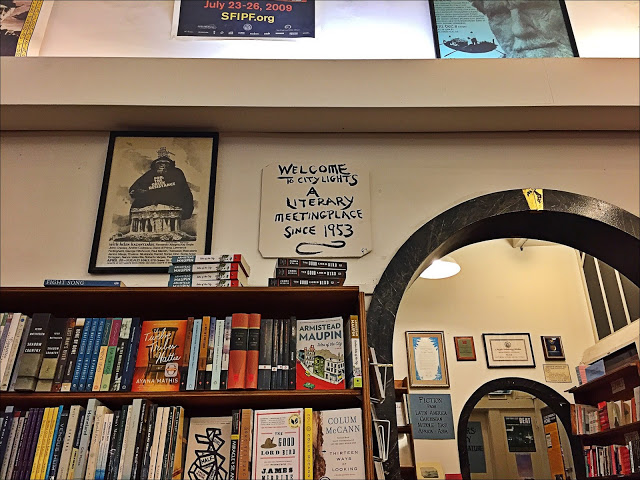 Three days before the centenary event, City Lights will also host a celebration of Little Boy. Ferlinghetti's new novel is a fictionalized portrayal of the author as a child and his experiences in foster care in the Bronx, as well as serving in the military in World War II and studying at the Sorbonne in Paris.
Caples says that Little Boy is a "poet's novel; not a conventional one," comparing it to James Joyce's A Portrait of the Artist as a Young Man.
"It's a stream-of-consciousness novel," he said. "Joyce is a big inspiration, and so is Beckett, to a degree."
The book shows Ferlinghetti filtering through his own experiences as he wrestles with the cosmic questions facing a 100-year-old man, such as "What is life all about?"
"It's really an existential query," said Caples, who adds that Ferlinghetti has been working on the book for close to a dozen years. It was mostly written by hand, due to his dwindling eyesight, but otherwise he is "doing quite well."
"The vision problem restricts his activities, but he's still got a fairly active social and professional life," Caples said. "He has slowed down in ways he not accustomed to, because he's always been a vigorous, active man, but he's still healthy. You'd never know he's his age if you saw him."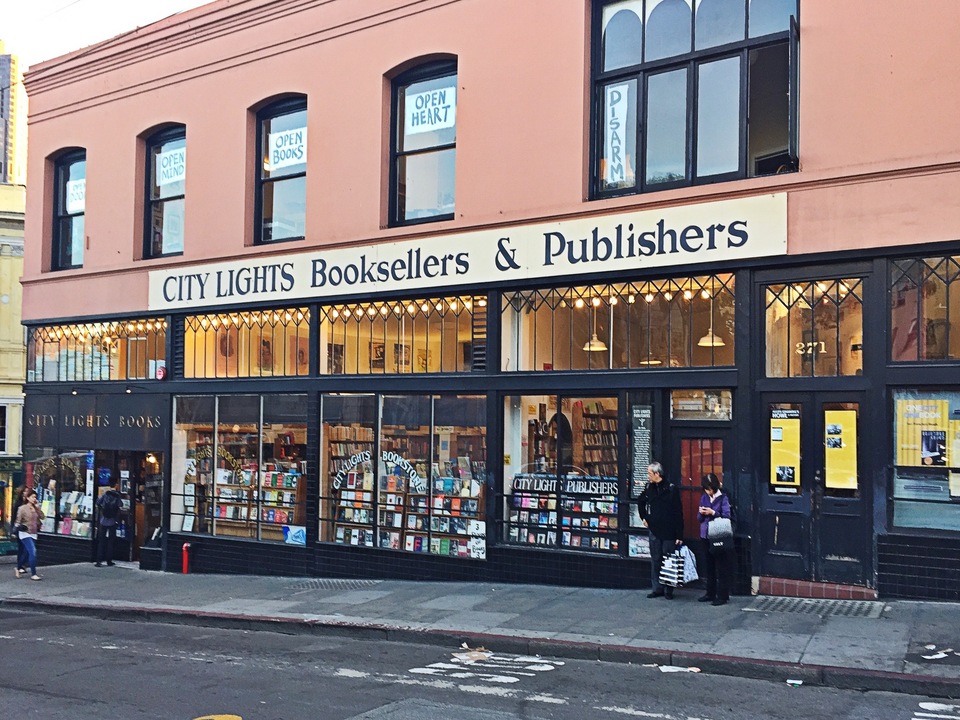 Here are all the events celebrating Ferlinghetti's 100th birthday in San Francisco this month:
March 2nd - April 27th: The Rena Bransten Gallery (1275 Minnesota St.) will present "Lawrence Ferlinghetti: 100 Years Without a Net," a show of his paintings and other small works on paper. The gallery is open Tuesday-Saturday from 11 a.m.-5 p.m. 
March 6th, 13th, 20th and 27th: "Ferlinghetti in Photographs," an exhibit of photos of Ferlinghetti at all stages of his life, will be on view at the Canessa Gallery (708 Montgomery St.) every Wednesday in March from noon to 3 p.m. 
Sunday March 17th, 1 p.m.: The San Francisco Public Library will celebrate Ferlinghetti in a free event at the Main Library's Koret Auditorium (100 Larkin St.) Jack Hirschman, Aggie Falk, Kim Shuck, Linda Noel, Dean Rader, devorah major, Alejandro Murgia, Ginny Lim, and Janice Mirikitani will read Ferlinghetti poems and sharing stories, with Neeli Cherkovski emceeing.
Thursday, March 21st, 7 p.m.: City Lights Books (261 Columbus Ave.) will host a free release party for Little Boy, featuring Armistead Maupin, Joyce Carol Oates, Julien Poirier, Maxine Hong Kingston, Andrew Sean Greer, Shobha Rao, and Michael Krasny.
Saturday, March 23rd, 1:30 p.m. Chris Felver will screen his 2009 documentary "Ferlinghetti" at the Roxie Theater (3117 16th St.) Before the screening, Felver will appear in conversation with Peter Maravelis of City Lights. Tickets are $13 for general admission and $9 for seniors. 
Sunday, March 24th, 1-5 p.m.: On Ferlinghetti's official birthday, City Lights will open its doors for a free public birthday party with concurrent programming throughout the afternoon at three other North Beach venues: Canessa Gallery (708 Montgomery St.), Café Zoetrope (916 Kearny St.) and Vesuvio (255 Columbus Ave.) Expect a lineup poets, writers, and friends reading Ferlinghetti's work and much more.
Tuesday, March 26th, 7 p.m.: City Lights will host a free book release event for Ronald Collins and David Skover's The People v. Ferlinghetti: The Fight to Publish Allen Ginsberg's Howl. The authors, both law professors, will discuss the case and its impact on free speech in America.