For more than two years, 1028 Market St. was home to The Hall, a temporary 10,000-square-foot community market that featured a variety of local food vendors, as well as a bar.
But after The Hall closed in October 2017 to make way for a 13-story, 193-unit residential development, workers near Sixth & Market were left with few lunch options. The impact was particularly notable at Zendesk, whose headquarters are located right across the street, and whose employees frequently patronized The Hall at lunchtime. 
After The Hall shut down, Zendesk employees started ordering lunch in instead of getting out of the office, which wasn't good for morale or the neighborhood, said Tiffany Apczynski, the company's vice president of public policy and social impact. So she reached out to the Mayor's Office of Workforce and Economic Development (OEWD) to discuss a potential replacement.
Together, Zendesk and OEWD hit on a solution: bringing two food trucks to the neighborhood, which will park outside the vacant building at 1028 Market at lunchtime each Wednesday through Friday.
The trucks' stint at the address began last week; they're open to all members of the public, not just Zendesk employees.
To select the featured trucks, Zendesk and OEWD teamed up with La Cocina, the local incubator that helps women and immigrants start their own food businesses.
La Cocina vendors had figured prominently at The Hall, and the organization is currently working on opening a food hall of its own in the Tenderloin. That made them natural partners in the new venture, Apczynski said.
One of the two new trucks, Mi Morena, will be a permanent fixture from Wednesday through Friday, offering tacos from La Cocina chef Lupe Morena, who lives in the Tenderloin.
The second truck will rotate. German food vendor Little Red Riding Truck will appear on Wednesdays, pupuseria D'Maize will be on-site each Thursday, and Hiyaaa! will serve Korean food on Fridays. The latter two vendors are also La Cocina affiliates.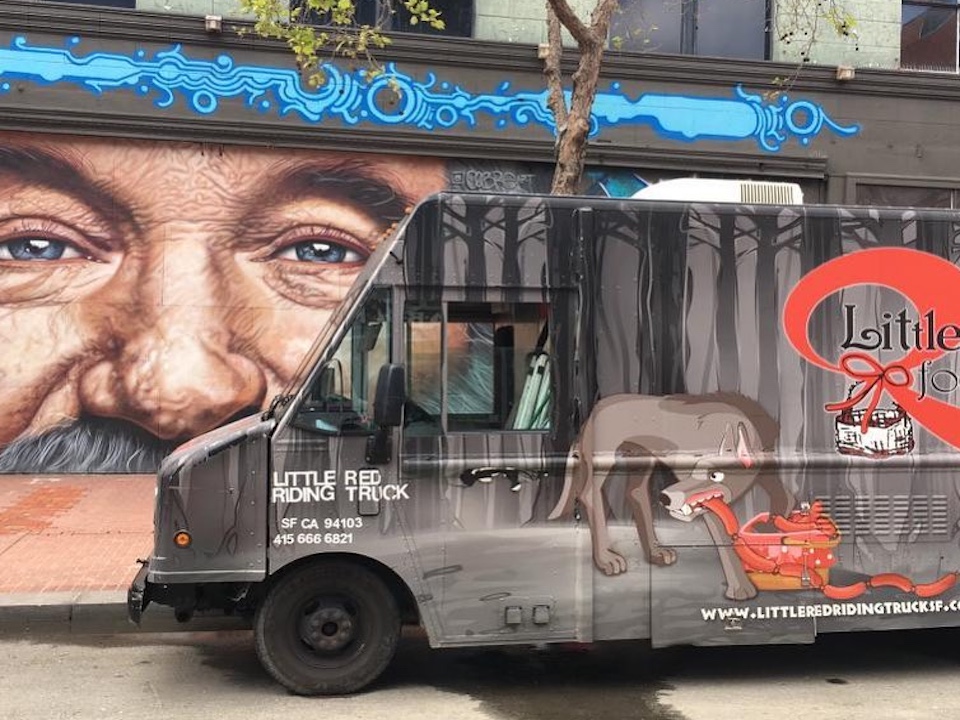 Zendesk has also partnered with another nonprofit, Urban Alchemy (formerly known as Hunters Point Family), to provide stewardship to the site while the food trucks are operating. 
Urban Alchemy, which has previously provided stewards for a number of art installations and public space activations in Civic Center, will help with the set-up, breakdown, and cleanup of the site. It recently relocated its headquarters to Sixth and Market, so the location is ideal, Apczynski said.
To accommodate the crowds, Zendesk is borrowing a set of collapsible tables and chairs from the Tenderloin Community Benefit District, and will be storing them in one of its nearby properties when they're not in use. 
The need to re-activate the space around The Hall has raised questions in the neighborhood over whether the developers of the mixed-use project, Tidewater Capital and War Horse, shuttered the temporary food hall too soon.
After The Hall closed in October 2017, it was only supposed to sit vacant for a few months, with demolition set for early 2018. The developers even leased the building to a studio that let paying customers tag it with graffiti, under the assumption that it would soon be destroyed.
Craig Young, managing principal with Tidewater, declined to comment on why the building is still standing, more than a year after it was set to be demolished. "[The development] is progressing, and we hope to break ground as soon as possible," he said.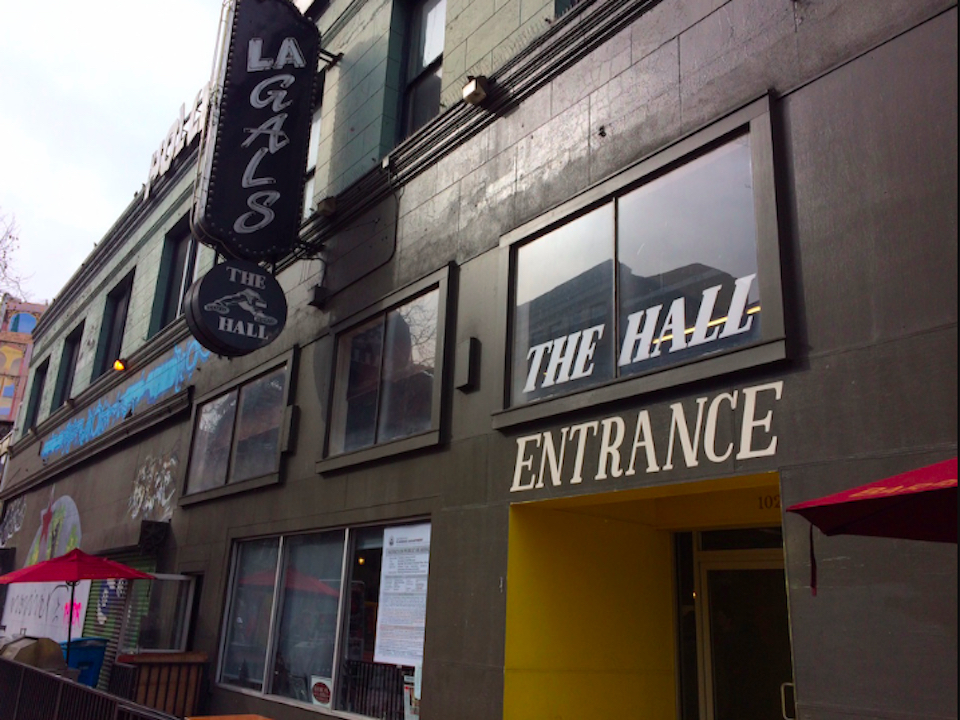 But it appears any demolition efforts are still months away. According to Zendesk's Apczynski, the food truck partnership with La Cocina is currently slated to last three months, with potential to extend the pilot to six months if the participating businesses are successful. 
"Our primary concern is that the vendors find it profitable to be there," Apczynski said.
Joaquin Torres, the director of OEWD, noted two key upsides of the development's delay: jobs for more Urban Alchemy stewards, many of whom are formerly incarcerated, and the opportunity for La Cocina's entrepreneurs to test out their business models. 
"Activation has always been part of our strategy for Market Street, and remains a priority for the Mayor's Office," he said.
---
The food trucks at 1028 Market St. will be open between 11 a.m. and 3 p.m. each Wednesday, Thursday, and Friday.