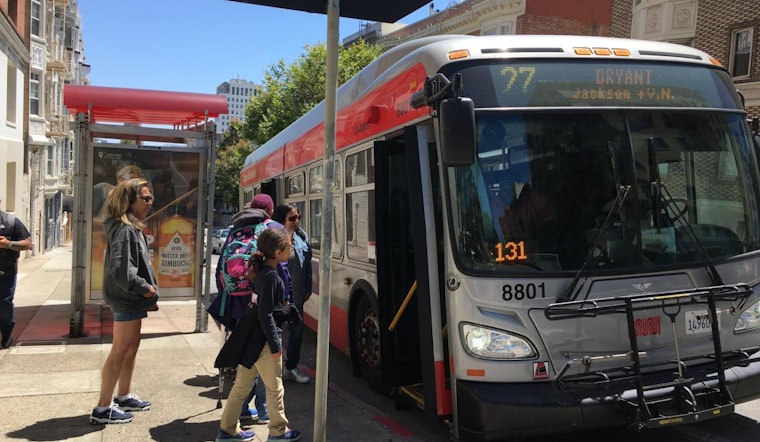 Published on April 17, 2019
27-Bryant bus riders may soon see changes on their daily commute. The San Francisco Municipal Transportation Agency (SFMTA) announced Thursday that it's proposing the removal of several stops on the route, "to improve reliability and reduce delays."
The proposal calls for nine bus stops to be removed in the Tenderloin and Nob Hill area, where the 27-Bryant currently pauses on almost every block. The bus would also be rerouted from O'Farrell Street to Eddy Street, reducing the number of turns that southbound buses have to make as they approach Market Street.
The proposed stops for removal are Mason Street at Ellis and O'Farrell streets, Bush and Jones streets, Leavenworth and Washington streets, Larkin and Jackson streets, Van Ness Avenue at Jackson and Washington streets, Washington and Hyde streets, and Hyde and Sacramento streets.
Muni believes the removals won't have a significant impact, noting that the line will still utilize 75% of its current stops. It also plans to add two stops on Jones Street, at O'Farrell and Eddy streets, and to move the stop at Polk and Jackson streets from the northeast corner of the intersection to the northwest one.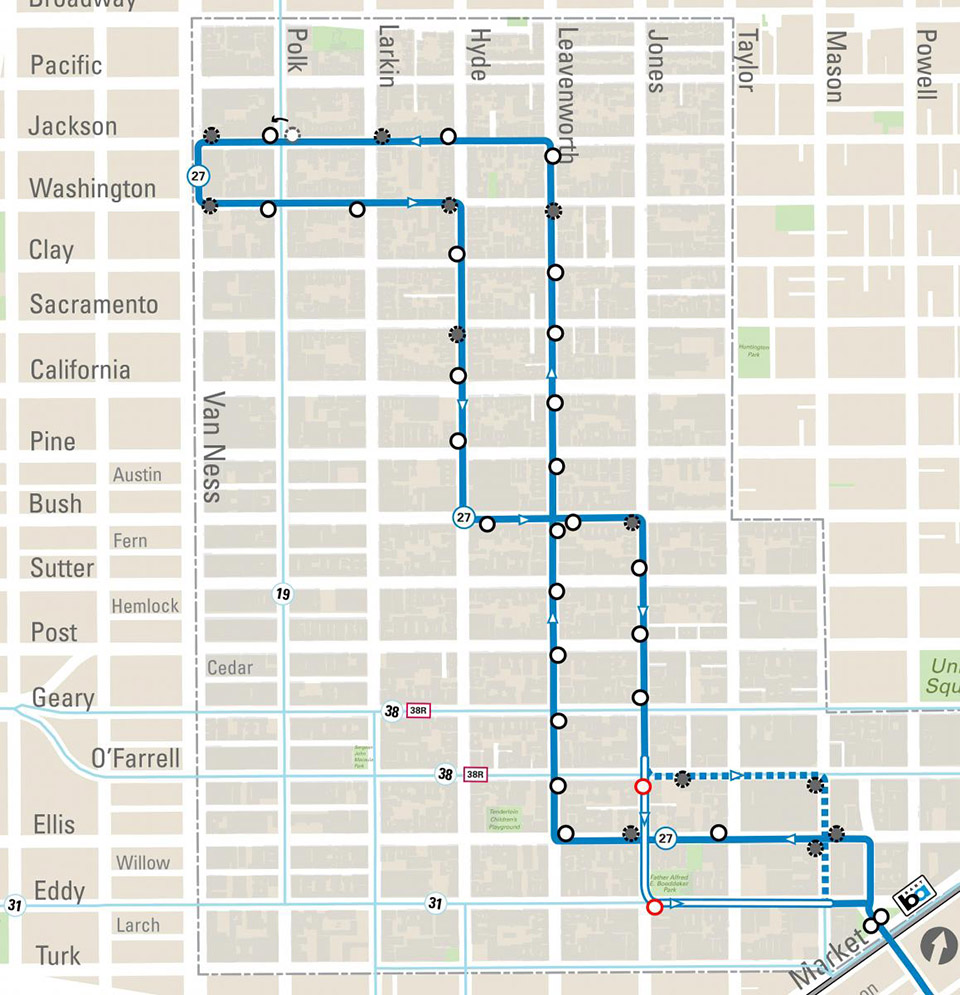 The changes are part of the 27-Bryant Transit Reliability Project, which aims to reduce the high level of delays on the bus line north of Market Street, where the 27-Bryant sees its slowest travel times. According to the SFMTA, approximately 6,700 riders take the line each weekday.
The project also addresses pedestrian safety, with proposed pedestrian bulb-outs to shorten street crossing distances, signal and crosswalk upgrades, and transit bulb-outs to widen sidewalks at bus stops. A large portion of the 27-Bryant's route through the Tenderloin and Nob Hill takes place on high-injury corridors, where pedestrians and cyclists are more likely to be struck by motorists.
Muni says it drafted its proposal with input from 500 Muni riders and 80 merchants in the Tenderloin, Nob Hill, SoMa and the Mission, which it began collecting last spring.
A common piece of feedback that the agency received was the "often the buses get so backed up that several come right after one another." But while some riders encouraged the agency to cut down on the number of stops, others have expressed concern that the proposed changes would hurt seniors and people with disabilities. 
Those interested in receiving digital updates on the changes can sign up for project alerts.