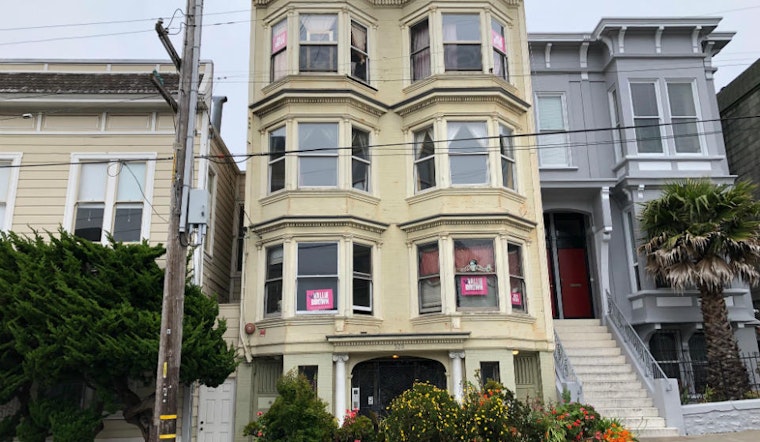 Published on June 17, 2019
At the end of May, the city announced the fruits of a months-long effort to save a building full of longtime Upper Haight residents from eviction.
The seven-unit apartment building at 520 Shrader Street (at Page) has been acquired by the San Francisco Housing Development Corporation, with help by the Mission Economic Development Agency (MEDA) and loans provided through the city's Small Sites Program and the Housing Accelerator Fund. Now, the building will be converted into permanent affordable housing stock, held by SFHDC.
The turmoil at 520 Shrader began in 2017, when tenants were notified of a forthcoming Ellis Act eviction as the building went up for sale on the private market. But three tenants — Jude Stalker, Joe Palmer, and Alexandra Kulton — weathered the eviction scare and fought to remain in the building.
Now, 520 Shrader will offer seven affordable units in perpetuity: three for tenants at the "very low-income" level and four for those deemed "moderately low-income." The four unoccupied units will become available later this year.
The Small Sites Program is part of a growing array of legal tools the city has recently put in place to acquire small-to-midsize multifamily buildings. It allows nonprofits to compete against private property owners and developers when buildings come up for sale, with the aim of converting th into permanently affordable housing stock owned by those nonprofits.
Despite their having secured about half of the small sites locations in the city so far, 520 Shrader is SFHDC's and MEDA's first small sites property in District 5, said MEDA communications director Christopher Gil. They've also secured $550,000 for safety upgrades, renovations and cosmetic repairs to the building. 
Starting this year, the Small Sites Program will be bolstered by the newly passed Community Opportunity to Purchase Act (COPA), which gives nonprofits first crack at making purchase offers on any buildings with three or more units, in order to convert them to affordable housing. 
Those facing eviction and looking for an agency to intercede in purchasing their building should approach their district supervisor and the Housing Rights Committee or San Francisco Community Land Trust, both of which have helped engineer purchases with nonprofits.