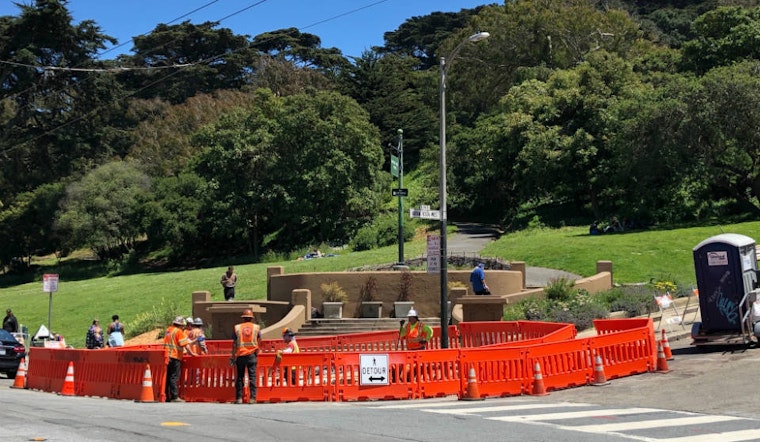 Published on June 11, 2019
Last week, construction crews kicked off the second phase of the Upper Haight transit improvement and pedestrian realm project, the top-to-bottom upgrade of the Upper Haight's streetscape, plantings, signage, underground utilities and traffic signals.
Phase II will be a block-by-block overhaul of upper Haight Street's sidewalks, curbs, ramps, lighting, and plants, kicking off on Haight between Central and Masonic. Masonic is also the last stop for the below-ground work of Phase I, which should conclude shortly, according to SF Public Works.
To kick off Phase II, contractors are currently working on installing catch basins and curb ramps, Public Works says. They'll begin removing street trees in a week or two, and from there, it's on to installing broader bus aprons and sidewalk bulb-outs.
During that time, surface traffic and street parking will be affected, with intermittent closures, bus reroutes, and parking bans.
To help offset the impact of street closures on local businesses, the city has reopened the McDonald's parking lot at 730 Stanyan St. for the duration of the summer, with free, secure three-hour parking during business hours.
Timing for the project is dependent on weather and other unforeseen obstacles, but the minimum amount of time budgeted by Public Works is a year and a half. Depending on how fast the block-by-block work goes, a final wrap-up for the project is set for somewhere between fall 2020 and spring 2021.