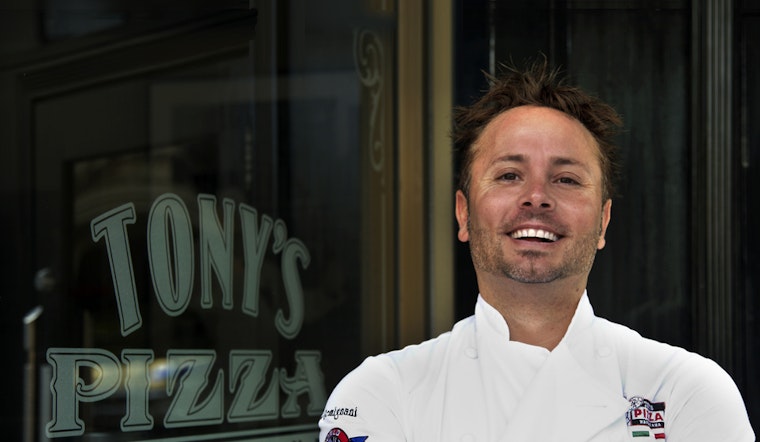 Published on August 06, 2019
Tony's Pizza Napoletana has hit a milestone this year — the popular pizzeria (1570 Stockton St., at Union) is celebrating 10 years of business in North Beach.
The restaurant was chef Tony Gemignani's first business venture. A 13-time world pizza champion, he now owns 21 concepts in Northern California and Las Vegas, including four other businesses in North Beach: Capo's, Giovanni's, Slice House and the International School of Pizza in San Francisco, where he certifies chefs from all over he world.
Named an official U.S. Ambassador of Neapolitan Pizza by the city of Naples, Gemignani has also appeared on the "Today" show and the Food Network and authored multiple books.
The idea for Tony's came about more than a decade ago, when Gemignani was running Castro Valley pizzeria Pyzano's with his brother. He developed a new restaurant concept around pizzas made in a wood-burning oven — but Castro Valley wouldn't allow them, so he had to look elsewhere.
During that time, the San Francisco Chronicle published a front-page article about Gemignani. In the wake of the added publicity, Grace Ann Walden, the founding writer of the Chronicle's Inside Scoop food column, suggested the space at 1570 Stockton.
Everyone in the neighborhood warned him against it, saying that that it was a "jinxed space," he said. "It was considered one of the the worst corners in North Beach, and in the city."
While Gemignani's aim for Tony's was to offer several different pizza styles, many neighbors suggested he focus on just one. Others thought that North Beach was already too saturated with pizza places.
In the wake of the Great Recession, "the economy took a dump," and North Beach was full of vacant storefronts. His wife, he said, was the only person who had his back.
"It was a little scary, because you have this big dream and you're really excited, but nobody really supported you," he said.
Despite the setbacks, Tony's has thrived over the years. Today, it draws a near-constant line out the door.
The most popular menu items are the Neapolitan-style margherita pizza and the coal-fired "New Yorker" pie. The Detroit-style pizza is another top seller; Gemignani was the first in San Francisco to serve it, and it's now become a trend on the local restaurant scene.
But as Tony's celebrates a successful decade in North Beach, Gemignani is once again surrounded by business closures and vacancies.
"It's scary [and] it's tough," he said. "Landlords are charging all these independent guys way too much. The park closure, the [2018 North Beach] fire didn't help, a lot of writers writing about North Beach in a negative way; it's been sad to read that."
Gemignani said that the city could help North Beach become a vital neighborhood again by closing some loopholes to make it easier for business owners to get started.
"Building a restaurant or a business in general needs to be more streamlined," he said.
He expressed concern about landlords who won't rent their spaces, a problem that's vexed the neighborhood in recent years. "I don't get landlords that want to raise the rent or keep these buildings vacant for years, where they could have had a tenant for just a couple of thousand dollars less a month. I don't get it. I guess it's just tax write-offs, but it's just odd."
But Gemignani also stressed his adoration for North Beach, which he deems "a city within a city." It's where he opened his first solo business, got married and developed a close connection to his neighbors.
"We want more businesses here," he said. "It's important to me."