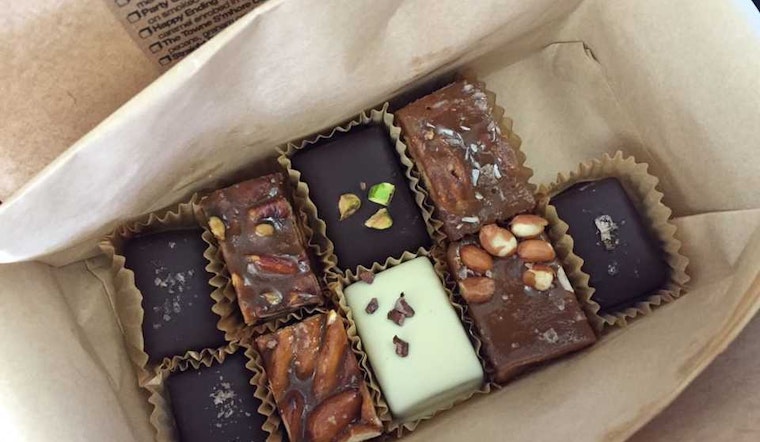 Published on October 14, 2019
Here's the latest in SF food news: A cafe serving sweet and savory treats announces its closure on Facebook, a Burmese restaurant opens in Noe Valley and a pizza/donut shop opens in Mid-Market.
Tenderloin
Hooker's Sweet Treats (442 Hyde St.)
After nine years of business at 442 Hyde Street, Hooker's Sweet Treats will close its doors.
According to Eater SF, Owner David Williams said "the ongoing problems in the neighborhood" and "staffing issues" are just a few of the reasons behind the upcoming closure.
The business began with one salted caramel candy but expanded over the years to offer bread pudding, cookies, scones, savory brunch items, and more.
When we spoke to Williams four years ago, he said that opening the business in the Tenderloin was never the master plan.
"It was the cheapest neighborhood to set up shop," he said, adding that there weren't a lot of decent cafes in the neighborhood.
On Facebook, Williams said people have shown interest in purchasing the business, and he encourages them to reach out to him for details. 
He also said the business will be open through October and possibly to the end of the year. You can follow them on Facebook for updates.
Openings
Noe Valley
Inle Burmese Cuisine (1298 Church St.)
Inle Burmese Cuisine is now open in Noe Valley. The new restaurant is housed in the former leCupboard Cafe spot at 1298 Church St.
Some menu items include starters such as the tea leaf salad, noodle dishes such as coconut noodle soup, and rice places such as beef curry and caramelized pork belly.
Follow the new eatery on Facebook for updates.
Mid-Market
Dough (1455 Market St.)
A new donut/pizza shop, Dough, recently debuted at 1455 Market St.
The eatery serves pizzas such as the Paul Revere (Italian sausage, pepperoni, ham, meatball, and parmesan), a variety of donuts from glazed to blueberry to ube, as well as a selection of beer (Fieldwork Brewing), wine, coffee and tea drinks. Gluten-free menu items are available.
If you've seen something new (or closing) in the neighborhood, text your tips and photos to (415) 200-3233, or email [email protected]. If we use your info in a story, we'll give you credit.