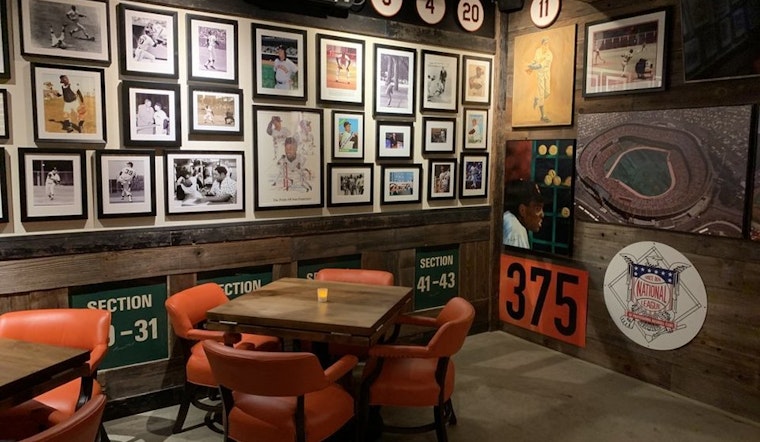 Published on October 31, 2019
Here's the latest in SF food news. In this edition, a baseball-themed sportsbar to close in SoMa, a popular eatery plans to open a new location in Cole Valley sometime this month after a few delays, and a pizza place is temporarily shut down by the health department in Noe Valley.
Closing
SoMa
Pine Tar Grill (917 Folsom St.)
Tipster Josh alerted us that Pine Tar Grill will soon shutter. Its last day of business will be October 31st.
The bar opened in May 2018 as an homage to the San Francisco Giants, featuring memorabilia such as baseball bats and jerseys. 
General Manager Robert Del Real confirmed the closure via email indicating that it is due to "multiple reasons, but mainly has to do with the location."
Updates
Cole Valley
Beit Rima (86 Carl St.)
As announced in July, Beit Rima plans to open an outpost at 86 Carl St. in Cole Valley. At the time of the announcement, the projected debut for the eatery was September.
Since it is not yet open, readers have reached out to us inquiring about the delay. We reached out to owner Samir Mogannam this morning and he said he is shooting for an opening date of November 17th.
Eater SF recently reported that Beit Rima will also open an outpost in Daly City early next year.
Noe Valley
Patxi's Pizza (4042 24th St.)
Tipsters Ruth B. and Gina alerted us that Patxi's Pizza in Noe Valley (4042 24th St.) temporarily closed early this week because of a failed health inspection.
A representative from the Department of Public Health confirmed the closure, stating that the "health permit to operate was suspended due to rodent activity and unsanitary conditions."
We reached out to Patxi's at that location but were unable to speak to anyone about the DPH closure. We will provide updates when we have them.
Thanks to tipsters Josh, Gina and Ruth B. If you've seen something new (or closing) in the neighborhood, text your tips and photos to (415) 200-3233, or email [email protected]. If we use your info in a story, we'll give you credit.