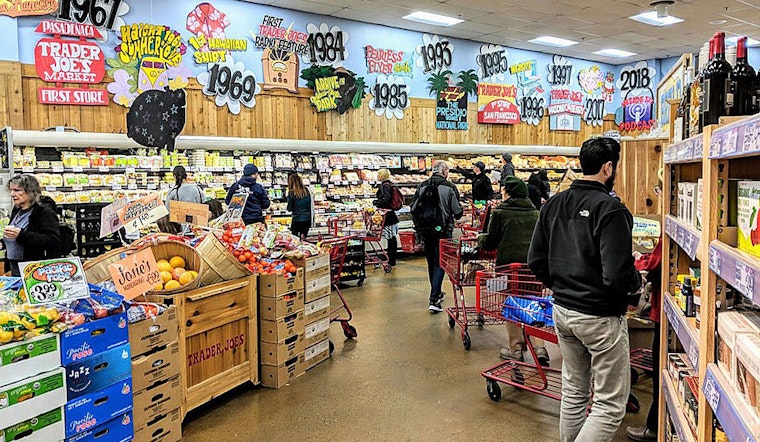 Published on October 10, 2019
Hayes Valley and Western Addition residents have long sought a full-service grocery store, only to have their hopes dashed last year when Portland-based New Seasons Market pulled out of a planned location in the base of a new condo building at 555 Fulton St. (at Laguna).
But now, the neighborhood might be getting a second chance: national chain Trader Joe's, known for its quirky selection of affordable fresh and packaged foods, has expressed an interest in taking over the space. 
The Chronicle first broke the news of Trader Joe's interest in a Hayes Valley location, and on Wednesday night, District 5 Supervisor Vallie Brown hosted a community meeting about the project, which drew approximately 60 area residents  to the African American Art & Culture Complex.
According to speakers at the meeting, Trader Joe's could open as soon as 19 months from now — welcome news for residents of Hayes Valley, Civic Center, the Western Addition and the Tenderloin, who are "in a grocery desert," as one community member who spoke at the meeting put it. 
But Trader Joe's will face a notable hurdle: Hayes Valley's formula retail ban, which bars businesses with 11 or more worldwide locations from opening in the neighborhood without special dispensation from the Board of Supervisors. (If opened, the new store would be San Francisco's seventh Trader Joe's.)
The store will present to the Planning Commission next Thursday, October 17, and appear before the Land Use Commission on October 21. From there, the Supervisors will need to weigh in.
Should Trader Joe's get the go-ahead from the city, store representatives say they'll need 18 months or more to get things ready, with a likely opening in mid-2021. 
Many of the concerns shared by residents at last night's meeting revolved around parking and traffic — issues that are all too familiar to those who've visited the crowded lot at the Trader Joe's on Masonic Avenue. 
The proposed Fulton Street location would offer 70 spaces in the building's garage, and Supervisor Brown said that she wants "tight traffic enforcement" to prevent congestion, along with efforts to encourage residents to walk, bike or take transit to the store instead.
"You can't have a queue [of cars] here," she said, noting the risk for blockage of the Fulton Street bike lane. 
Meeting attendees were divided on the parking situation. Some expressed concern that 70 parking spaces was too generous, encouraging more drivers in an already car-heavy neighborhood. Others feared they wouldn't be sufficient to accommodate hundreds of potential shoppers at the same time.
Hours for the store are still in the works, but could be either from 9 a.m. to 9 p.m. or from 8 a.m. to 9 p.m., according to a representative.
Given that it's known for its low prices, Trader Joe's didn't draw the same kind of affordability concerns from residents as New Seasons, which stocks both mass brands and pricier organic items. 
Nonetheless, Supervisor Brown reiterated that the new tenant "needs to be an affordable grocery store."
Hiring from within the community was also a topic of discussion. Trader Joe's is known for its generous employee benefits, including health insurance, a retirement plan and paid time off. This April, Forbes magazine named it "America's Best Employer" among businesses with 1,000 or more employees.
Trader Joe's representatives said that they will have to hire at least 100 people to get the store open, and expressed interest in employing transitional-age youth aged between 18 and 26, as well as seniors from the neighborhood. Other community members who spoke at the meeting expressed hopes that local farmers and farmers of color will be supported by Trader Joe's.
---
Feedback or questions about the proposed Trader Joe's can be sent to [email protected] or directly to Supervisor Brown's office.