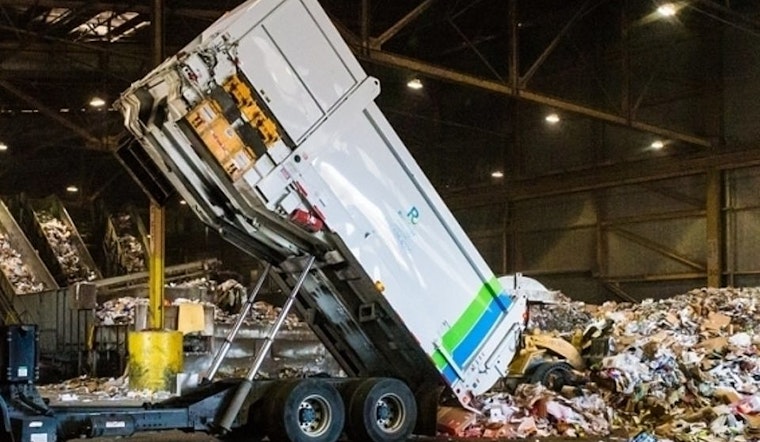 Published on October 23, 2019
For years, a key player in San Francisco's recycling ecosystem was the so-called "mosquito fleet" — an unofficial but crucial assembly of privately owned and operated pickup trucks that cruised the city every evening, scavenging for recyclable cardboard.
Though leaving boxes or sleeves of cardboard waste on the street is technically illegal, San Francisco businesses would do so anyway, knowing the fleet would collect them. City agencies looked the other way, tacitly allowing the practice.
The system worked for all parties: drivers would haul the unwanted cardboard to Recology's recycling facility and sell it for cash, entirely bypassing the city's official waste disposal network. And the streets would be clear before Public Works and Recology made the rounds the next morning.
But the price of resale cardboard has collapsed in recent months, with China's largest recycling agency no longer buying. The mosquito fleet has disappeared along with it — and merchants are now stuck with the bill. 
Seemingly overnight, local businesses are facing surplus charges from Recology and steep fines from Public Works, sometimes to the tune of $500 or more, for behavior they'd been practicing for years.
"We were caught by surprise" when the fleet ceased activity this summer, said Paul Giusti, Recology's regional government and community affairs manager. "We were just inundated."
Suddenly, Giusti said, Recology's waste pickup drivers were unable to finish their runs because of the increased volume of waste. Trucks were overloaded, and drivers' overtime began piling up. And commercial Recology customers were getting conflicting information, fines, and mandates from Public Works, Recology's public affairs, and their individual Recology drivers.
For two months, those customers were left with only bad choices: cut up all the cardboard to fit with other recyclables in their blue bin (if the load was small enough to manage it); haul cardboard to Recology themselves; or bundle cardboard together and pay Recology to take it away — at the steep price of $15.37 per two-by-two-foot bundle.
After getting slapped with a cumula $500 in extra hauling charges from Recology, Paul Laffoon, general manager at Noe Valley's Folio Books, has been making weekly cardboard runs to PR Recycling Company in the Bayview as a stopgap.
This week, he needed to do two runs, "and it's not even November," he said. When the shop's shipping volume increases during the holidays, he'll have to haul even more cardboard to Bayview, eating into his time just when he's needed most to assist customers. 
Restaurants, grocery stores and retailers like Laffoon are still reeling from the city's minimum wage hikes, which has raised the base wage for workers by 27% in just the past four years. 
"We're basically committing my staff to upstream sorting" for Recology, Laffoon said. "To save a little over a hundred dollars on a monthly bill, I can't actually say for sure that my time is being spent appropriately."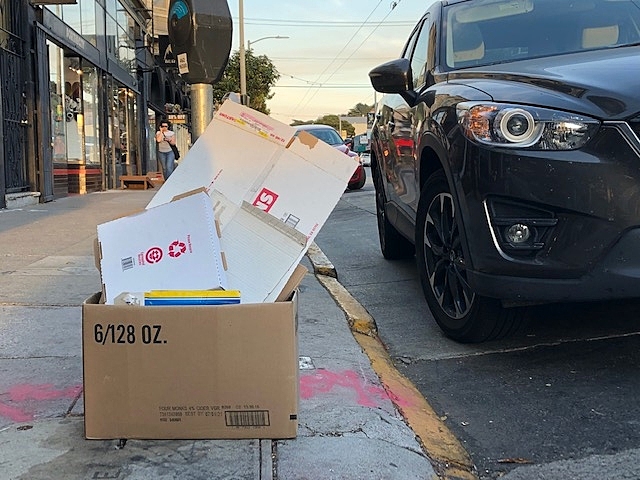 At the urging of the Board of Supervisors, Recology has implemented an interim solution for commercial customers.
From now through the end of the calendar year, Recology customers will be able to leave two-foot cubic bundles out on regular garbage pickup days, and have them hauled for free. Public Works has also agreed not to charge businesses illegal dumping fines over cardboard. 
"We're just trying to get folks not to leave cardboard on the street," Giusti said.
But starting on January 1, 2020, Recology's price per bundle will begin increasing again by $5 per quarter, returning to the original fee of $15.37 per bundle on July 1, 2020. 
If they don't want to pay the fee, Giusti said, merchants will have the intervening months to implement other solutions, from privately renting dumpsters to doing garbage self-hauls. 
"They've got time to figure it out," he said.
But Laffoon says that Recology never communicated the penalty holiday to customers like him. And he's not confident that the proposed solution will work for him long-term. 
"They're kind of trying to save some face, which is great," he said. "But it's still not speaking to what we're doing moving forward."
He's still working to find a solution. "I'm open to anything," he said.