By
Sponsored
- Published on November 19, 2019.
Interactive escape room games — which require groups of players to find clues and solve an array of puzzles before the allotted time runs out — have soared in popularity in recent years. 
But brick-and-mortar escape rooms are often limited by their size, making it challenging to accommodate large groups. That's why EscapeSF has created a game that can not only travel to offices or off-site retreats, but accommodate up to 200 participants at a time. 
The San Francisco-based company offers a number of games for smaller groups, with titles like "Escape from Space Bus," "Escape from Alcatraz" and "Escape from Blind Tiger Bar." But behind the scenes, the company had been at work on a larger "portable" game for big groups, said Marianna Sumina, EscapeSF's general manager.
Since many of EscapeSF's clients are Silicon Valley companies, the company also wanted to incorporate new technology into what has traditionally been a largely analog format. 
Its new large-group game, "Sabotage," is a '60s-themed spy quest, where players work for a secret agency whose cases have been intercepted by an "evil corporation."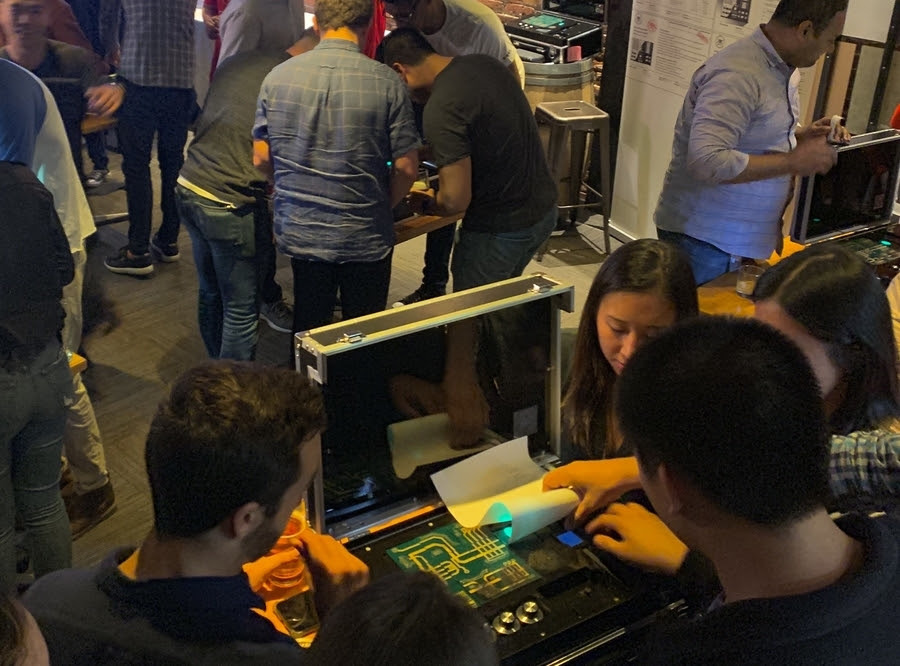 Equipped with only their wits and "carbon-neutral, wireless tools," groups are broken into smaller teams of four or five. A "high-ranking special agent" lays out the details of the secret mission, giving players 75 minutes to rummage through the contents of an unmarked briefcase owned by a suspected criminal mastermind. But as more secrets are uncovered, further surprises are in store. 
From the owners: In Sabotage, a new twist on escape games, instead of breaking out, you actually have to break into a locked and "booby-trapped" briefcase. There are spies and there are codes. There is a secret agency and an evil corporation. If you're quick … and you get into the briefcase, you can save the world. 
As for the technology used in "Sabotage," the company keeps most of its secrets close to the vest. But instead of paper puzzles and combination padlocks, players can expect a number of sensors and microcomputers to be incorporated into the game, said Andre B., a partner and co-owner of EscapeSF. 
"We are taking analog games and making them fully high-tech, with code breakers and high-tech gadgetry, like finger scanners," he said. "James Bond has gadgets; we have gadgets."
While "Sabotage" can be played at EscapeSF's Financial District headquarters in San Francisco, it's designed to travel to larger groups at their offices, or in spaces like restaurants and conferences.
Sumina notes that many of the company's clients tend to want to leave the office for team-building exercises, so having the option to play the game off-site has been a plus.
"[Groups] are forced to work together to solve the puzzle, and there is a lot that is unexpected," she added. "People like escape games because it's a rollercoaster of emotions, when you're going through and finding solutions."
EscapeSF quietly launched "Sabotage" roughly four months ago to test the waters, and so far, they've received "a great response," said Sumina. 
Once the game ends, "it's something for people to talk about," she explained. "The [game] is the same for everyone, but the experience is different because you are going through the puzzle at your own pace."
Reservations to play "Sabotage" and other EscapeSF games can be booked by contacting the company here.