Published on December 16, 2019
On Friday, December 6, Octavia Boulevard between Linden and Hayes was officially closed to cars in both directions.
The Octavia Boulevard Enhancement Program, in the works since 2016, aims to recenter the area surrounding Patricia's Green on cyclists and pedestrians, while retaining collapsible bollards that make it accessible for emergency vehicles.
On Hayes Street, a contra-flow bike lane has been installed to facilitate connections northward on Octavia Street, while a painted safety zone has been set up to shorten the crossing distance for pedestrians.
Now that the changes are a week in, we talked to locals and officials to see how things have been going, and whether the new policy is causing traffic concerns elsewhere in the neighborhood.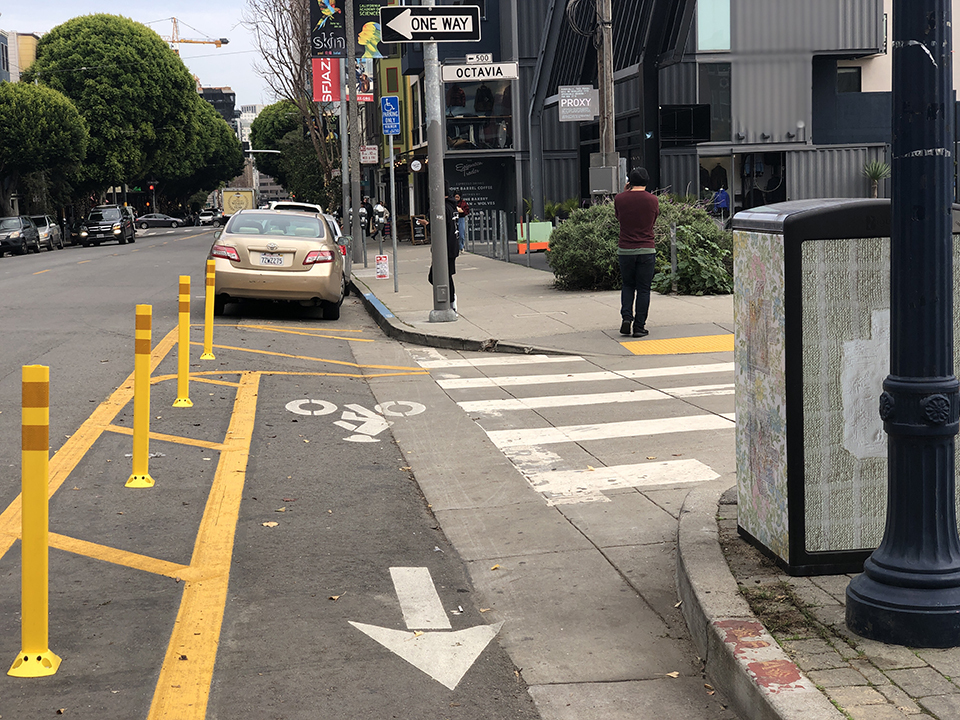 A bicyclist, who preferred not to share her name, said she enjoys being able to still ride her bike through the closed-off portion of Octavia Boulevard. "I also walk here every morning," she added.
Over at Linden Street corsetier and lingerie shop Dark Garden, employee Jessica Cohen tells Hoodline that she has heard several people commenting that they are pleased by the changes.
"That part of Octavia Boulevard required a level of awareness from drivers that was not always there," Cohen said, noting that she has observed children wandering into the street between Patricia's Green and PROXY. She believes that the closure now provides "a feeling of safety."
Cohen, who has worked in retail for 40 years, feared that changing traffic patterns during the holiday season would have a negative impact on business. But so far, she said, it doesn't seem like it. 
Asked if she observed more cars on Linden Street – which Dark Garden's shop windows directly face – Cohen said that it's hard to tell when it's raining all the time, but she doesn't believe that it had a major effect.
"There hasn't been more traffic on Linden Street so far," agreed Nick Danby, who works in the area as a barista. "I obviously haven't been crunching the numbers, but it doesn't seem like it."
Danby observed that not everyone was a fan of having traffic rerouted to Linden Street once the idea was widely promoted, but he is now "cautiously optimistic" that it will lead to a positive outcome.
In a statement, Mayor London Breed explained that before Octavia Boulevard was set up, this area was where the Central Freeway was located — "a space dedicated to moving cars quickly through this neighborhood."
That didn't cohere with Hayes Valley's development as a commercial corridor, and the role Patricia's Green serves as a substitute backyard for many residents. So the SFMTA held a series of open houses and test closures, collecting ideas for potential changes.
While it's not yet clear if we will see a butterfly sanctuary, hot tub, pool, naked bicycling or dog-free grass anytime soon, the pilot program was ultimately approved to go permanent in July.
"We are very excited to see this pilot project made permanent," said Tom Maguire, the SFMTA's interim director of transportation.
District 5 Supervisor Vallie Brown echoed Maguire's comments. "With this project, the city expanded the heart of Hayes Valley and made a critical investment in a future in which the community can safely enjoy open space," she said in a statement.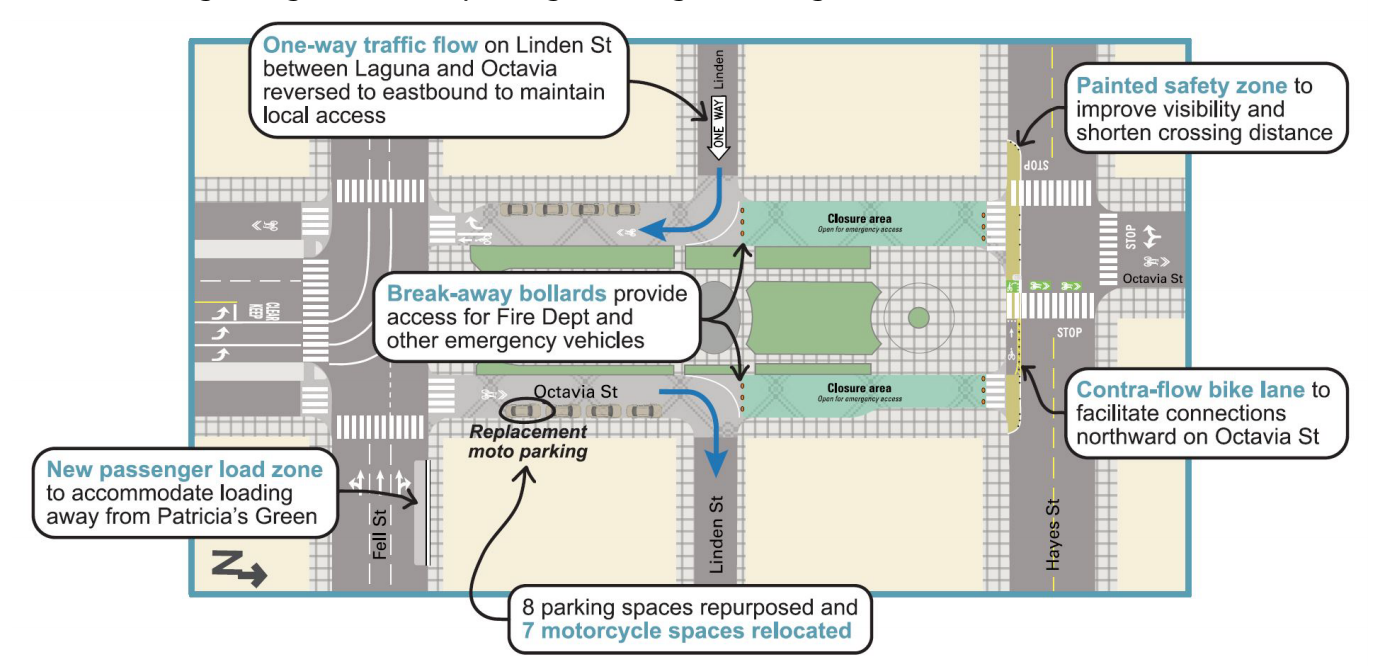 The closure also indicates a growing interest in making portions of San Francisco car-free. Most notably, a large portion of Market Street will be closed to private vehicles starting in early 2020. District 6 Supervisor Matt Haney has argued for permanent street closures in the Tenderloin, one of SF's most dangerous neighborhoods for pedestrians. 
"This small but significant stretch of Octavia Street is just the beginning of a long list of streets where we can establish more car-free streets that prioritize people," said Jodie Medeiros, executive director of Walk SF, in a statement.