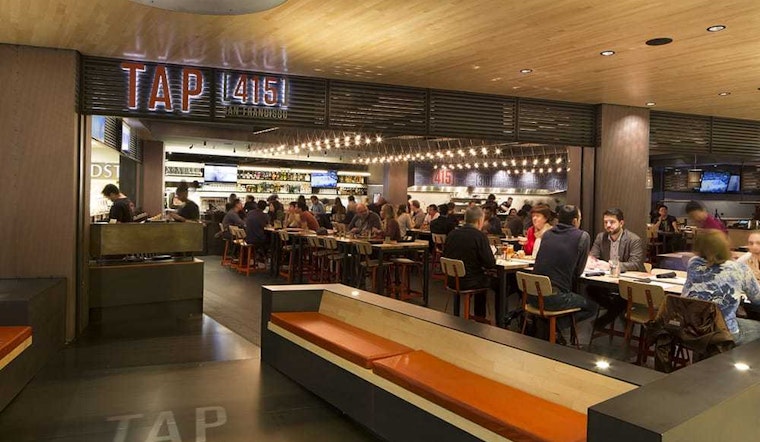 Published on December 11, 2019
Here's the latest in SF Eats. In this edition: a Westfield Mall-based restaurant shutters, a grab-and-go eatery plots its 10th outpost, and a Divisadero bar celebrates 15 years in business.
Closures
Union Square
Tap 415 (Westfield Mall)
As we reported a few weeks ago, change is coming to the lower level of the Westfield Mall, with Shake Shack and Amazon Go on the way to the former Bristol Farms space in the basement food court.
But upstairs on the fourth floor, things are moving in the opposite direction: casual American eatery Tap 415, which specialized in burgers, appetizers and draft brews, has said farewell after five years.
Tipsters Myron L. and Al M. alerted us to a sign on the restaurant's exterior that reads: "To all of our loyal customers, neighbors, and supporters along the way, it is with a heavy heart that we say goodbye to Tap 415. It has been a wonderful five years here at the Westfield Centre, but unfortunately the time has come for us to close our doors for the last time. We wish you the very best in the holiday season."
Another restaurant won't be taking over for Tap 415. According to the Chronicle, the Planning Commission has approved the conversion of the mall's two upper floors into office space, meaning Tap 415 will soon be replaced by desks. 
Openings
SoMa
Proper Food (180 Howard St.)
Gourmet grab-and-go eatery Proper Food will opening its doors to its 10th San Fransisco location on December 16 at 180 Howard St. (near Main St.)
Founded by husband and wife owners and co-CEOs Howard and Dana Bloom, Proper Food offers to-go fare like salads, sandwiches and bowls, made with local ingredients. Options include a wild octopus salad with chickpeas; a PB&J with housemade coconut-peanut butter and bananas; and a coconut curry chicken bowl with rice, cauliflower and carrots. 
The eatery also offers assorted coffees and fresh-pressed juices, including bottled cold brew with oat milk and an apple, celery, cucumber and kale juice. 
"This rapidly growing area of SoMa has historically been underserved in terms of workday meal options that are both fast and high-quality," the Blooms said in a statement, noting the recent arrival of companies like Facebook to the area.
Events
Divisadero
Madrone Art Bar (500 Divisadero St.)
Madrone Art Bar is celebrating 15 years in business this month with a week of parties.
The events start this Sunday, December 15 with a barbecue with "Hooker's world-famous gumbo," and wraps up Saturday, December 21 with a holiday edition of indie-rock dance party Fringe that will feature Santa hats, ugly Christmas sweaters, mistletoe and more.
Owner Michael "Spike" Krouse encourages readers to go the bar's Facebook and Instagram pages for more detail about the anniversary events — plus a few stories about its history, including the fact that the idea for Instagram was hatched at a Madrone party in 2010.
"We have contributed to the world officially from our little corner of Divis and Fell," Krouse said.
---
Thanks to tipsters Myron L. and Al M.! If you've seen something new (or closing) in the neighborhood, text your tips and photos to (415) 200-3233, or email [email protected]. If we use your info in a story, we'll give you credit.