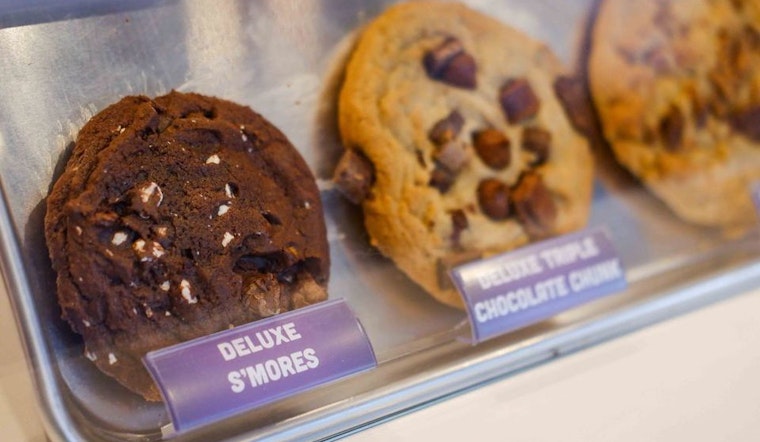 Published on January 22, 2020
Here's the latest in SF food news. In this edition, a popular cookie shop plots its first SF location in the FiDi, a beloved taqueria closes its Fisherman's Wharf outpost, and a Filipino restaurant makes way for a Korean fried chicken chain in SoMa.
Openings
FiDi
Insomnia Cookies (362 Kearny St.)
Veteran tipster Al M. has informed us that Insomnia Cookies will be opening its first San Francisco location at 362 Kearny St., in the space that formerly housed Fashion SF.
The national chain has locations throughout California, including Sacramento, San Diego and Los Angeles, but this appears to be its very first outpost in the Bay Area. 
Insomnia's gimmick is that it delivers warm cookies and brownies until 3 a.m., alongside accompaniments like cold milk and ice cream. The shop stocks a dozen flavors, from traditional chocolate chip and snickerdoodle to more elaborate offerings like s'mores and double chocolate mint. It also offers cookie cakes and large boxes of cookies for parties.
The chain didn't respond to a request for comment on when it will open its doors. We'll keep you posted. 
Closings
Fisherman's Wharf
Taqueria El Farolito (358 Beach St.)
Tipster Mason S. has informed us that Taqueria El Farolito has closed its location at 358 Beach St. A representative from one of its other locations confirmed the closure, but did not disclose the reason why it shuttered.
El Farolito's other three locations in San Francisco — two in the Mission and one in the Excelsior — are still open for business, as are its other locations around the Bay Area.
SoMa
Inay Filipino Kitchen (135 4th St.)
Over at the Metreon, tipster Myron L. informed us that Inay Filipino Kitchen has closed its food-court kiosk after eight years of business. Its last day was December 29.
Owner Manuel Ramirez first opened the counter-service Filipino eatery at the Great Mall in Milpitas, alongside his mother and his wife. "It has been the highlight of my professional career, serving my take on my mother's food to all of you each day," he wrote in a letter to customers on his website.
But it's not the end of the road for Ramirez, who'll be transitioning the location into an outpost of Korean fried chicken chain Bonchon. He said it should open in the late spring.
This will be the first San Francisco location for Bonchon, which has over 300 outposts worldwide (including South San Francisco and Berkeley). It offers wings, strips and drumsticks coated in a trio of sauces: spicy, soy garlic, or sweet crunch. Korean snacks like potstickers and pork buns round out the menu, along with fries and onion rings.
---
Thanks to tipsters Al M., Mason S. and Myron L. If you've seen something new (or closing) in the neighborhood, text your tips and photos to (415) 200-3233, or email [email protected]. If we use your info in a story, we'll give you credit.