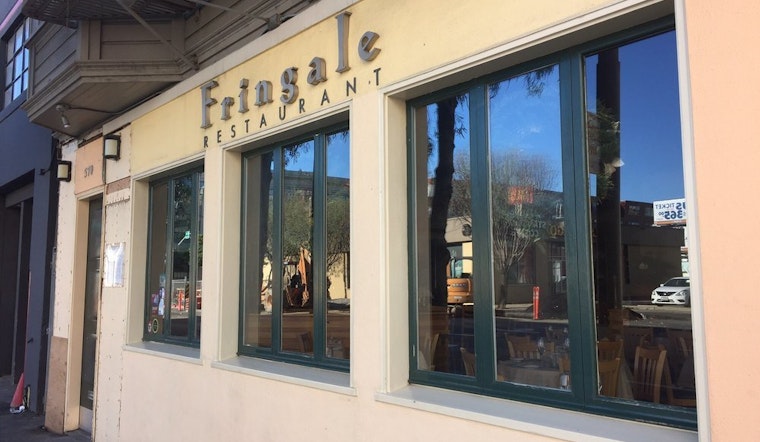 Published on January 14, 2020
Here's the latest in SF food news. In this edition, a SoMa French restaurant prepares to close after nearly three decades, a Russian Hill cafe shutters, and a notable local chef moves from a Michelin-starred restaurant to a Mid-Market hotel.
Closures
SoMa
Fringale (570 4th St.)
After 28 years, French bistro Fringale will shutter in SoMa on January 25.
The Chronicle broke the news, with owner Jean-Marie Legendre telling the paper that business dropped 30 percent — and stayed that way — since construction on the Central Subway began six years ago.
Fringale's location at Fourth and Brannan streets, once largely industrial, has become a locus for tech workers. Legendre said that the restaurant's business has suffered as a result, since many of those workers either get free lunch from their employers, or don't have the time for a sit-down meal.
"These people are always on the clock and they want everything right away," he told the Chronicle.
Fringale was considered a neighborhood pioneer when it was founded by Gerald Hirigoyen (now of the FiDi's Piperade) and Jean-Baptise Lorda in 1991. Lorda sold it to Legendre, a longtime server, in 2005; he's run it ever since.
Fans have 10 more days to drop in for their favorite French and Basque dishes, like duck confit, calamari a la plancha and hazelnut mousse cake.
Russian Hill
Brew Bros. Cafe (1299 Pacific Ave.)
Russian Hill coffee shop and deli Brew Bros. has closed after just under four years in business, according to tipster Jordan B. While there's no notification in the cafe's window, Yelp also marks the business as closed, and several phone calls went unreturned.
The cafe, which debuted in March 2016, started out with a challenging neighborhood reputation. The space's previous tenant, the popular Chameleon Cafe, had been pushed out by its landlord, to the anger of many neighbors. 
However, owner Joseph Hinn, whose family is also behind nearby convenience store New Russian Hill Market, swore that he'd only inquired about the space after Chameleon's closure was a done deal, and even tried to buy it directly from the owner so he could retain the employees. 
Unfortunately, it appears that Brew Bros. wasn't able to find its footing in the end. We'll keep an eye on what's next for the space.
Updates
Mid-Market
Proper Hotel (1100 Market St.)
In 2017, Mid-Market's Proper Hotel debuted with a splashy look and three high-end eateries — restaurant Villon, rooftop bar Charmaine's and cafe La Bande.
But it's struggled to hold on to chefs: opening chef Jason Franey left six months after the hotel opened, and his replacement, Michael Adams, appears to have departed last fall, when a job listing for the role was posted. 
This week, the hotel announced to Eater SF that a big name has stepped into into the role — Jason Fox, formerly the chef and co-owner of the Mission's Commonwealth, which was forced to close in October after a rent hike. 
Fox, who earned a 2019 Michelin star at Commonwealth, has been cooking at the hotel since his restaurant's closure. He's now updated the menus at all three of the hotel's eateries and its first-floor lounge, serving locally sourced "progressive California cuisine."
At Villon, he'll serve dishes like shrimp agnolotti with a roasted chicken dashi, potato gnocchi with mushroom and kale and a chicory salad with burrata and nasturtium sorbet. Charmaine's will offer bar bites like chicken tsukune with yuzu and cured egg yolk, or pumpkin and blue corn empanadas.
---
Thanks to tipster Jordan B. If you've seen something new (or closing) in the neighborhood, text your tips and photos to (415) 200-3233, or email [email protected]. If we use your info in a story, we'll give you credit.