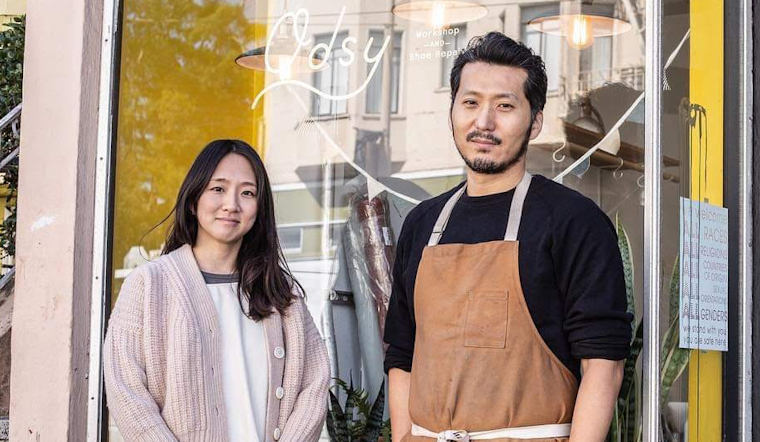 Published on February 26, 2020
Here's our latest look at business happenings in the avenues. In this edition: a popular cobbler an leather workshop is moving, an acupuncturist has made its debut, and a new Chinese restaurant has opened near the beach. 
Odsy moving from Taraval to Irving Street
Odsy, a small leather-working and shoe repair shop in the Outer Sunset, is moving from its current space at 1417 Taraval St. to a larger location at 2039 Irving St. 
The Taraval space had been home to cobbler Paul Cho for 40 years, before he trained and passed on the shop to married owners Yina Kim and Soojin Chae. In addition to repairing shoes and leather goods, Odsy makes its own line of apparel, such as aprons for Mister Jiu's in Chinatown and Cassava in the Outer Richmond.
But Kim — whom we last spoke to in 2016, a few months after the shop first opened —told Hoodline that she and Chae "always struggling" with how the small the Taraval space was. 
"I couldn't work there during the day because it was so crowded, so I would go there at night, after business hours," Kim said. "[It] wasn't very convenient for us."
Daunted by SF's commercial real estate market, the couple considered moving Odsy to New York, but finally found a space with a supportive landlord and reasonable rent.
"Most landlords were a little bit skeptical of our business," Kim said. "You know, rental prices are so high, they were wondering if we could make money to pay the rent."
When it opens next Monday, March 2, the new Irving Street store will sell leather- and shoe-working toolboxes and other artisan-made tools, Kim said. She's also hoping to teach classes there, like a workshop on how to make sandals.
Acupuncturist moves into 2007 Irving St.
Shuya Chiu Hong, an acupuncturist, has set up shop at 2007 Irving St. The space was formerly home to longtime optometrist Dr. Sandra Lee, who retired last year.
Hong only spoke briefly to Hoodline, saying her location had been open about two months. Dr. Lee closed her practice in mid-2019 after nearly 35 years, according to a note taped on her door.
"It has been a great pleasure and an honor to serve my family of patients over the years," read the note, signed by Lee. "Thank you for the privilege of taking care of you."
Lee has referred her patients to Dr. Bruce Mebine (340 West Portal Ave.)
Meet Nails opens at 1104 Vicente St.
A manicure and pedicure shop, "Meet Nails," has been open at 1104 Vicente St. for about a month, its manager told Hoodline.
It offers manicure, pedicure and gel nail treatments, manager Vincy Ng said by phone. So far, Yelp reviews have been pretty positive.
"Vincy was very polite as soon as I came in," said Yelp reviewer Helen W. in January. "I really like the rose petals [and] milk solution she uses to soak your feet while prepping for the [pedicure]. Very relaxing, and my skin feels so smooth afterwards."
A full list of services can be found on Meet Nails' website.
Mr. Dragon opens at 3914 Judah St.
Finally, out near Ocean Beach, new restaurant Mr. Dragon serves up classic Chinese dishes that are "a little spicy, but not Sichuan spicy," restaurant owner Luzy Shao told Hoodline by phone.
Shao said this is her first restaurant, and that she opened it because "I just love to cook."
Mr. Dragon has been open about three weeks, she added, and it's gotten good feedback on Yelp.
"The kung pao chicken was the best I have had in many years. So fresh and delicious," said reviewer Sarah B. "The green beans were cooked perfectly and garlicky."
---
Curious about a new business in your neighborhood? Text Hoodline and we'll try to find out what's going on: (415) 200-3233.