The Upper Haight's long-running Transit Improvement and Pedestrian Realm Project entered a new phase of work last week, with crews branching out to work simultaneously on different elements of the project between Masonic and Stanyan.
Parking and traffic have been impacted or interrupted on and around every intersection of the Upper Haight's central corridor: Masonic, Ashbury, Clayton, Belvedere, Cole, Shrader and Stanyan. Some intersections have active construction, while others are being used for equipment storage.
This week, crews will resume work on Haight between Masonic and Clayton for an estimated one-and-a-half-week stint, replacing curbs and gutters. They also plan to remove an underground storage tank at 1467 Haight (in the vicinity of head shop Puff Puff Pass).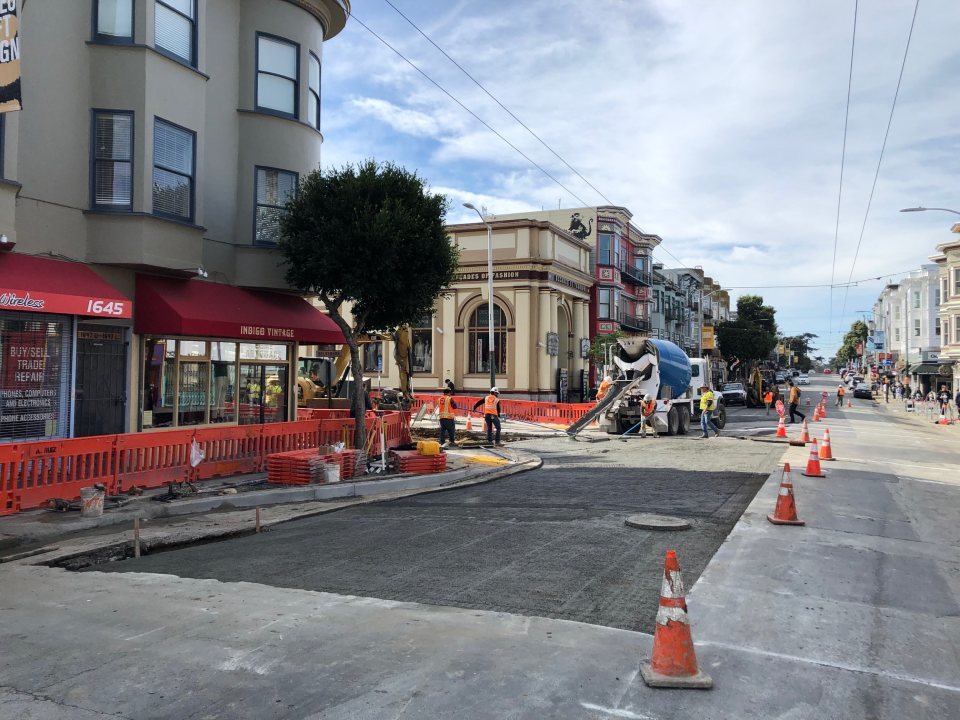 Last week, the 1600 block of Haight (between Clayton and Cole streets) was closed to through traffic as crews poured concrete to set the new curb ramps and traffic bulb-outs at Belvedere Street.
At Ashbury and Clayton, crews worked on underground electrical conduits for new traffic and street lights, while Haight and Ashbury saw work on its catch basin. 
Next week, crews will pour new permanent sidewalks on the 1800 block of Haight (from Shrader to Stanyan) and relocate an underground sewer lateral running under Haight Street from Cole North to Cole South.
The work currently underway is the second phase of the larger sewer and infrastructure project, which is currently estimated to last until roughly the summer of 2021.