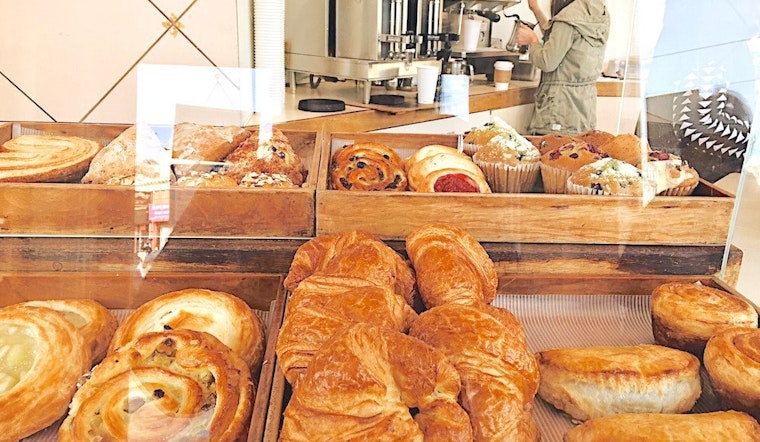 Published on February 20, 2020
Wholesale bakery Bakers of Paris, which supplies hundreds of clients around San Francisco and the greater Bay Area, is closing down. In a letter to customers, owners Lionel Robbe-Jedeau and Gilles Wicker said that the bakery's last day will be Friday, March 20.
Founded in 1981, Bakers of Paris has been open for nearly 40 years. It first opened at 360 Swift Avenue in South San Francisco before moving to 99 Park Lane in Brisbane in 1997. Each night, it bakes thousands of pastries and loaves of French bread for early-morning delivery to its 330 Bay Area clients, which include restaurants, grocery stores, coffee shops, hotels and corner stores.
Robbe-Jedeau and Wicker once owned three retail stores in San Francisco, on Haight, 24th and Taraval streets. But after closing them to refocus on their wholesale business, they've been hit with a sizable rent hike on the original Brisbane bakery. 
Robbe-Jedeau said that Bakers of Paris' lease in Brisbane is about to expire, and its landlord has raised the rent to $650,000 a year — nearly double the current price. They can't afford the increase.
"Everyone is blaming the Internet for business's problems today," said Robbe-Jedeau. "But a big factor is the price of the lease. We have many clients, like ourselves, who don't want to leave, but they don't want to work for the landlord, so they have to close down."
"We have no home to bake; we are a homeless bakery," he concluded. "The fact that Bay Area landlords are authorized to force individuals and small businesses to the street is not right."
Angie Rando, owner of the Outer Richmond's Angelina's Deli-Cafe, says that the bakery's closure feels like a death. She's been serving the company's bread and pastries since she first opened her deli in 1983 — she used to buy them fresh from the Haight Street location.
"We loved carrying their breads and croissants," she said. "And their sweet French rolls are really nice. They don't compete with whatever you are putting inside of them."
Rando says she'll have to scramble to find a baker with the same quality and consistency as Bakers of Paris, and she's not sure she'll be able to.
Bakers of Paris is "one of the largest and best wholesalers of baked goods in the city," says a Union Square hotel chef, who asked to remain anonymous. He said the bakery's closure will have a major impact on San Francisco's hotels.
Grocers will also be affected; Safeway, Whole Foods and Good Eggs are among those that carry the company's goods. 
While he's sad to see the bakery close, Robbe-Jedeau says he's "deeply grateful" to its fans and customers for their decades of support.
His greatest concern, he said, is young Bay Area food service workers like the ones he employs, who have to work two to three jobs to make ends meet. 
"My heart is half-broken, but I am not beginning my life; I am old — I hate to say that, but it's true," he said. "But I am thinking about people who are much younger than me. For them, living here has become a sham."