As health concerns over COVID-19 increase and citywide and statewide shelter-in-place orders continue, more and more organizers of prominent San Francisco events have been forced to cancel or postpone.
We've rounded up some of the most notable SF events of the spring and summer, with updates on their current status — cancelled, postponed, or still on the bubble as the coronavirus crisis wears on.
SF Holi Color Festival (March 28): Cancelled
The annual SF celebration of Holi, the Indian festival of colors, takes place each year at the California College of the Arts. Hosted by the non-profit Bhartiya Mandal Foundation and the CCA student club CCA India, the event is a fundraiser for Asha SF, which supports education programs in India. 
Refunds will be issued for ticket holders, but Asha encourages attendees to donate to the cause instead.
150th anniversary of Golden Gate Park (April 4): Postponed
The SF Parks Alliance, San Francisco Recreation & Parks and the City and County of San Francisco had planned a blowout celebration for the 150th anniversary of Golden Gate Park, with activities, entertainment, food and the unveiling of a Ferris wheel in the Music Concourse. That event has since been postponed to an unknown date.
The anniversary celebration was also set to bring a massive portion of the famed AIDS Memorial Quilt to the park, in the wake of the quilt itself moving to Oakland from Atlanta earlier this year. The display of 1,920 panels of the quilt, set to be the largest-ever in San Francisco, will also be rescheduled.
Rock 'n' Roll Half Marathon (April 5): Postponed
Part of a series of marathons operated by the Ironman group, the Rock 'n' Roll Half Marathon is one of the few that takes runners across the Golden Gate Bridge. The race route is lined with live bands, cheerleaders and themed hydration stations.
Six of the worldwide Ironman races set for between March and May of this year have been postponed. Some of those locations, including Madrid and Liverpool, have rescheduled for fall 2020, but none of the canceled dates for U.S. cities have been rescheduled as of yet.
Northern California Cherry Blossom Festival & Parade (April 11-12 & April 18-19): Cancelled
The Cherry Blossom Festival and Grand Parade draws more than 220,000 people to Japantown each year to celebrate "Japanese culture and the diversity of the Japanese American community." The free event, which offers food, vendors, music and more, will not take place in 2020.
"This decision was a difficult one, as we have held 52 consecutive annual festivals in San Francisco's Japantown prior to this year," organizers wrote. "But the safety and health of our visitors, participants, and community is of the utmost importance."
Bring Your Own Big Wheel Race (April 12): Cancelled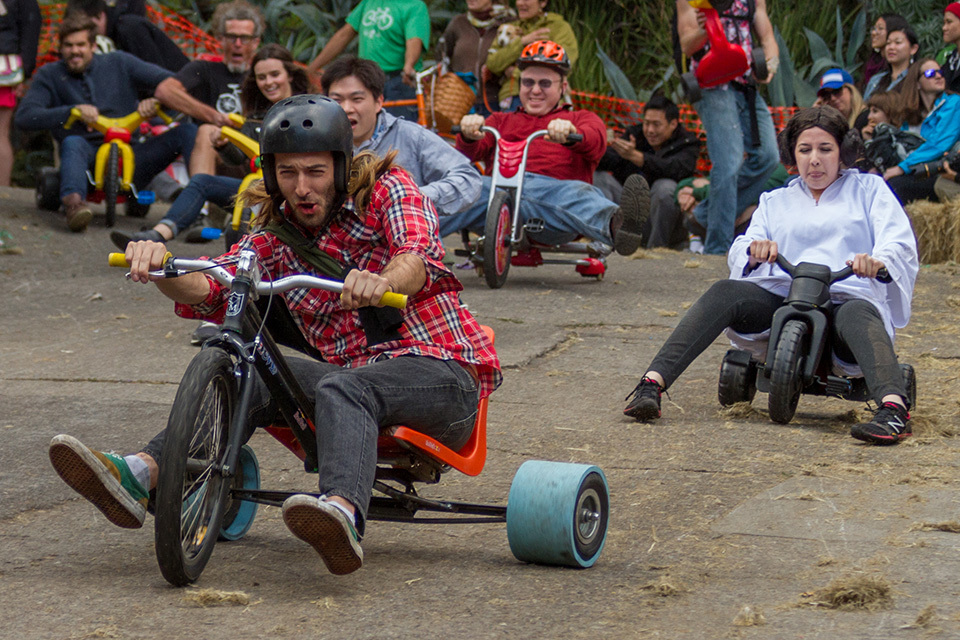 Held each Easter Sunday, the Bring Your Own Big Wheel race invites participants to conquer a downhill stretch of Potrero Hill on their own version of the low-riding plastic tricycle that was popular in the '70s. Founded in 2000, the race initially took place on Lombard Street, but moved to 20th and Vermont streets a few years later.
On March 10, organizers were still hopeful the race could occur, but by March 14, it was cancelled. This would have been the 20th annual race.
Easter in the Park & Hunky Jesus Contest (April 12): Moving online
This annual event, hosted by the Sisters of Perpetual Indulgence, celebrated its 40th anniversary in 2019. Held in Dolores Park, the event aims to crown an annual Hunky Jesus and Foxy Mary, drawing thousands of attendees and participants each year. The event also includes an Easter egg hunt for children, performances, and an Easter Bonnet contest.
While the festival itself is currently "delayed," the Sisters aren't throwing in the towel on the Jesus and Mary contest, instructing would-be competitors to hang on to their costumes for an online competition. Entries are being accepted through April 6.
Cesar E. Chavez Holiday Parade & Festival (April 18): Status unclear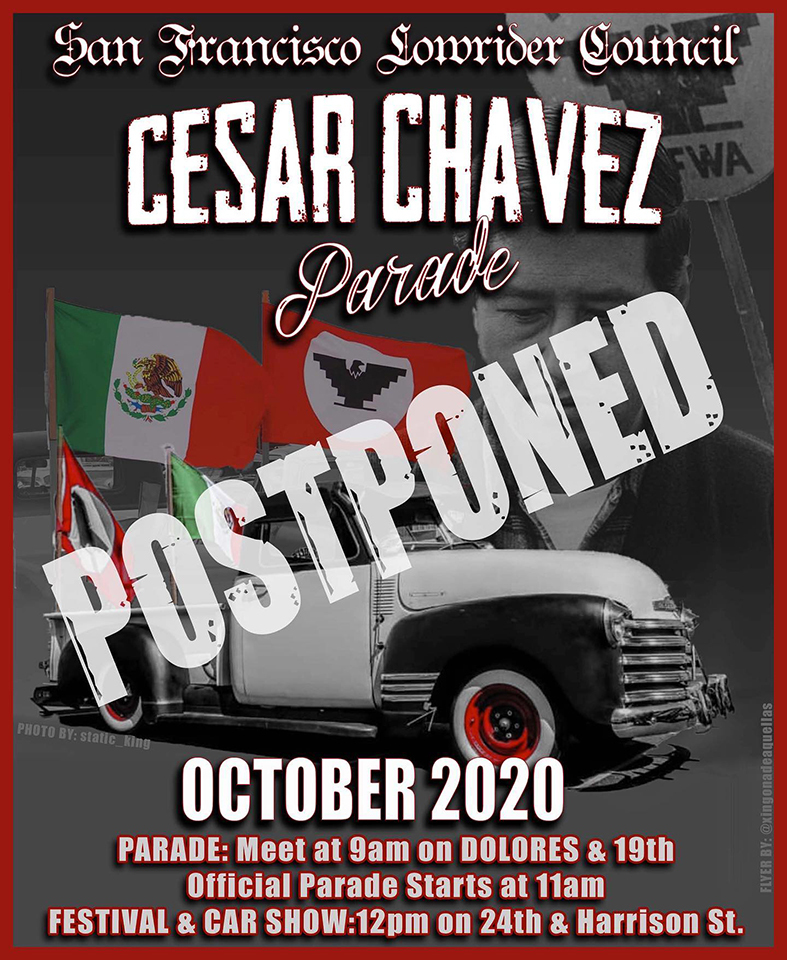 The Mission's annual event commemorating labor and civil rights leader Cesar Chavez would have celebrated its 20th anniversary in April. That event is definitely not happening, but it's not yet clear what's in store for the rest of 2020.
The event's Facebook page states it's been canceled, but the Facebook page of the San Francisco Lowrider Council posted that the event is postponed until October 2020. A request for clarification wasn't returned; we'll update this post once we know its official status.
Earth Day Festival (April 19): Cancelled
This year would have marked a big anniversary for a number of festivals, including the 50th for Earth Day San Francisco. The festival, which takes place in the Mission District, includes speakers, music, demos and workshops. Organizers stated they are considering rescheduling the event for this fall, and "will keep everyone updated as the circumstances progress."
4/20 in Golden Gate Park (April 20): Cancelled
Citing public health concerns, organizers recently canceled the annual event celebrating cannabis in the Haight. Unsanctioned for years, the event brought tens of thousands to Hippie Hill to smoke marijuana; three years ago, it was legitimized, and live music, food concessions, security and medical support were added.
Glen Park Festival & Street Fair (April 26): Postponed
The Glen Park Festival and Fair is generally the first neighborhood street fair of the season. Started in 1997, the annual block party includes food, local vendors, children's activities and a line-up of live bands (this year's would have included La Gente SF and the Bayonics). Proceeds benefit kids' programs for schools and community organizations in Glen Park. The event is officially postponed for now, and a new date has not been set.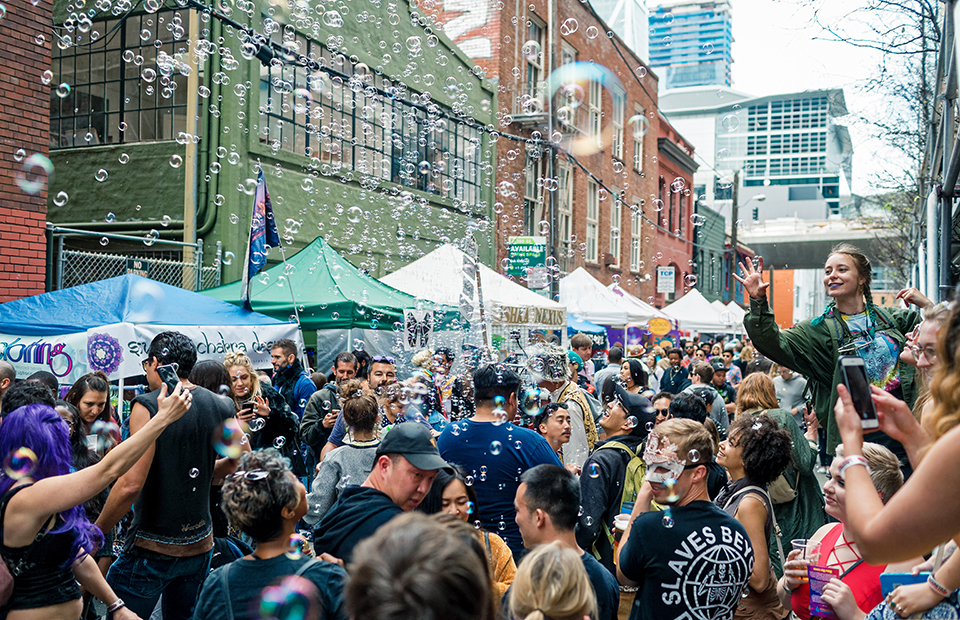 How Weird Street Faire (May 3): Postponed
The How Weird Street Faire draws thousands of costumed attendees to SoMa each year to celebrate weirdness and creativity. Spread out over several blocks around Howard and Second streets, this annual event draws nearly 20,000 attendees for food, interactive art, exhibits, performances, dancing and 10 music stages. Organizers are planning to reschedule for fall 2020, but a specific date has not been announced.
Bay to Breakers (May 31): Postponed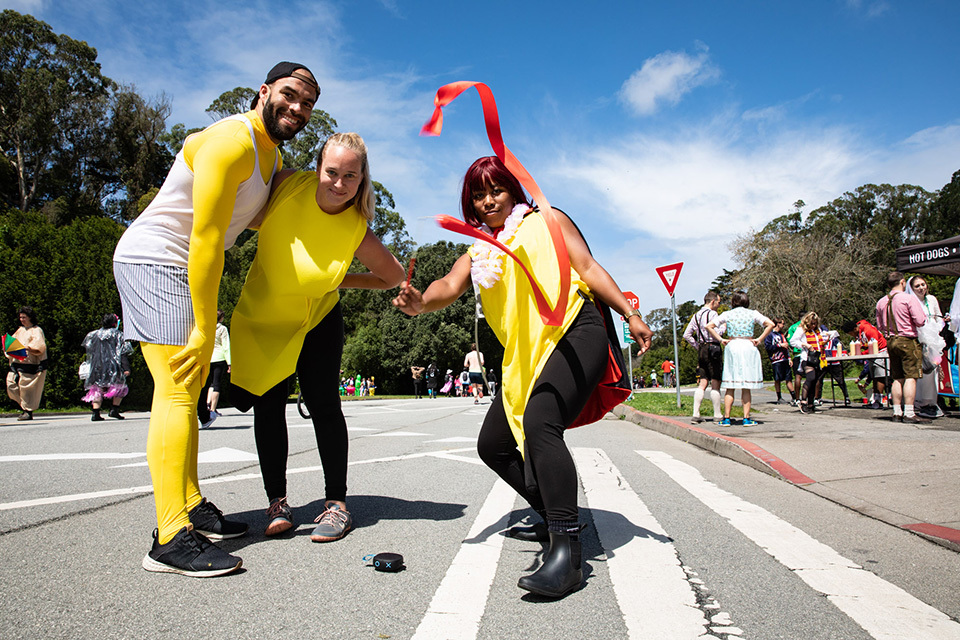 The oldest consecutively run footrace in the world, Bay to Breakers attracts top runners from across the globe, pursued by a wandering parade of costumed amateurs, groups and general merrymakers. Despite rain, last year's event brought 40,000 racers out in the rain, with another 200,000 spectators.
On March 20, organizers announced they were rescheduling this year's run to September 20. Runners' registrations for 2020 will not be refunded, but automatically transferred to the new date. Those who are unable to make the September date can defer their registration to the 2021 race.  
AIDS/LifeCycle (May 31-June 6): Cancelled
This seven-day bike ride from Daly City to Los Angeles, co-produced by the Los Angeles LGBT Center and San Francisco AIDS Foundation, draws thousands of participants each year to raise funds for HIV/AIDS service. The cancellation was announced last week, in a major blow to organizers, riders and fundraising efforts
SF Pride (June 27-28): Still on, for now
Even as Los Angeles has postponed its Pride event (originally set for June 12-14), SF Pride is still holding on to hope that the event can go on as planned.
"We at SF Pride are realistic that this year's historic anniversary may look very different from what we had hoped for, and all options are on the table," organizers wrote on Facebook on Tuesday.
In the meantime, Pride encourages the LGBTQ+ community to check in on immunocompromised elders, donate to fundraisers and support Asian-American queer people facing racism and xenophobia.