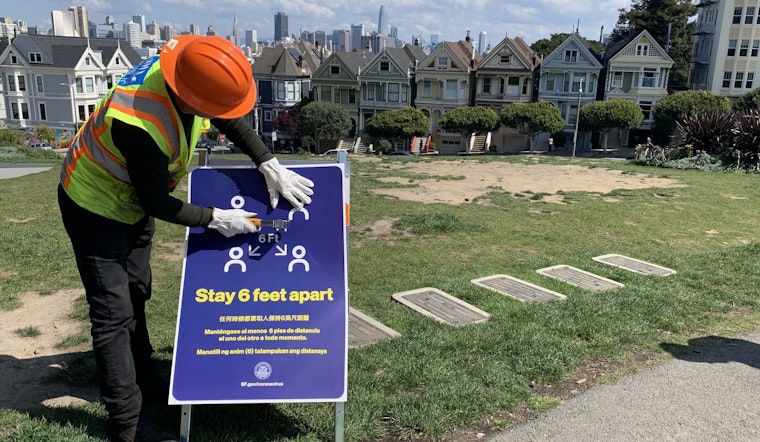 Published on March 31, 2020
On Tuesday, the city announced stricter shelter-in-place rules that will go into effect tonight at 11:59 p.m. and last through May 3, two days longer than Mayor London Breed announced yesterday.
"It appears that our collective effort has started to have a positive impact," the order reads, "But the infection rate has not yet leveled off and more needs to be done to flatten the curve."
The new order put in place to slow the spread of COVID-19 will replace the previous one, which went into effect on March 17. The state of California also has a stay-at-home order in place that has no definite end date. As of Tuesday morning, there were 397 COVID-19 cases in San Francisco.
The actions we are taking today will help save lives. San Francisco is resilient and we have overcome major challenges before. Just as we are facing this challenge together, we will recover together as well.

— London Breed (@LondonBreed) March 31, 2020
According to the updated order, San Franciscans aren't allowed to participate in outdoor activities that involve shared equipment, such as a frisbee, soccer ball, or basketball, with any person outside of an individual's own household.
Areas with shared equipment and facilities including playgrounds, picnic areas, dogparks, golf courses, tennis courts, and pools must all remain closed. The order also hinted that parks might close completely if crowding is observed. As we reported last Friday, Ocean Beach, Crissy Field and Baker Beach parking lots are already closed in order to promote social distancing. Twin Peaks Boulevard is now also blocked off to cars.
Can confirm that Twin Peaks Boulevard is open to people and closed to cars - hopefully we'll see more similar spaces soon. Thanks @RecParkSF @sfmta_muni @SF_DPH @philginsburgsf @LondonBreed! https://t.co/x5jQZZ5Xj6 pic.twitter.com/7zMo3sSf5A

— Cliff Bargar (@thecliffbar) March 30, 2020
Businesses selling food, groceries, or cleaning products combined with nonessential products can continue to operate only if the portion of essential products theysell is a significant part of their business.
Banks, grocery stores, pharmacies and restaurants open for takeout or delivery must have a written protocol in place to protect customers and employees through social distance requirements by April 2. Corner stores selling liquor were already given more restrictions last week — they must now close their businesses between 8 p.m. and 6 a.m to avoid crowds gathering around them.
The order also urges officials to require social distancing in shelters and other facilities for individuals experiencing homelessness, to provide hand sanitation for individuals who remain unhoused, and ensure 12 square feet ofdistancing for tents in encampments.
As we reported yesterday, the city is still moving only incrementally closer to implementing a plan, put forward last week by five city supervisors, to shelter all of San Francisco's unhoused residents in hotel rooms during the shelter-in-place order.
Dr. Grant Colfax, director of the SF Department of Public Health (DPH), said yesterday that DPH is sending health inspectors to conduct inspections at the city's single resident occupancy hotels (SROs), where they will ensure that hygiene and cleaning protocols are followed.
Colfax said the focus is on testing residents with COVID-19 symptoms, so they can self-quarantine.
Today's shelter-in-place order also implements new guidelines for construction work.
District 6 Supervisor Matt Haney said earlier this week he is "concerned about the level of construction that is continuing, putting workers and others at risk." He called for renovation or remodeling projects to be paused.
Now, only healthcare projects directly related to addressing the COVID-19 pandemic, housing and mixed use projects with at least 10% affordable housing, projects that provide services to vulnerable populations as well as construction that is required to maintain safety, sanitation, and habitability of residences and commercial buildings, or construction necessary to secure an existing construction site that has to shut down, is allowed.
San Francisco will also limit its own construction projects to essential work.