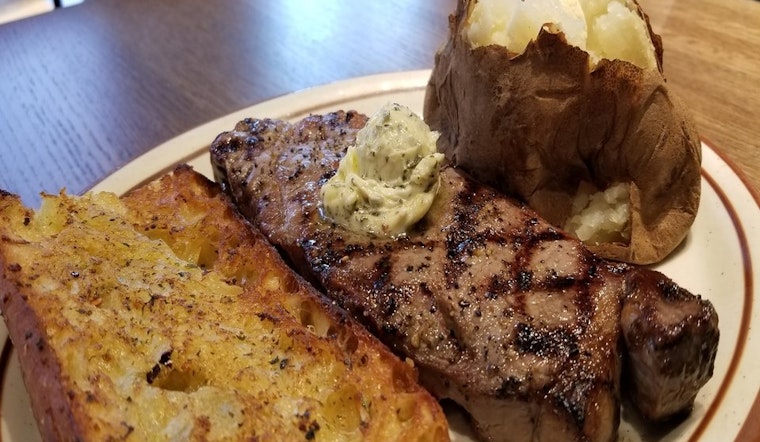 Published on March 05, 2020
Here's the latest in SF food news. In this edition, a steakhouse reopens after its move in Union Square, a Castro-based taqueria debuts and a new pizzeria is headed to the Divisadero corridor.
Openings
Union Square
Tad's Steakhouse (38 Ellis St.)
As we recently reported, Tad's Steakhouse recently relocated from 120 Powell St. to 38 Ellis St., after 65 years of business. 
The steakhouse, which closed at its original location in October, will debut in its new home this Saturday, March 7, said Phineas Ng, who owns the business with his 90-year-old mother, Nancy, and his brother, Stephen.
It had originally planned to open in November, but unspecified delays slowed it down. "[But] the delays are finally over!" Ng said via email.
In addition to its classic lineup of broiled steaks, Tad's will add new menu items like wings, a certified Angus ribeye, and a fried chicken sandwich. It's also made some updates to house recipes like hamburger steak and Tad's steak chili, and is adding all-day breakfast to the mix.
Unlike the original, he new location also has a full liquor license. For now, it will serve classic cocktails such as martinis, Negronis, and bloody marys, but Ng said he hopes to launch a specialty cocktail menu soon.
Saturday's grand opening will be from 5 - 11 p.m. After that, Tad's regular hours will be 7 a.m. to 11 p.m. daily.
Castro
Taco Boys (2312 Market St.)
Taco Boys is now open in the former Tacos Club location at 2312 Market St. (at Noe St.), which quietly closed in December after six years in the neighborhood.
The new taqueria is owned by twin brothers J.B. and J.J. Fasail; J.J. also recently took over neighboring smoke shop Koheba (2310 Market St.)
As the name suggests, Taco Boys serves Mexican food with a focus on burritos, such as a french fry-stuffed California burrito or a "surf and turf" burrito that combines shrimp or fish with a meat option.
Other menu items include chimichangas, tacos, flautas, carne asada fries, build-your-own burrito bowls, and more. The restaurant is also working on transferring Tacos Club's beer and wine license.
Taco Boys plans to be open daily from 11 a.m. til midnight, and is exploring adding a walk-up window to the space. If allowed, it would provide late-night window service Friday through Sunday, until 3 a.m.
Divisadero
Louie Louis Pizza (559 Divisadero St.)
After encountering landlord issues, four-year-old Seniore's Pizza closed its Divisadero location (559 Divisadero St.) in January and moved to the Lower Haight, where it recently reopened in the former Volare space (456 Haight St.)
However, its former space didn't sit empty for long. Tipster Sean S. alerted us to a beer and wine license application for "Louie Louie Pizza" at the address. The new owner is Joseph Dabit, who's also behind Cup A Joe Coffeehouse on Sutter Street.
The move is actually the second time around for Dabit: longtime Divisadero residents may recall him as the owner of Acme Burgerhaus, which closed at 559 Divisadero in 2014.
We've reached out to Dabit about what he's planning for his return to the space, and will provide updates once they become available.
---
Thanks to tipster Sean S.! If you've seen something new (or closing) in the neighborhood, text your tips and photos to (415) 200-3233, or email [email protected]. If we use your info in a story, we'll give you credit.