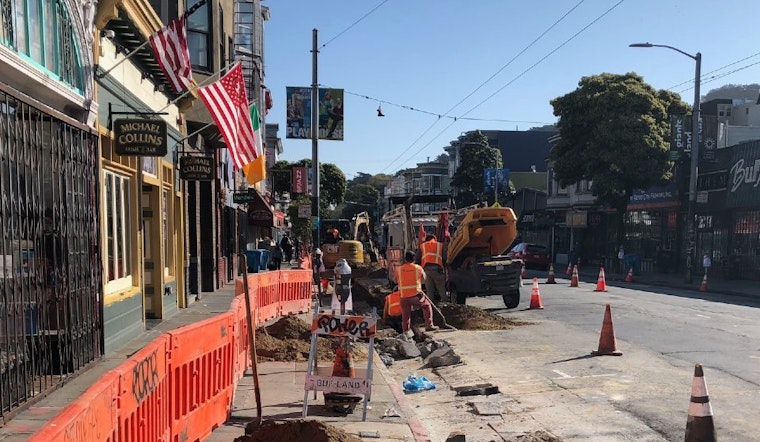 Published on March 25, 2020
There may be one bright spot for Upper Haight businesses forced to close their doors to customers during the city's shelter-in-place mandate.
San Francisco Public Works has received the all-clear for its contractors to continue work on "essential infrastructure" projects across the city, meaning work is still underway on the years long Upper Haight transit improvement and pedestrian realm project.
The length and scope of the work, which involves street resurfacing and prolonged closures, has proven a bane to local businesses who have to weather a steep drop in foot traffic related to the construction.
Most of those businesses, deemed "nonessential" under the current city-mandated shutdown, are now closed anyway, meaning the crushing impact of a prolonged closure may mask, rather than amplify, the effects of heavy construction.
To take advantage of the shutdown, Public Works has bumped up work originally scheduled to start next month.
"We have our construction management teams up and running, both in the field, in the office and working remotely," said Public works director of policy and communications Rachel Gordon, in an email.
Per city mandate, any projects related to infrastructure like public construction, airport operations, water, waste, gas, electrical and related work, is allowed to continue for now as long as workers follow social distancing and safe practices to the extent possible.
This week, crews are beginning a three week replacement of the sidewalk on the north side of Haight, between Masonic and Ashbury: pedestrian bridges will be installed, and patrons of the Haight Street Market will still be able to queue outside the store to wait for socially distanced entry.
Crews will also be working on bulb-outs and catch basins at Haight and Ashbury, sewer laterals at Haight and Cole, and electrical conduits at Clayton.