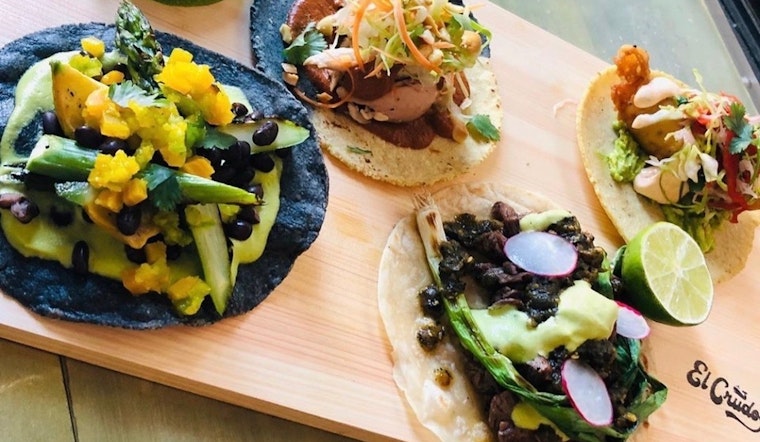 Published on May 20, 2020
This month marks the 15th anniversary of Bar Crudo, the popular Divisadero seafood restaurant owned by twin brothers Mike and Tim Selvera. 
Originally opened at 603 Bush St. in 2005, the restaurant has been serving up its signature oysters, crudo and chowder at 655 Divisadero St. since 2009. 
But after two months of a closed dining room, the Selveras are returning with a new concept: El Crudo, which will serve tacos inspired by their Southern California upbringing. 
The idea for El Crudo had been in the works prior to the pandemic, as a possible solution for weekend brunch — which the restaurant had never previously offered. 
When the shelter-in-place order forced them to close Bar Crudo's doors, Mike (who oversees the food) and Tim (who handles the front-of-house and craft beer menu) decided to take advantage. Behind the boarded-up windows, the pair have been honing recipes and learning to make tortillas from scratch.
El Crudo's menu will change from week to week, primarily focusing on tacos. This week's offerings include a birria-style taco, a spring veggie tostada, and a roasted chicken taco with a peanut butter mole — a recipe the Selveras' grandmother often made for them as kids.
While the family recipe calls for jarred chili powder and peanut butter, the Selveras have elevated it by using chilies, fresh peanuts, sesame seeds and chicken stock. 
"It's rich, spicy and peanut-y," Mike said. "It reminds me of home."
To drink, El Crudo will offer aguas frescas, horchata and Mexican Coke, in addition to Bar Crudo's array of craft beer, cider and wine.
Mike Selvera said that he and his brother will work on expanding the menu in the coming weeks, adding items like a birria burrito. Eventually, he said, they hope to add on some of Bar Crudo's most popular menu items, such as the chowder, the arctic char and the lobster beet salad. Ceviche and oysters are also likely additions.
Whether Bar Crudo will return, or remain El Crudo, is an open question. When dining rooms reopen, it's possible that the Selveras could go back to their original plan, serving tacos for brunch and Bar Crudo's regular seafood menu at night. But they're not sure the latter will resonate with customers anymore.
"I'm not sure if people will be up for buying a $28 lobster salad," Mike said. "We will just have to see where we're at. It's hard to say."
For now, El Crudo is open Wednesdays through Saturdays, from noon to 6 p.m. Diners will need to order in advance through Tock for curbside pick-up, though Mike says he's considering eventually offering walk-up service as well. 
"We just want to get our speed up right now," he said, adding that customers can also pre-order their food directly by calling the restaurant at (415) 409-0679.