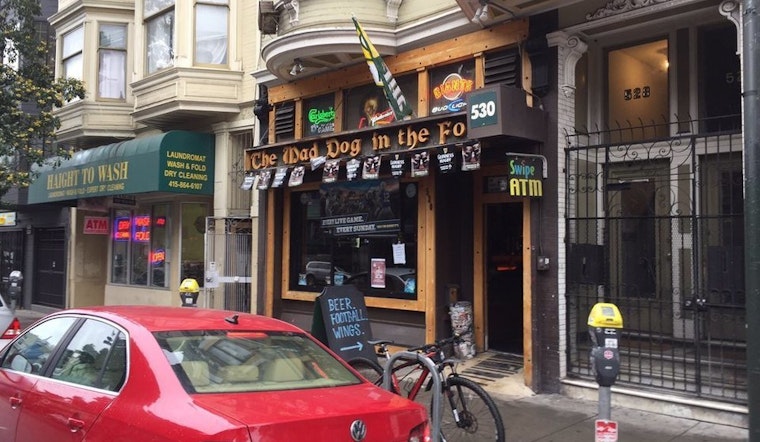 Published on May 27, 2020
Lower Haight neighbors were disappointed when neighborhood stalwart Mad Dog in the Fog (530 Haight St.) closed in March, after more than 30 years in the neighborhood.
But very soon, the space will once again become a bar.
Tipster Andrew D. informed us that Woods Beer & Wine Co. will be turning the space into its fifth San Francisco location. It also has taprooms in the Mission, Russian Hill, the Outer Sunset, and on Treasure Island. 
Owner Jim Woods plans to open the bar in a limited capacity next Friday, June 5, with beer, wine and empanadas to go. 
"We are not in a hurry to open any time for on-premise [seating]," he said.
Woods already planned to take over the Mad Dog space prior to the pandemic, and while he acknowledges the timing isn't ideal, he said he's still excited to be part of the Lower Haight.
"This is a really rich neighborhood, with great people and businesses," he said.
The shelter-in-place is also giving him the opportunity to sell beer to neighbors as he gives the Mad Dog space a complete revamp. Aside from the bar, the space has been completely gutted; his hope is that a direction for it will emerge as the city starts to reopen. 
"We have some tentative ideas about what we want the space to be, but given the changing state of the world, we are going to wait and see," Woods said. "We may make some decisions with regard to the layout and aesthetics in response to what the world will look like after this."
One thing that's definitely going to change is the bar's name. Each of the Woods locations has a unique moniker; the Mission's is "Woods Cervecería," while Treasure Island's is "Woods Island Club." For now, the new location will be known as "Woods Lower Haight," but Woods says that's temporary. 
Regardless of how it looks, the bar will offer the same beer selection as Woods' other locations, as well as an amped-up selection of natural wine.
Woods plans to offer about 15 of the company's own wines to start, both canned and by the glass, but the list will eventually grow to include some guest wines as well. 
"We wanted a location that we would be able to showcase the wine we are making, in addition to beer," he said, noting that the Outer Sunset location has already become something of a natural wine destination. 
Empanadas will be the primary food item; they're baked by local company El Porteño and heated to order. Customers can also order frozen empanadas to take home.
As they wait out Woods' opening, neighbors can get to know its offerings by dropping by for to-go beer and wine. Woods has installed a takeout window in the front of the space, for added safety. 
He says it's an especially great time to try the company's wine — in response to the pandemic, it's opted to can most of its 2019 vintages. Customers will be able to order a pack of four different varieties.
For now, the bar's to-go hours will be 2 to 7 p.m. on weekdays, and noon to 7 p.m. on Saturdays and Sundays. We'll keep you posted on when it's able to safely open its doors.
---
Thanks to tipster Andrew D.! If you've seen something new (or closing) in the neighborhood, text your tips and photos to (415) 200-3233, or email [email protected]. If we use your info in a story, we'll give you credit.