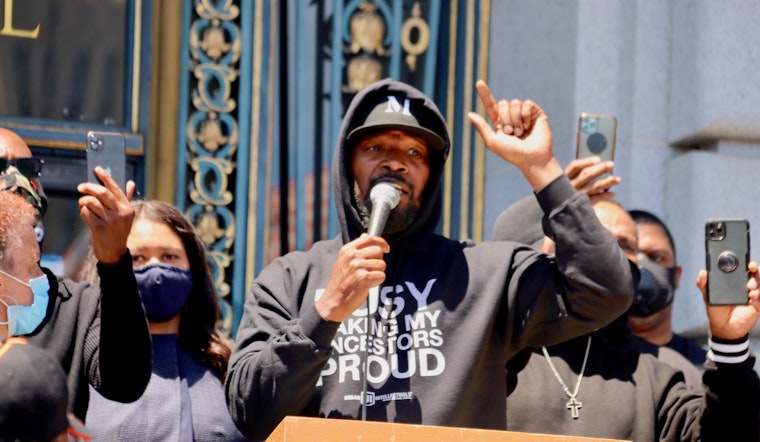 Published on June 02, 2020
About 1,000 people gathered around the front steps of City Hall for a mid-morning rally today, organized in the wake of nationwide protests following the death of George Floyd at the hands of Minneapolis police.
Organized by Phelicia Jones, founder of Wealth & Disparities in the Black Community, the event included speeches from community leaders, politicians, and an appearance by actor Jamie Foxx.
Speakers at the event, including family members of the victims of police brutality, encouraged attendees to protest peacefully to end the riots and vandalism happening all over the country.
District 10 Supervisor Shamann Walton lead the crowd in a reading of the names of recent victims, and urged attendees to get involved in the Black Lives Matter movement outside of the day's protest.
Other speakers included the Rev. Amos Brown, pastor of Third Baptist Church and president of the San Francisco NAACP;  who lead the crowd in prayer and chants of "no justice, no peace."
Mayor London Breed spoke toward the end of the event about her experiences and challenges growing up in the city. She was followed by Foxx, who spoke to the crowd and sang his song "Unpredictable."
Here are some photos from today's demonstration: