It's been six weeks since the gates opened at 730 Stanyan, one of the city's "safe sleeping sites" for unhoused San Franciscans looking to safely ride out the COVID-19 pandemic.
The site was initially the subject of a mix of anxiety, cautious optimism, and staunch opposition from area neighbors, and was targeted by a controversial lawsuit led by an owner of Amoeba Records which was later withdrawn.
With a month and a half now under its belt, we spoke with some site residents about what life there is like.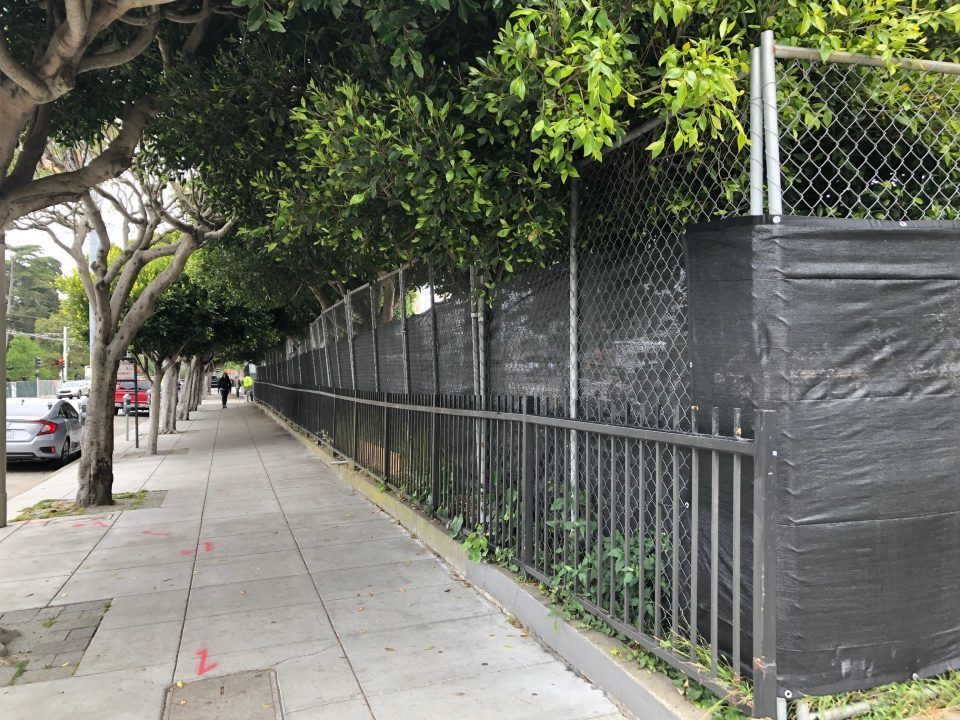 The site has room for about 40 residents, and offers access to showers and toilets, free meals, an open-air kitchenette for people to prepare their own food, a small lending library, arts and craft supplies, games, access to electricity, mental health and medical care, counseling and clothing.
Residents live in tents where they can securely store their belongings. Around the site, there's a mix of resident-made improvements — wildflowers, birdhouses, painted canvases, and chalk drawings made with donated supplies.
Project director Eliza Wheeler, from the Homeless Youth Alliance, said the camp was built using a resident-led design, by doing outreach to the Haight's unhoused residents before the camp opened to see what they wanted it to offer.
Private toilets and access to showers, and the self respect they afford, were without exception the first thing everyone we spoke to talked about. After that, people were focused on more intangible amenities: privacy, a sense of safety, and the stability of a community that can care for itself.
Adam, who's lived on the street in the Haight for about seven years, said he felt like a different person at the site.
"It's a sanctuary, it's a place of sanctity and rest," Adam said. "That's a lot of stress off me. I can't express, actually, how much stress has been lifted." Not worrying constantly, he said, "it's different how I treat people. I'm a lot more compassionate."
Another resident said the safety of the site allowed him to care for himself. "Clean clothes, a shower every day" instead of every few months. "I wake up and cook breakfast. That's what I work to have, I'm not a dirty kid," he said. "I will never get used to having this."
Other residents have been able to use the camp as a springboard for going to school: one said they recently enrolled to study to be a nurse.
"This should be a stepping stone for people who want to get off the street," Adam said, "and not everybody does." He said the camp has offered him a view of "what I could be, what I could strive for as a person. It's something I could look up to."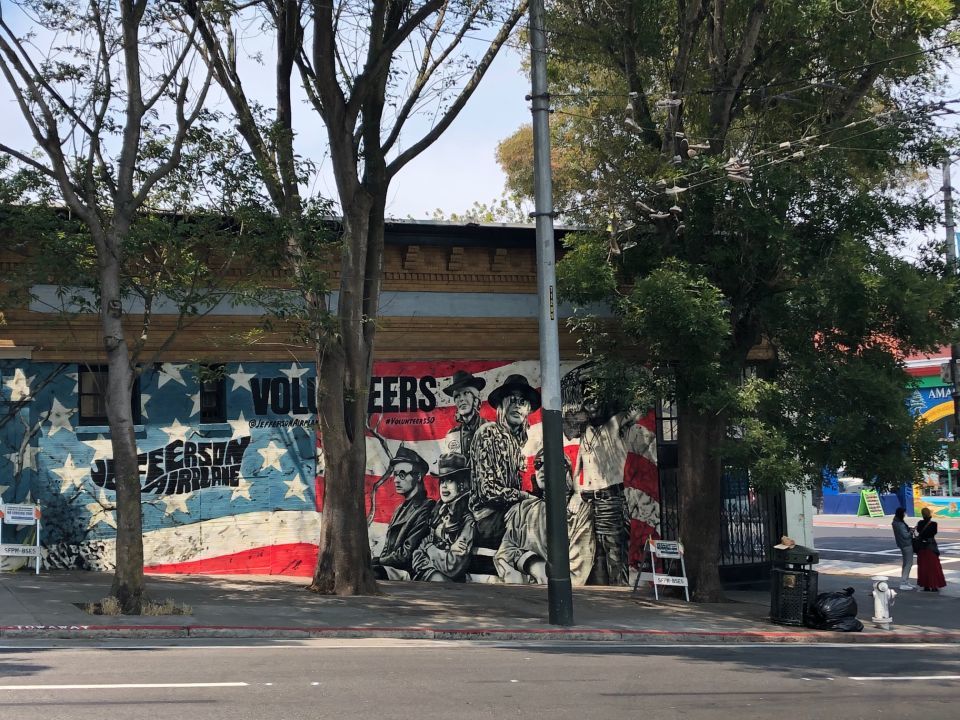 Wheeler said the camp was demonstrating what can happen if you afford people "fundamental, basic human dignity," and hopes that the model can be replicated elsewhere.
"People need a place to experience joy with each other," Wheeler said. "That's a luxury of safety."
The safe sleeping sites program was initially created as a second-best option to shelter the city's unhoused population, after the emergency closure of congregate shelters where overcrowding led to mass outbreaks of COVID-19 among residents and staff, and as an alternative to the city's hotel sheltering program, which ultimately was stymied by the Mayor months ago.
The Stanyan site was primarily intended to address the unsafe congregation of tents at Masonic and Haight, as well as at the DMV on Fell and Baker. Masonic has remained clear since the site opened, but the camp hit capacity before it was able to accommodate everyone from the DMV.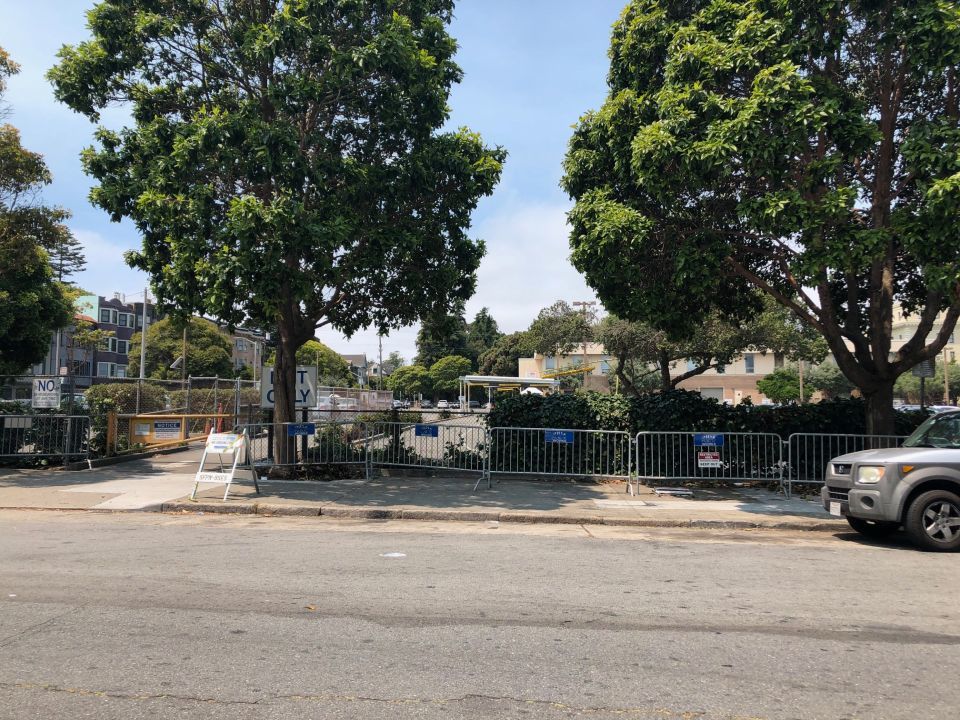 "The oppositions to the camp in general have died down significantly for us," said District 5 legislative aide Jen Snyder. But "we continue to have a lot of frustration and upset with neighbors that this one site can't address all of the needs of homelessness in the Haight, and certainly not in San Francisco as a whole."
Snyder said this was in part due to the site having a chance to prove itself and allay neighbors' fears.
One of opponents' early concerns about the site, for example, was its impact on area crime. According to SFPD data, Park District saw an average of 7.8 violent crimes and 198 property crimes per month between January 1, 2020 and May 31, 2020, the day the camp opened.
In the weeks since opening and through July 12, the most current record date, Park District averaged violent crimes at a rate of 8 per month, and property crimes at a rate of 197.3 per month — almost no variance from the rest of the year.
A group called Safe Healthy Haight has continued to be among the project's most vocal opposition, along with Concerned Citizens of the Haight, the group behind the dropped lawsuit.
Safe Healthy Haight declined to be interviewed for this story, but did issue a statement asking what would constitute success for the site, saying "No one seems to know."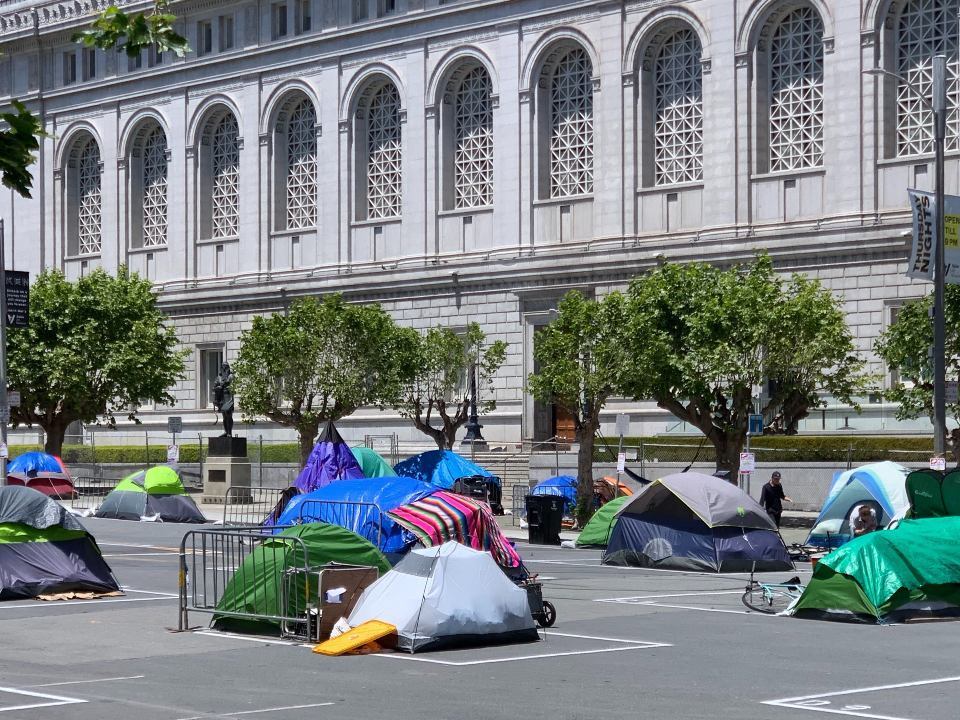 Jeff Kositsky, the homelessness lead for the city's Department of Emergency Mangement, said in a community meeting at the end of May that success would be measured by three considerations: "Is the neighborhood happy with it, are the clients happy with it, and long-term, how many people successfully exit homelessness?"
How many people ultimately exit homelessness from the site will depend in part on the resources they receive there, like completing education and applying for SSI and GI benefits they're eligible for, which some residents have been able to do.
The city has not released data on how many people have exited the site, and whether they exited to stable housing, another shelter, or something else.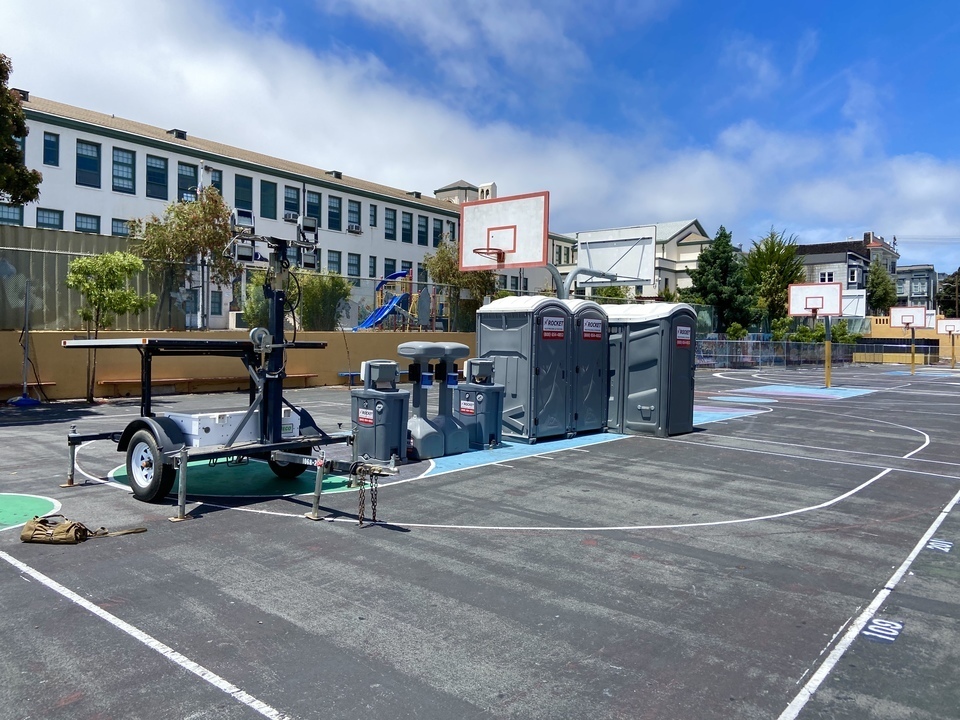 Kristin Hogan, spokesperson for the city's Department of Emergency Management, said safe sleeping sites citywide "will operate as needed during the pandemic."
One site, at Everett Middle School in the Castro, recently closed after only five weeks to allow the school to resume operations.
But city agencies have identified 42 potential other sites. Without identifying which location is in play, Hogan did confirm "a new safe sleeping village is being planned."
Hogan added that as of now, no safe sleeping site residents have tested positive for COVID-19 while sheltering there.