When the shelter-in-place order came down in March, the SFMTA suspended all of Muni's light-rail lines, replacing them with bus shuttles. 
Now, the trains are coming back — with some significant changes.
When the Muni metro reopens on August 22, the L-Taraval, K-Ingleside and J-Church trains will no longer enter the tunnel to service underground stations (Embarcadero, Montgomery, Powell, Civic Center, Van Ness, Church, Castro, and Forest Hill). 
Instead, they'll have aboveground transfer points at West Portal station (for the K/L) and Church and Market streets (for the J). Riders will also be able to transfer between the N-Judah and J-Church trains at Church Street and Duboce Avenue.  
In addition to those changes, the K and L are being combined into a single line, which will transfer to a bus shuttle for the L at Taraval Street and 32nd Avenue (eastbound) and Wawona Street and 46th Avenue (westbound).
As the agency explained in a blog post last month, these restrictions are due to train size. The J-Church and K-Ingleside lines can only support one-car trains at some of their surface-level stations — whereas all the stops on the N-Judah, M-Ocean View, T-Third and S-Shuttle can accommodate two-car trains.
Due to social distancing, it takes three times as many train cars to move the same number of people as it did pre-pandemic. More cars mean more people can board.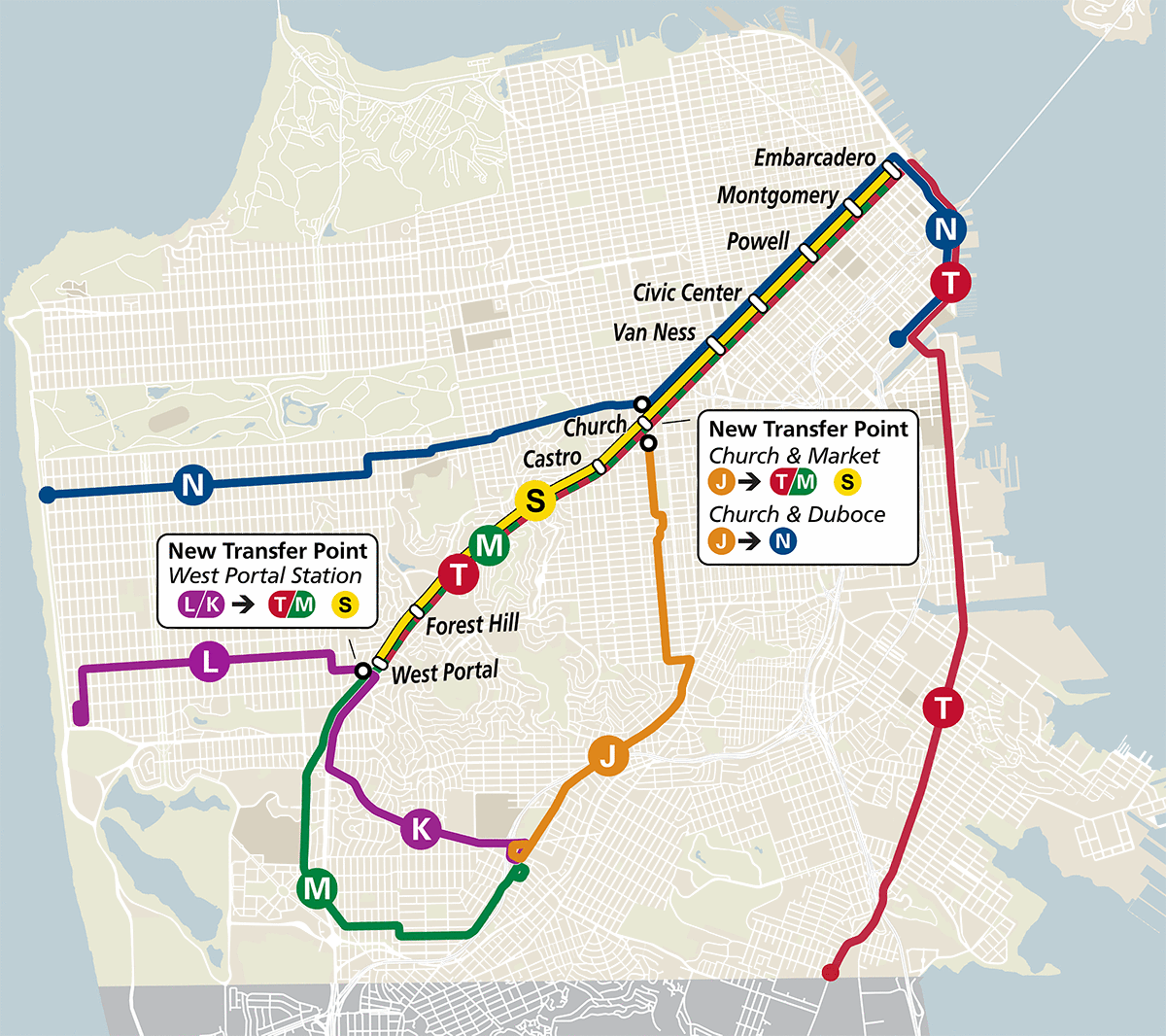 Bringing the metro rail back into service will also free up buses that are currently in use for the shuttles, allowing Muni to reduce overcrowding, open some bus lines back up, and increase the frequency of buses. 
The first issue is particularly pressing, as many riders have complained about overcrowded buses that make it tough to socially distance. Other have endured long waits for buses that can't stop because they're already at the maximum distanced capacity. 
On August 22, Muni will restore the full 7-Haight/Noriega, 44-O'Shaughnessy, 45-Union/Stockton, 54-Felton and 67-Bernal Heights routes, and extend some currently shortened routes, like the 12-Pacific and the 30-Stockton. 
Heavily trafficked existing lines, including the 8-Bayshore, 9-San Bruno and 14/14R-Mission, will see more bus frequency. And the 49-Van Ness/Mission will get bigger buses, upgrading from 40- to 60-foot coaches to promote distancing.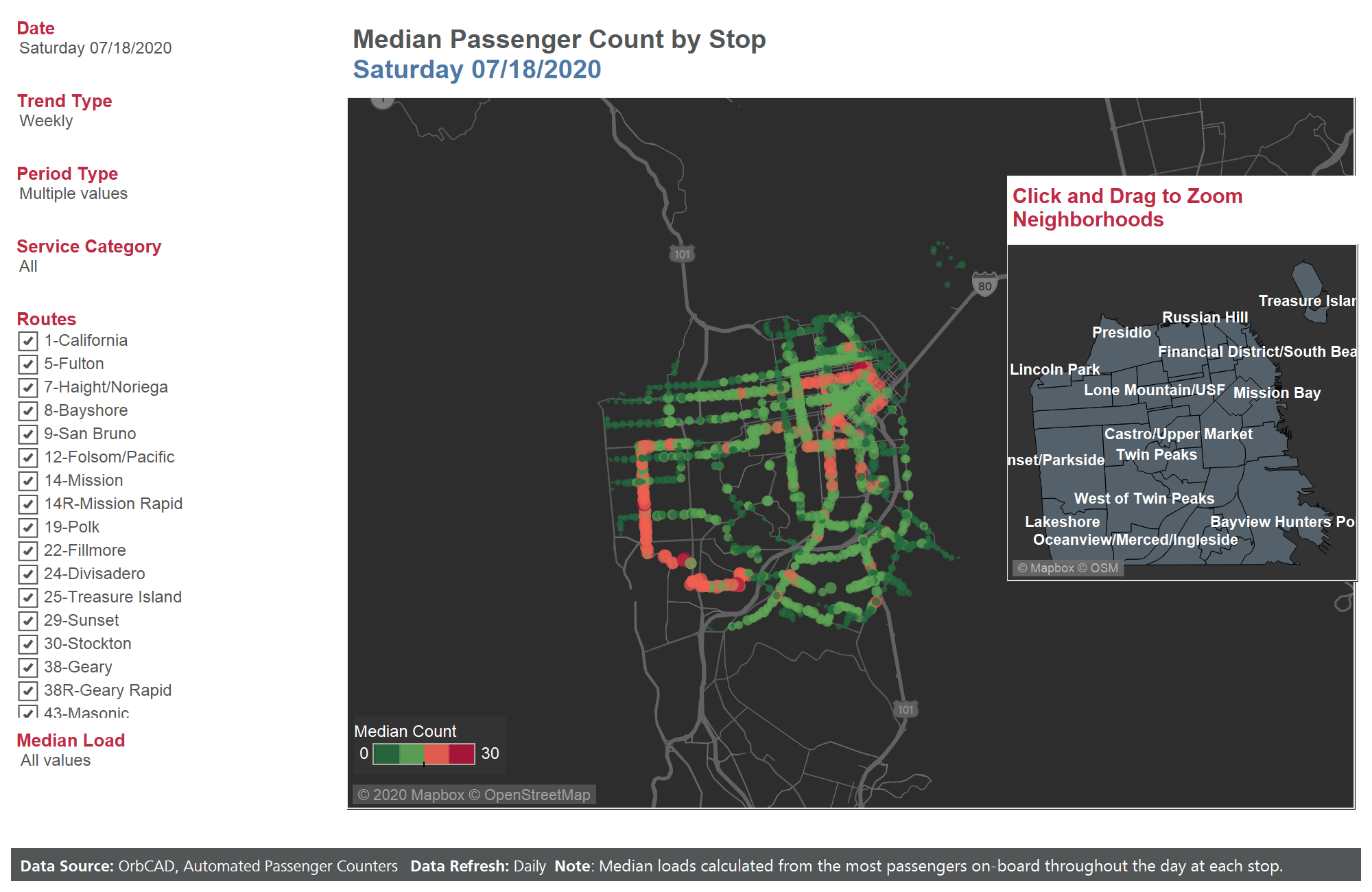 Many Muni lines are still offline, though. Earlier this month, SFMTA director Jeffrey Tumlin said that as many as 40 of Muni's 68 bus lines won't return anytime soon, due to fiscal shortfalls from lack of ridership and the city's overarching budget crisis.
"We may be able to introduce some additional service changes in the fall," an SFMTA representative wrote in a blog post. "But looking further ahead, future service increases depend largely on additional revenue and the potential relaxation of COVID-19 distancing requirements."
As of mid-July, overall Muni ridership was down 63%. However, the decline isn't even across lines: the 14R-Mission Rapid, for example, is at 75% of normal ridership. 
To speed that line and three others (the 19-Polk, 43-Masonic and 44-O'Shaughnessy), the city recently approved "temporary emergency transit lanes" on those corridors. The red lanes will be exclusively for buses, emergency vehicles and taxis.