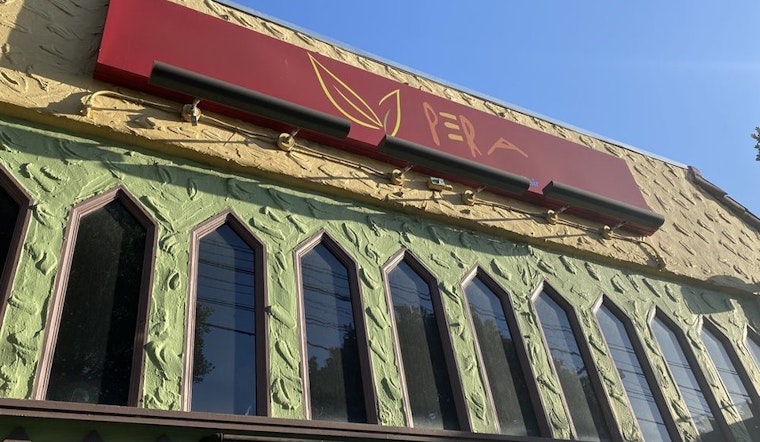 Published on August 21, 2020
Here's the latest in San Francisco food news. In this edition: a Turkish restaurant closes and a taqueria moves in Potrero Hill, a Mexican/Korean eatery expands to Chinatown, and a frozen yogurt spot makes a comeback with the help of its sister eatery.
Closing
Potrero Hill
Pera (1457 18th St.)
After more than a decade in Potrero Hill, Mediterranean eatery Pera will close for good after dinner service tomorrow, August 22. Owner Irfan Yalcon made the announcement on the eatery's Facebook page, citing the pandemic and the resulting "hard decisions" as the reason for its closure. 
However, Yalcin plans to hold on to Pera's 18th Street space, formerly home to Chinese restaurant Eliza's. His plan is to move his other Potrero Hill restaurant, organic taqueria Papito, into the location.
We reached out to Yalcin for further information about when the move will occur and whether he plans to hold on to Papito's Connecticut Street space, but didn't hear back. 
Yalcin is no stranger to restaurant ownership in San Francisco. A Turkish immigrant who first came to the city in 2006, he owns both locations of pan-Latin eatery Cha Cha Cha (2327 Mission St. and 1801 Haight St.) and formerly owned Mission seafood spot Urban Fish and wine bar L'Emigrante, which closed in 2017 and 2018, respectively. 
Inspired by Yalcin's Turkish roots, Pera specialized in meze (small plates), such as spanakopita and hummus. Entrees included kebabs and moussaka.
When shelter-in-place began in March, Pera remained open for takeout and launched a crowdfunding campaign for its staff, raising about $6,000 from patrons. Customers are encouraged to drop by tonight or tomorrow from 5-8 p.m. for a final takeout meal and to say goodbye. 
"We thank you all who became our friends and family all those years," Yalcin wrote on Facebook. "Special thanks to people who supported us during these hard times by bringing us business or donating to us to keep fighting to keep our place open."
Opening
Chinatown/North Beach
Tacorea (620 Broadway)
Mexican-Korean fusion eatery Tacorea is expanding from Lower Nob Hill to the border of North Beach and Chinatown. It plans to open its second location, at Broadway and Columbus, this Monday, August 24.
Owner David Lee said that he and his team hope to contribute to the revival of the neighborhood, which has been "hit hard" by the pandemic.
Housed in the former space of Vietnamese spot Kim Sanh, the new Tacorea will have the same menu as the original: burritos, tacos, quesadillas, and bowls, with Korean twists like bulgogi and kimchi. 
"Fast, affordable, great-tasting food is something we're pushing for," Lee said. 
For now, there's no beer and wine license, so customers will have to stick to soft drinks. The new spot also doesn't have outdoor seating, so it will only offer takeout — no delivery. 
Lee said the pandemic slowed down business at Tacorea's original location for a while, but things are slowly picking up. "Our neighborhood regulars are a big reason we're open for business right now."
Update
Hayes Valley
Loving Cup at La Boulangerie (500 Hayes St.)
Last year, frozen yogurt spot Loving Cup closed after five years in Hayes Valley. Now, it's making a comeback under the same roof as its sister eatery, La Boulangerie de San Francisco.
The local bakery mini-chain, which acquired Loving Cup in 2018, is now serving a selection of pre-packed pints at its Hayes Valley location — just around the corner from where the shop once stood. 
There are eight varieties of fro-yo to choose from, including "crunchy cereal," which combines the titular item with a vanilla base and salted caramel sauce, and the "dirty hipster," with vanilla, Nutella and Oreo. There's also a new vanilla-strawberry flavor. 
La Boulangerie spokesperson Linda Xu said that the pints have been well-received, and that the company plans to expand them to its four other operating locations in the city. (Another two outposts, both in the FiDi, remain temporarily closed.)
For now, the company is sticking to repackaged pints, since most people are taking food to-go and enjoying it at home. We'll keep you posted if full-fledged fro-yo machines become a post-pandemic possibility.
---
We love reader tips! If you've seen something new (or closing) in the neighborhood, text your tips and photos to (415) 200-3233, or email [email protected]. If we use your info in a story, we'll give you credit.