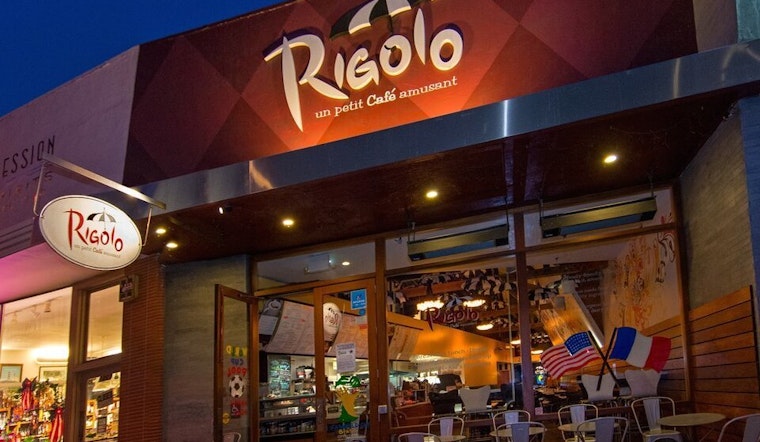 Published on August 31, 2020
Here's the latest in San Francisco restaurant news. In this edition, a popular eatery closes in Laurel Heights, a Russian Hill sushi spot changes its name and menu, and a Presidio-based restaurant turns into a marketplace. 
Closing
Laurel Heights
Rigolo Café (3465 California St.)
Tipster Debrah D. informed us that Laurel Heights' family-friendly cafe Rigolo has closed for good. Its last day of service was August 29.
Owner Douglas Mathieux, also the proprietor of Artesano in Laurel Heights, said goodbye in a live video on Facebook on the restaurant's last day.
Mathieux announced the closure via email, citing COVID-19 and its challenges as the reason.
After closing in mid-March for shelter-in-place, the eatery — best known for its pizza, burgers and sandwiches with a French twist — re-opened in early April for takeout and delivery. It later began offering pantry essentials such as flour, yeast, eggs, paper products and sanitizer.
Though the restaurant debuted some sidewalk seating in June, its concept was built entirely around indoor dining, and the change wasn't sustainable, Mathieux wrote.
"It's been a great 16-year run for the most kid-friendly café in San Francisco," he said in the email. "Thanks to all of you for your wonderful support all these years. We were lucky to have such a loyal customer base, and we feel privileged to have served the Laurel Village community for so long."
Updates
Russian Hill
Kinjo/Saru Sushi Bar Russian Hill (2206 Polk St.)
Kinjo in Russian Hill is no more. Its owners have transformed the restaurant into a sister location of Saru, their Noe Valley sushi spot at 3856 24th St. 
Takatoshi Toshi (Sushi Ran), Billy Kong and Kua Chuang (Ijji) opened Kinjo in early 2017 as an edomae-style omakase restaurant. It earned a Michelin star, but had to temporarily shut down in 2018 due to a flood. Seven months later, it reopened with a new chef and new menu.
Saru Sushi Russian Hill will offer only takeout and delivery for now, with the same menu as the Noe Valley location. The menu features familiar rolls like the California Roll and Dragon Roll, nigiri and sashimi, and a special to-go omakase menu.
For a limited time, the new restaurant is offering 10% off of all wine. Orders can be placed here. 
Presidio
Presidio Social Club Exchange (563 Ruger St.)
After 14 years of business, Presidio Social Club has transformed into the Presidio Social Club Exchange, Tablehopper reports.
Due to the pandemic, owner Ray Tang decided to close the restaurant and turn it into a marketplace with a bakery, carvery and to-go bar.
To-go fare includes slow-roasted lamb, hot prime rib and meatloaf, as well as grilling kits and fresh pasta dishes. The bakery offers biscuits, focaccia, braided challah, pies and cookies. Beer, wine, spirits and cocktails, including a make-at-home Bloody Mary kit, are also available.
Customers can order for pickup or delivery. Hours are currently Tuesday through Saturday from 4 to 8 p.m. 
---
Thanks to tipster Debrah D. If you've seen something new (or closing) in the neighborhood, text your tips and photos to (415) 200-3233, or email [email protected]. If we use your info in a story, we'll give you credit.