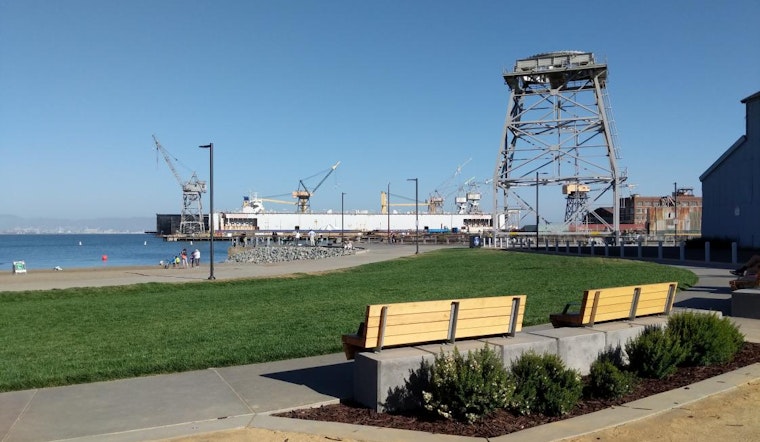 Published on October 22, 2020
The past seven months have encouraged San Franciscans to reacquaint themselves with city parks — and now, there's a new one to explore that even includes a beach and two-acre grassy lawn.
Since San Francisco enacted its historic shelter-in-place order back in March, hikes into Bay Area nature and strolls through city parks have proven a source of respite for many. Crane Cove Park, which has been in the works since 2011, is the end-product of a collaboration between the San Francisco Parks Alliance and Port of San Francisco, and it's sure to become a favorite among locals keen on spending a day at the beach.
View this post on Instagram
We are thrilled to announce the opening of Crane Cove Park! Thanks to all our partners and community leaders for helping make this a reality. We encourage you to visit Crane Cove Park over the coming weeks while following public health and social distancing guidelines. pic.twitter.com/7gTV63CnQ0

— Port of SF (@SFPort) September 30, 2020

"Crane Cove Park's development is a testament to the successful collaboration and partnership with the community," says Elaine Forbes, executive director of the Port of San Francisco, about the opening in a release. "The Port is proud that in opening this park we have been able to successfully restore access to this stretch of waterfront and our rich maritime history, and pay homage to our past and positioning us for a brighter future with all of the promise of joy, longevity, and happiness symbolized by cranes."
Spanning over seven acres, the park also includes two historic cranes, as well as one of the last remaining shipbuilding slipways in San Francisco, a two-acre multi-purpose lawn (with picnic and barbecue areas), and a new sandy beach.
And for those with fur children or human kids (or both), there are two distinct children's play areas and a 6,000 square-foot dog park to utilize; public restrooms and drinking stations can also be found at the park, as well as a small cafe.
Crane Cove Park is considered a part of Pier 70, a 66-acre enclave that, per the Chronicle, once thrived as a steelworks and shipbuilding hub before existing unused for decades. And though the area's now shouldering nearby giants like Uber and Juul, the restored park is slated to serve as a conduit to help locals — particularly those that call Potrero Hill and the Dogpatch home — access SF's bike-friendly Blue Greenway, a portion of the 500-mile, region-wide Bay Trail, and find kick-off points for kayaking, canoeing, and paddleboarding.
The park's paved pathways that run along the shoreline are also over 18 feet wide — so there's ample room to practice propper social distancing while sponging up the gorgeous views of the San Francisco Bay.
All this in mind, there's an inherent juxtaposition present at Crane Cove Park.
On one hand, park-goers can sprawl out atop lush grass and enjoy breathtaking vistas. The Park, coincidentally enough, is also frequented by locally common (and long-necked) blue herons and snowy egrets for its prime habitats.
But, alas, on the other: the two previously mentioned cranes, nicknamed "Nick and Nora" — which, too, are expected to be refurbished sometime in the future — exist as unavoidable reminders of the ever-expanding urbanization around the park. Many of the park's benches were made from beams collected when a nearby warehouse was demolished, while rusted-out chunks of dilapidated machinery now double as eye-catching sculptures.
As Hoodline reported earlier, Crane Cove Park will offer the opportunity for locals to embark on easy-to-access paddleboarding adventures — a sentiment evident by the quasi-new Facebook group dedicated to nearby paddle boarders, Dogpatch Paddle Club.
Crane Cove Parks stretches along the shoreline between 19th and Mariposa streets; easy parking to the park's access points can be found along Illinois Street.