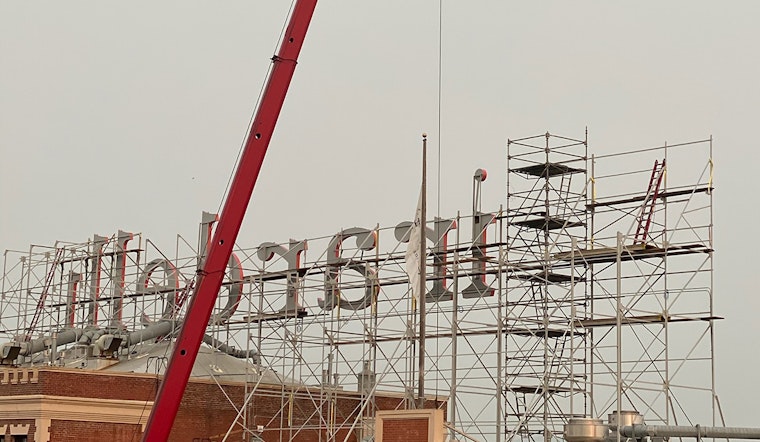 Published on October 01, 2020
The landmark illuminated Ghirardelli sign went back up Thursday morning, after a dark and dismal couple of months in which it was missing.
The iconic sign was removed by the current owners of Ghirardelli Square, Jamestown Properties, back in July. As the SF Chronicle reported at the time, the sign was in a serious state of disrepair, with corroding metal and missing bulbs, and it needed to be pulled down for preservation and restoration work.
"The Ghirardelli marquee is an iconic feature of the San Francisco skyline and an exhibit of the square's rich history," said Jamestown President Michael Phillips in a statement. "We are pleased to be able to preserve its significance to the square, the neighborhood, and the history of a beloved California-born brand."
The 19-foot-tall, 152-foot-long sign, when it was originally erected for the 1915 Panama-Pacific International Exposition, was two-sided, with lit-up letters facing Russian Hill as well. But when the sign was last restored in 1964, the city-facing letters were removed.
The sign dates back to when Ghirardelli Square was actually home to the chocolate factory of Domenico Ghirardelli, originally named Ghirardely & Girard. The company is the third oldest chocolatier in the United States, having been founded as a confectioner in 1852 at the corner of Kearny and Washington streets, per the company website. Ghirardelli's actual corporate headquarters moved to San Leandro years ago, but the company still hosts an annual chocolate festival at Ghirardelli Square. (And as of 1998, it became a wholly owned subsidiary of Swiss chocolatier Lindt & Sprungli.)
Restoration work first needed to be approved by the Historic Preservation Commission and the San Francisco Planning Department, under a "vintage sign" designation, which naturally took two and a half years to get.
Hoodline tipster Dede Tisone sent in photos of the letters moving back into place, and she notes that by mid-October they should be lit up and able to change color for the first time to celebrate holidays and specific events. 
The Chronicle noted that the letters, newly reconstructed out of aluminum based on the exact shape of the original letters, were painted with high-performance paint that matched the original letters' color. And the old bulbs have been replaced with LEDs that mimic the original bulbs' color, but obviously will be able to change color as well.