The Tenderloin's infamous O'Farrell Theatre closed last month without fanfare, and whether you believe in the freedom of speech when it comes to pornography and adult performers or not, you should know that this place was one of a few in San Francisco that started it all. (And it's also managed to live in infamy due to a few very public incidents, not the least of which was a 1991 murder in which one of the co-founding brothers shot the other one.)
The demise of the notorious strip club joins a parade of stories across the city in which legacy businesses that were already hobbling along financially were done in by the pandemic.
"We had known about the end for three years now," says longtime staff DJ Ben "Dewey" Herndon, speaking to SFGate. "COVID was just insult to injury. We were hoping to at least get a couple more years in."
The O'Farrell Theatre opened as an adult movie house in 1969, part of a wave of conversions of old single-screen movie theaters around the city falling on hard times and converting to adult theaters. Brothers James and Artie Mitchell, then in their 20s, set about becoming pioneers in a national legal battle over obscenity, reportedly taking part in some 200 lawsuits that came to define pornography as an innocuous — if distasteful to some — part of modern life.


One of their peers in town, Alex de Renzy, made the 1970 documentary film that set San Francisco down the path to becoming the porn capital of the United States. Titled Pornography in Denmark, the film was ostensibly an objective look at an adult film convention in Europe, where obscenity laws had not prevented a new and titillating film business from getting off the ground. The film was the first to be screened in the United States showing vaginal penetration — under the auspices of being on the set of an adult film being shot in Denmark. And because it had "social value" under the guise of a documentary, the film passed legal muster — though it ended up being shown in adult movie houses like the Mitchell Brothers'.
The Mitchell brothers made their own adult film two years later titled Behind the Green Door, which became an early classic of the genre, starring a then-20-year-old Marilyn Chambers. Made on a budget of $60,000, it became the second-highest-grossing X-rated film of all time, making $50 million — and vaulting the Mitchell Brothers into the upper echelons of the nascent adult-film industry. With that money they spruced up the O'Farrell Theatre, added rooms for lap-dances and live shows, and made it a mecca for voyeurs and porn tourists — not unlike the Condor Club in North Beach was made famous in the same era for breaking down laws that ultimately allowed dancer Carol Doda to perform topless, and then bottomless, for a generation of male admirers. The O'Farrell Theatre would soon become, as Hunter S. Thompson dubbed it, "the Carnegie Hall of sex in America."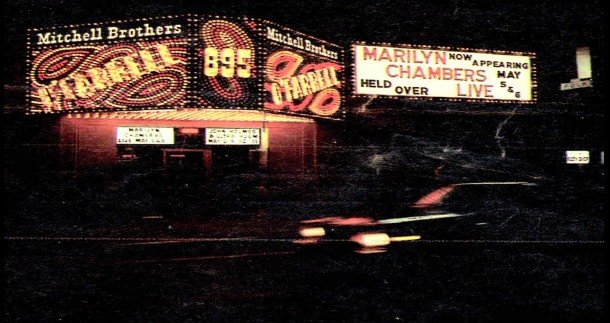 The original, neon- and bulb-filled sign was rumored to cost $10,000 a month to power. | Photo via Yelp
Their success also led to an empire of 11 porn palaces under the Mitchell Brothers' name, including two in Southern California.
But the Mitchell Brothers' battles with the city of San Francisco went on for over a decade. Before joining the Board of Supervisors, Dianne Feinstein launched her political career as a pearl-clutching Presidio Heights housewife who campaigned against the spread of adult movie houses around the city. After years of dealing with her activism and attempts to shut them down — including a 1980 raid under her tenure as mayor in which 14 patrons and staff members were arrested on prostitution charges — the Mitchell Brothers famously fought back in court and then posted Feinstein's personal phone number on their marquee with the message "For a good time, call ..."
Over the years, many more strip clubs joined the O'Farrell around the neighborhood, on Market Street, and over in North Beach. As the 2011 short film The Smut Capital of America explained, this heyday of the early 1970s was very much unique to San Francisco and the Tenderloin, though other cities around the country would soon gain their own red-light districts.
After Artie Mitchell's reported cocaine abuse led to erratic behavior that impacted the business, Jim Mitchell took a gun to Artie's Corte Madera home and fatally shot him in 1991. In an obituary after Jim's death in 2007, the LA Times explains that this was when the brothers' "empire came crashing down." After spending three years in San Quentin for voluntary manslaughter, and after settling wrongful death lawsuits with several of Artie's children, Jim Mitchell lived out his days on a horse ranch in Petaluma.
In 2000, brothers Charlie Sheen and Emilio Estevez starred as Artie and Jim Mitchell in the Showtime biopic Rated X.
The theater was put up for sale in 2018, but it seems like no buyer ever emerged. As Curbed reported at the time, Jim's daughter Meta had been managing the club in recent years.
Now, as SFGate reports, the dancers and DJs that still called the O'Farrell Theatre home are, like so many other performers in San Francisco, out of work in this pandemic. And this landmark of porn and pole-dancing is going the way of thousands of businesses across the country.
DJ and manager Ryan "Francais" French says it's been like "losing a home."
"It was like the sick man that we were all expecting to see go," he says to SFGate. "We wished we all could have been there working rather than staying at home due to COVID."