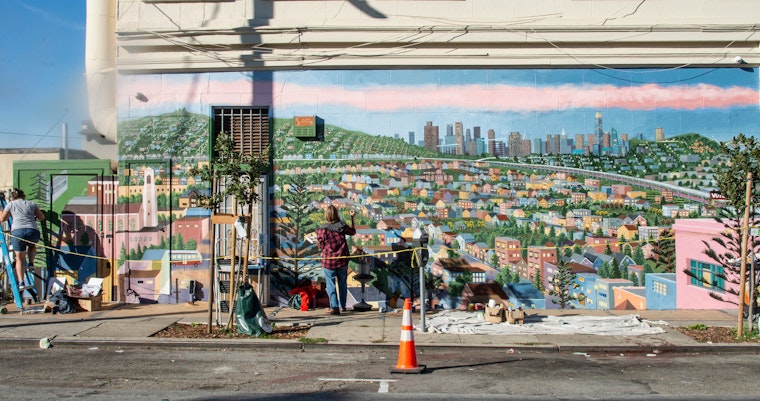 Published on December 02, 2020
In the Portola District, this month signifies not just the end of an eventful year but the close of the Multi-Mural Community Art Project, a two-year effort that has culminated in three new murals along San Bruno Avenue.
As Hoodline reported earlier this year, the project was a partnership between the Portola Neighborhood Association Arts & Beautification Committee and the Office of Economic and Workforce Development's Invest in Neighborhoods program. The goal, Project Manager Lia Smith told Hoodline, was to "bring beauty and art to the business corridor" while also instilling a sense of neighborhood pride and belonging. According to Smith, the Arts & Beautification Committee used a series of phrases to guide their vision for the corridor, seeking to transform it from "drab to colorful, uninviting to welcoming, vibrant to hella vibrant."
The first mural, "Portola Blossoms" by Kseniya Makarova, did just that. Completed in August, it infused brilliant hues of yellow and violet to a formerly blank wall on the south wall of Hawaiian Drive-Inn (2600 San Bruno Ave.). Since then, two more murals have brightened the commercial strip: "Portola Gardens" on the east-facing wall of San Bruno Market (2480 San Bruno Ave.) and "Portola Long View" along the south wall of San Bruno Coin Launderland (2444 San Bruno Ave.).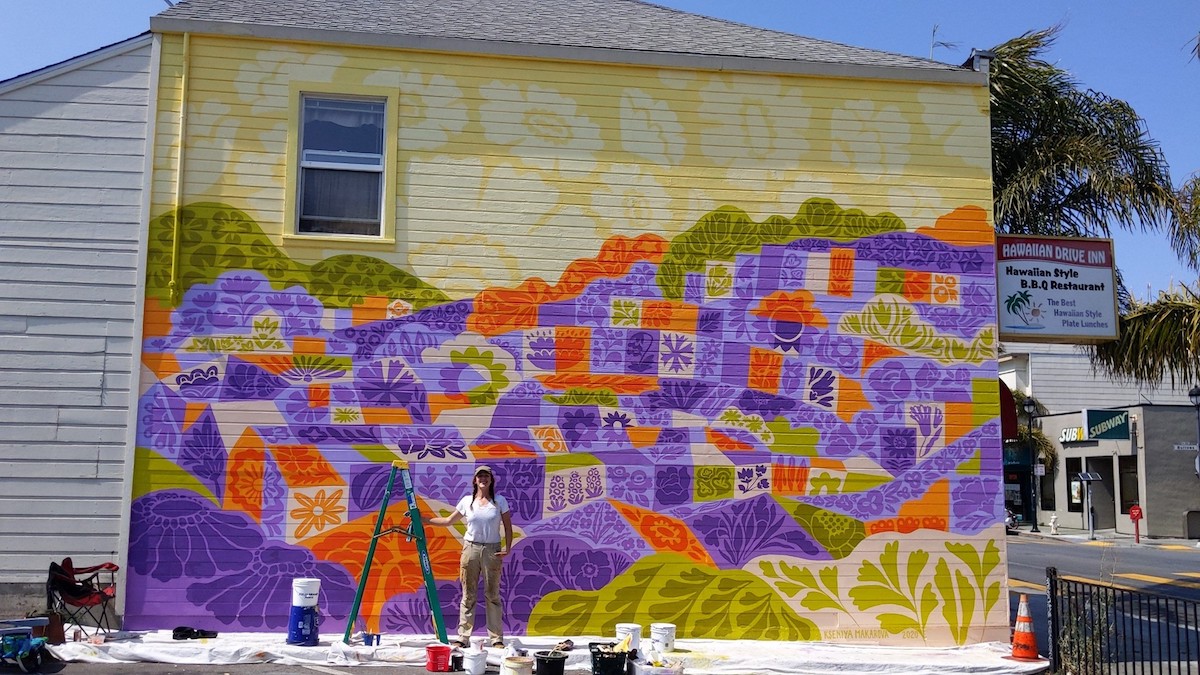 Kseniya Makarova stands in front of the completed "Portola Blossoms" | Photo: Portola Neighborhood Association
While unique in style and approach, all three murals find common ground in their subject matter: the history and resiliency of the Portola District.
"Portola Gardens," by local artist Charles Dabo, is an eye-catching piece that depicts the flora of the neighborhood in bold bright strokes. The design, Dabo said, was inspired not only by the Portola's early days—when garden nurseries and greenhouses dotted the hillsides—but residents' ongoing efforts to preserve its horticultural history.
Known in the early 20th century as "San Francisco's Garden," the sunny neighborhood was the city's main source for cut flowers and produce for many years. As the decades passed and the greenhouses eventually emptied out, the Portola continued to flourish — although perhaps under the radar — as one of San Francisco's most culturally diverse neighborhoods.
"I chose vivid colors to create an abstract that celebrates our neighborhood diversity," said Dabo, adding that he'd hoped the work would inspire viewers to "find a commonality between them" as they passed by.
"Portola Gardens" was completed at the end of August and inaugurated with a neighborhood picnic and ribbon-cutting in September.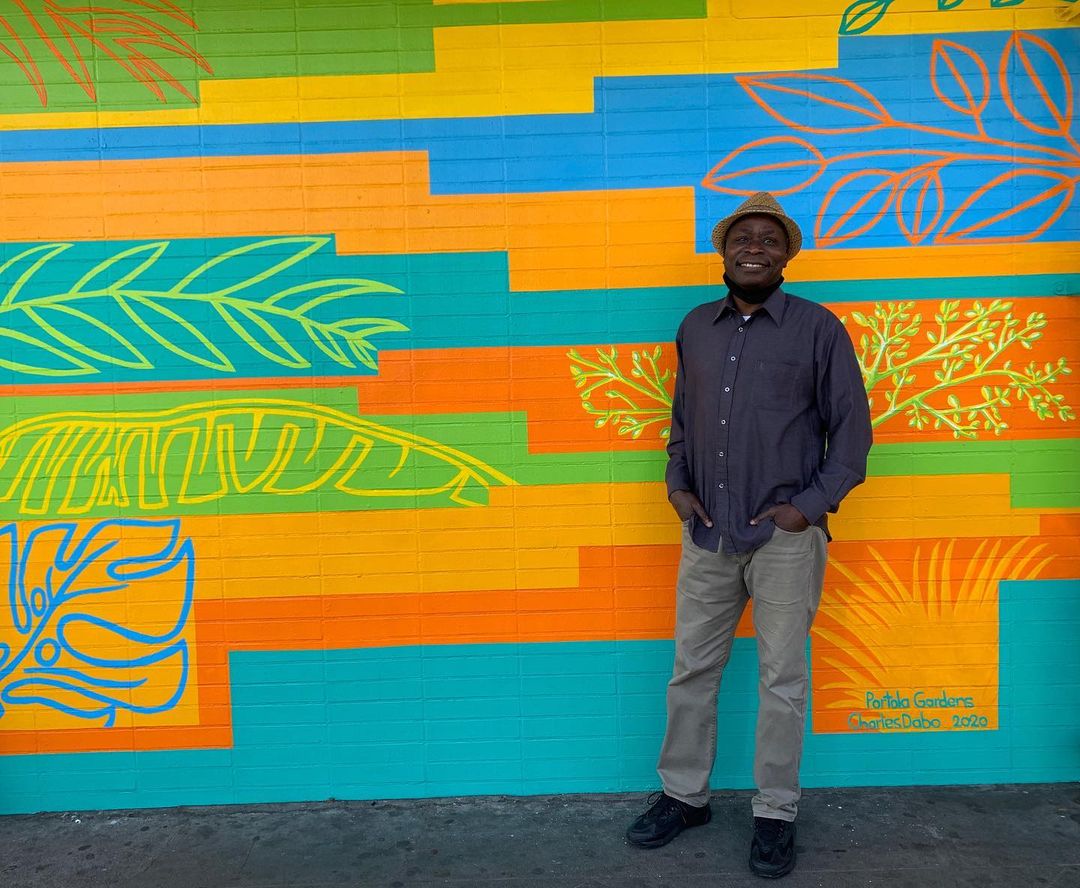 Charles Dabo in front of "Portola Gardens" | Photo: Portola Neighborhood Association
The third mural in the series, "Portola Long View," was painted by photographer and artist Arthur Koch. Koch, who lives just a block away from the mural site at San Bruno Coin Launderland, also painted "The Portola Then and Now," the three-panel mural gracing the local Grocery Outlet supermarket (1390 Silver Ave.).
"Portola Long View" offers a sweeping panorama of the city as seen from the neighborhood's southern hills. It's a variation of a neighborhood scene Koch had painted for San Francisco Beautiful's 2019 Muni art contest, adapted for a much larger backdrop.
"I had to go into more detail in this one [compared with the original], since people will be seeing it at eye-level," said Koch. The mural is full of references to the neighborhood known as San Francisco's Garden District: a greenhouse surrounded by lemon trees, a "garden tour" sign, patches of farmland nestled between houses. To fill in the intricacies of each tree, house, and neighborhood critter, Koch was assisted by Bay Area artists Nathalie Fabri and Denise Deiloh, as well as his son Vladimir.
"It's a quaint picture of a neighborhood, but there's also some social significance," he added, pointing out certain details that were influenced by current events. A "VOTE" sign, painted above the curve of the freeway in the mural's bottom right corner, was one of many details added during the lead-up to the 2020 presidential election. "It was nice to have something to focus on while waiting for election results," Koch said of the project, which took several months to complete.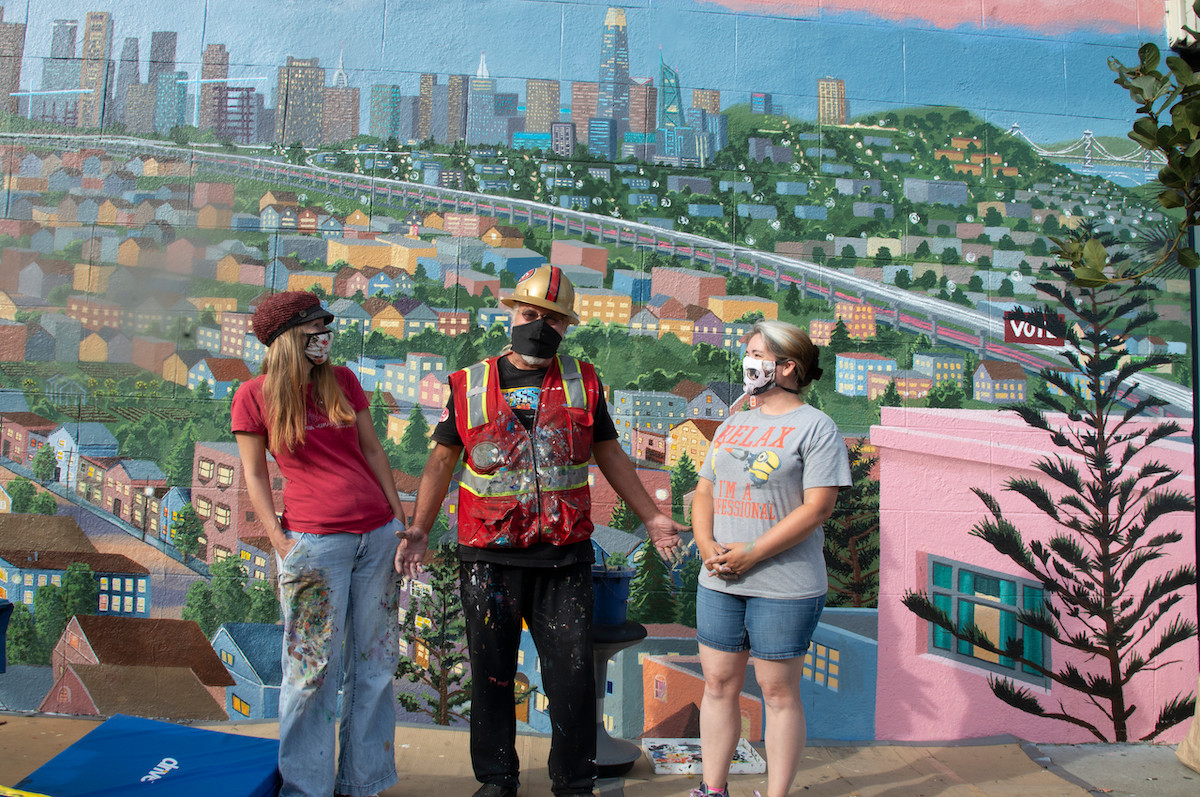 Artist Arthur Koch (center) with Nathalie Fabri and Denise Deiloh | Photo courtesy of Arthur Koch
For those involved in the multi-mural project this year, the effort has taken on extra significance while the effects of COVID-19 continue to be felt around the city. In addition to offering a conversation starter for those walking by, Lia Smith said, the murals have already helped to build relationships between building owners and community members, strengthening the bonds between merchants, neighbors, and visitors alike. "They are bringing uplift to their community," she said of the artists.
"Unlike a lot of jobs I've had, I get a lot of compliments as I'm working," Koch said. "It makes people smile, and gives them hope."
A celebration for "Portola Long View" will be held on Tuesday, December 8 at 12:00 noon at 2444 San Bruno Ave. The event, which is open to the public, will also celebrate a new parklet created by Youth Art Exchange in front of Breakfast at Tiffany's (2499 San Bruno Avenue).