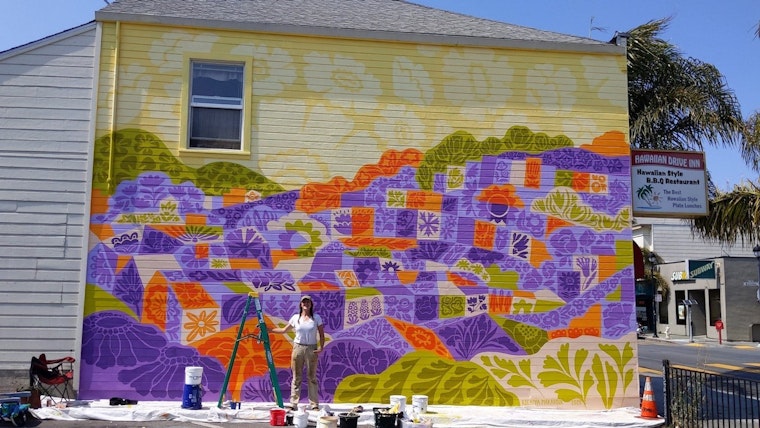 Published on August 13, 2020
After three weeks of painting, a formerly blank wall on the south side of the Hawaiian Drive-Inn (2600 San Bruno Ave.) is now awash in color.
"Portola Blossoms," by local artist Kseniya Makarova, is part of an ongoing project to bring three new murals to the San Bruno corridor in 2020. 
Known as the Multi-Mural Community Art Project, it's a collaboration between the volunteer-run Arts & Beautification Committee (an extension of the Portola Neighborhood Association) and the OEWD's Invest in Neighborhoods program.
Plans for bringing more greenery and art to the San Bruno Avenue business corridor began in 2018, said Lia Smith, the project manager for the mural effort. 
In an open call last year, the Arts & Beautification Committee received about 35 proposals from local artists. The submissions were then shared in public spaces, giving community members a chance to discuss and weigh in on their favorites. 
In a neighborhood where over a dozen different languages are spoken, it was a unique way of bringing people together. 
"Members of the community who aren't reached out to very often on this level were viewing printouts in hallways, discussing art, discussing the neighborhood, and feeling like they had a say [in the decision]," Smith said. "For us, that's one of the best outcomes."
Eventually, a nine-person panel of Portola residents selected three finalists, based on community input and budget feasibility. After the proposals were approved by the SF Arts Commission, finalists were given the green light to begin planning.
Makarova — who was also one of the artists behind the Black Lives Matter artwork on the Bernal Heights Park rock that caused a stir earlier this summer — began work on her mural in early July. At 600 square feet, it's her first large outdoor piece. 
"I wanted to weave at least one of the Portola's unique characteristics into my piece," she told Hoodline. "Out of the many things that make this neighborhood special, I was drawn to its history as the garden neighborhood."
As a primary provider in the cut flower industry of the early 1900s, the Portola was once filled with fields of flowers and family-owned greenhouses, earning it the nickname "San Francisco's Garden."
The vibrant flowers in "Portola Blossoms" are a nod to this history. They're interlaid into a colorful grid representing the Portola's rolling hills and houses, based on a photo Makarova took looking southeast from the corner of Bowdoin and Woolsey streets.
"As Kseniya's mural was going up over the last three weeks, it's really lifted people's spirits," said Smith. With the toll the COVID-19 pandemic has taken on the city as a whole, the mural is an indication that "there's still light" in the community.
The second mural in the project, by Portola-based artist Charles Dabo, is already underway outside San Bruno Market (2480 San Bruno Ave.). It's expected to be completed by the end of September. 
The third, which will be installed on the south-facing side of San Bruno Coin Launderland (2444 San Bruno Ave.), should be finished by mid-October.
The three murals are part of a growing number of beautification projects in the Portola in recent years.
In 2016, two large-scale works of art were introduced along San Bruno Avenue. A prominent "Welcome to the Portola" sign greets residents and visitors as they enter the neighborhood's commercial corridor, at San Bruno Avenue and Silliman Street. 
Further south, a colorful mural on the side of Breakfast at Tiffany's (2499 San Bruno Ave.), painted by Nico Berry, depicts a collage of native flowers overlaid atop a map of the neighborhood. 
A public celebration for "Portola Blossoms" will be held outside Hawaiian Drive-Inn this Sunday, August 16, from 11:30 a.m. to 2 p.m. 
The event will include live music from local DJs and discounts from local businesses. Attendees are asked to wear masks and maintain social distancing.