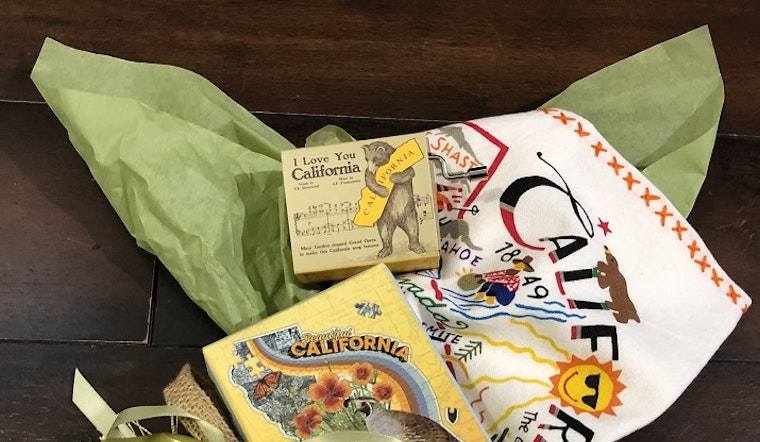 Published on December 16, 2020
We are all being encouraged to shop local this year to support struggling small businesses, and it's more important than ever because so many small retailers are hurting. But buying from neighborhood stores can deliver major pandemic benefits, too: Many boutiques and mom-and-pop outfits are offering private shopping by appointment, custom gift packs and almost-totally-isolated conditions that the big-box retailers just can't match.
Obviously, Hoodline can't highlight all the local businesses that are worth a visit, but we hope you'll use this Shop Local East Bay guide as a jumping-off point to explore the many local shopping options in a safe and responsible way. (And check out this companion guide for shopping local in San Francisco.)
Oakland
Bay-Made in Oakland's Grand Lake District has been selling crafts and art from local makers since 2017. The shop is encouraging online orders, but it's also open for socially distanced in-store shopping with just one or two customers at a time. They have disposable masks available for customers, hand sanitizer, and even gloves for those who want to wear them.
Bay-Made is also offering curated gift boxes that home-shoppers can have shipped straight to the recipients or pick up from the store – and customers can even call for a personalized gift box. "Folks can call us for custom options," co-owner Sarahjane Bernhisel says. "They tell us their budget, whether they are picking it up or we are shipping, and what kind of items they are interested in, like a tea box, a snack box, or a spa box."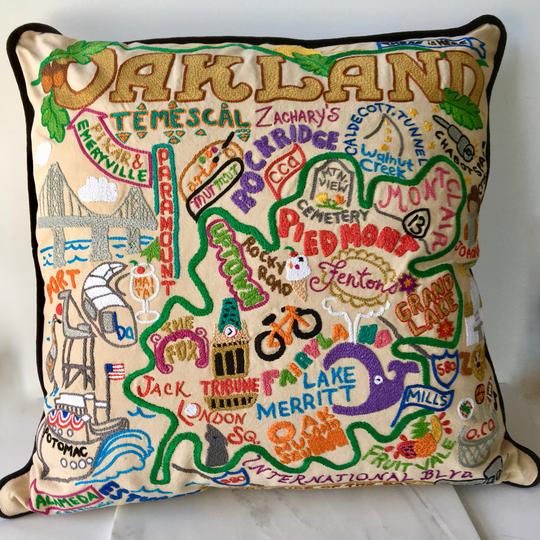 Oakland pillow Photo: Urban Indigo
Not far from Bay-Made is Urban Indigo, where you can find gifts of every stripe, from a DIY ukulele kit to a hand-embroidered "Oakland" pillow, and lots of other local schwag. They're not offering online shopping, but you can browse around their site to see a whole bunch of sample products and prices — and they have more in-store. They're running an air filtration system and keeping the door open to keep shoppers safe, plus they have hand sanitizer on hand.
Retail boutique Nathan & Co has two locations, on Piedmont and on College Avenue, where you can find jewelry from local designers, greeting cards and a variety of gifts and home accessories. "Nathan & Co is a place where the shopping experience is just as lovely as the loot you leave with, where your name is remembered and the gift-wrapping is always free," promises their website.
Nathan & Co is encouraging online shopping with curbside pickup or shipping available, but they're also open for COVID-safe shopping in person. At current capacity levels, there will be just four customers in the store at a time at their Piedmont location, and six at their store on College Street. Check out their selection of curated stockings for an ultra-easy gift, such as the Beer Lover's Stocking ($37) or the Cat Person Stocking ($49).
Berkeley
Solano Ave, which starts in Berkeley and ends in Albany, offers plenty of opportunities for retail therapy. Check out Tenzing Collections on the Berkeley side for wondrously soft yak's-wool shawls that will keep your giftees warm and cozy, affordable jewelry and various Nepali and Tibetan-style clothing, bags and decor. You won't be crowded in their tiny shop, but they offer online shopping, too.
Find sustainable and fair-trade goods at A Priori in Berkeley's Gourmet Ghetto neighborhood, from jewelry and accessories to home and kitchen items. They have a wide selection of products available to order from their website, and they're offering curbside pickup as well as shipping. The store is also open for socially distanced in-person shopping. Try their Bob Marley and Jerry Garcia Christmas tree ornaments for that person on your gift list who thought they had everything!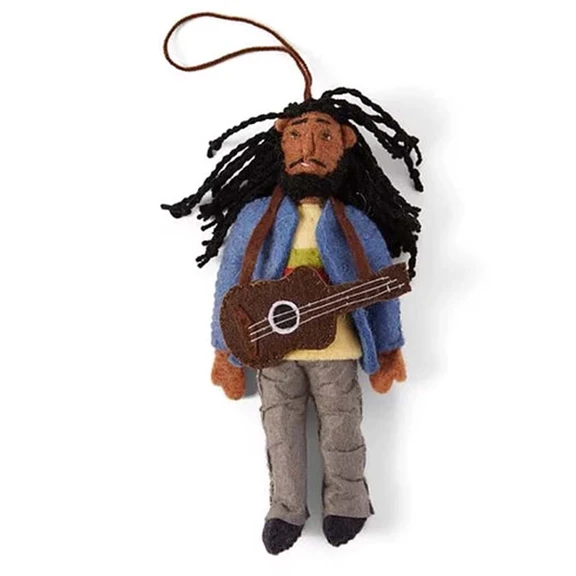 Bob Marley ornament Photo: A Priori
Albany
The Morningtide boutique has a selection of giftable goodies available, along with top-of-the-line COVID safety, including plexiglass at the counter and an air purifier that's kept running during open hours. They also offer the opportunity to try clothes on before purchasing – a rare luxury in pandemic times. (Clothing that is tried on is quarantined afterwards.) You can order from the Morningtide website, too, where you'll find helpful gift guides for the people on your list, from the foodie to the eco-conscious to the new mom.
El Cerrito
Shoppers can find gifts for just about anyone at Jenny K, where lavish soaps, jewelry and face masks from local designers share space with carefully selected toys and books, plus they can pick up coffee and a snack from the Well Grounded café next door (part of the two-shop wife-and-husband offering). The store also offers a more limited selection for order online. But perhaps most fun is their customized gift service. Give them a call (you can even have a video call) and tell them who you're shopping for, and they'll suggest a gift package that's just right. You can pick it up or have it shipped — or, for nearby neighborhoods, they'll deliver your gift pack right to the door.
Richmond and Point Richmond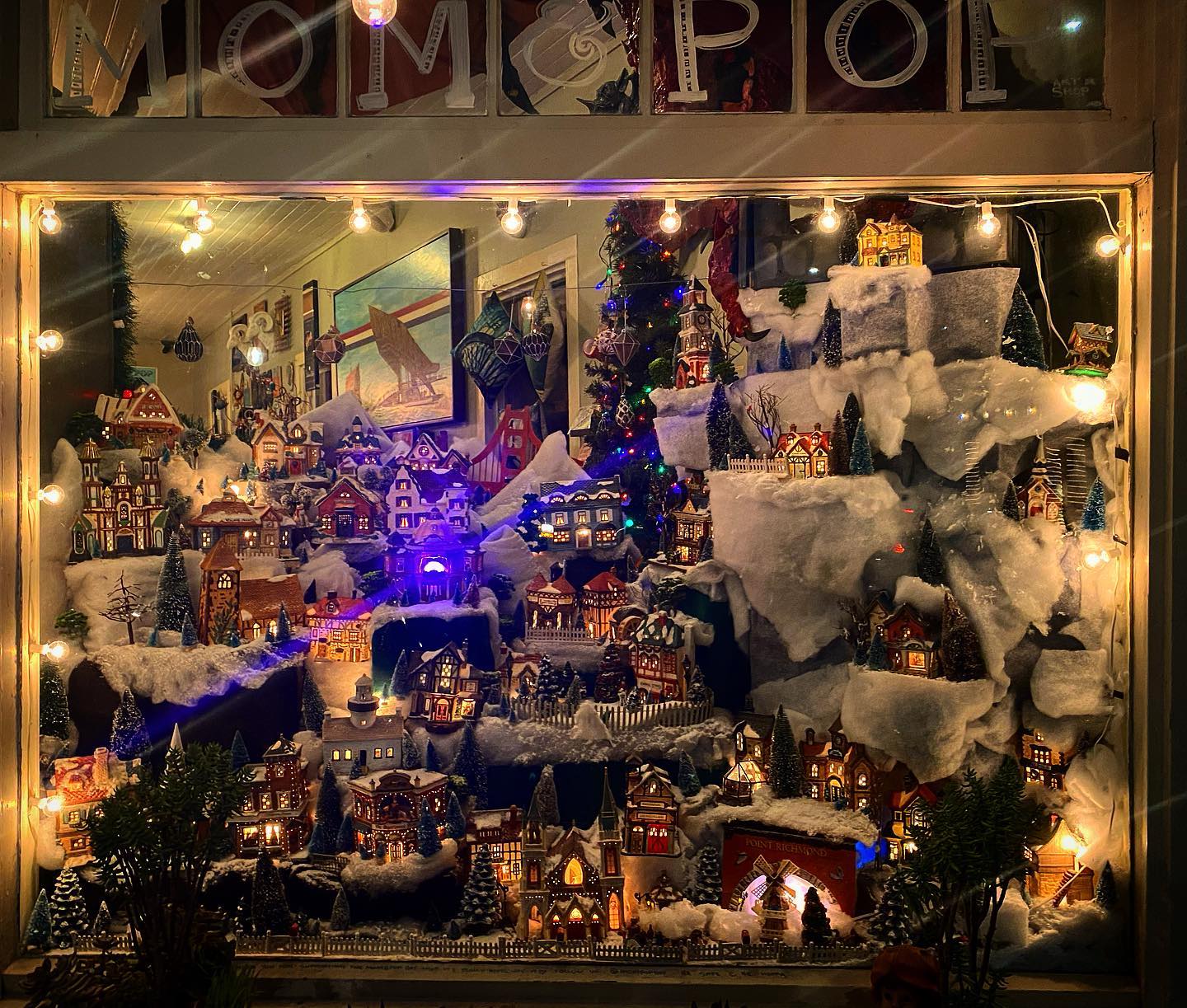 Window display at the Mom & Pop Art Shop Photo: Mom & Pop Art Shop/Facebook
Founded by two local artists, Mom & Pop Art Shop in Point Richmond sells an eclectic mix of goods, from art objects and art supplies to toys, clothing and gifts, both online and in person. There's a maximum of four people in the store at any one time, but the shop also offers the total security of private shopping by appointment – and their "winter wonderland" window display of tiny lighted houses makes the visit an outing, especially if you have young ones (or the young at heart) in tow. Visitors can pick up a handcrafted village, made of eco-friendly materials and equipped with solar lights, by Jacinto Castillo (the Pop in Mom & Pop), to make your own winter wonderland display back home. Bonus: Mom & Pop also sells bikes and accessories, including Strider bikes for kids too young to ride pedal bikes, from the awesome Rich City Rides, Richmond's own worker-owned cooperative bike shop.