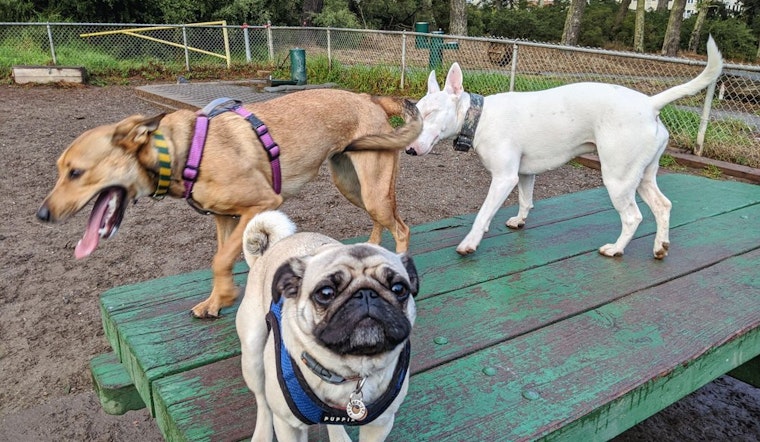 Published on February 12, 2021
San Francisco's biggest off-leash dog area is the Golden Gate Park Dog Training Area in Golden Gate Park, near Fulton Street and 37th Avenue. But the site hasn't been updated ot improved in decades, and has been dogged by dilapidation. That just changed, though, as the SF Examiner reports that the Golden Gate dog park has just completed a $2.4 million renovation.
According to SF Rec and Parks, "The renovation includes accessibility improvements to the parking lot and pathways, replacement of the surface materials and fencing, new site furnishings, landscaping, and bioretention areas. The renovated Dog Training Area will be partitioned into a larger area surrounded by a five-foot high fence and smaller area surrounded by a four-foot-high fence."
The Examiner adds that the overhaul also includes new doggy drinking fountains and wildlife-proof trash receptacles.
"I'm proud to have secured state funding for the Golden Gate Park Dog Training Area renovations to ensure people and pets alike can enjoy this beloved playground for generations to come. With the work finally done, the grand opening is simply 'pawsome'," state assemblyperson Phil Ting said in a statement.
The revamp also includes separate dedicated areas for larger and smaller dogs, for the safety of the little pups.
"Dego is gonna have so much fun sniffing and meeting new dogs and people," pug owner Lisette Aguilar told the Examiner. "We are so thrilled for this new development that SF Parks has done and cannot wait to visit it soon."