The city's first safe sleeping village opened at Civic Center back in May 2020, as a pandemic-era solution to create managed encampments with cleaner facilities and prevent the spread of COVID-19 among the unhoused population. Several more have opened since, at the old Haight Street McDonald's location and elsewhere, but one safe sleeping site in the Tenderloin may morph into a more innovative use of the program. The SF Examiner reports on a sleeping cabin proposal for the 180 Jones site that would provide interim shelter cabins and vastly better conditions than what the site has now — though in February of this cold pandemic winter this kind of feels late in the game.
This is all still just a proposal from the nonprofit Downtown Streets Team that has been managing the site. But their presentation of the plan to the Local Homeless Coordinating Board on Monday came with the encouraging promise that "cabins will be purchased with private funds." And with help from the coalitions RescueSF and DignityMoves, they'd be able to go forward pretty quickly if given the green light.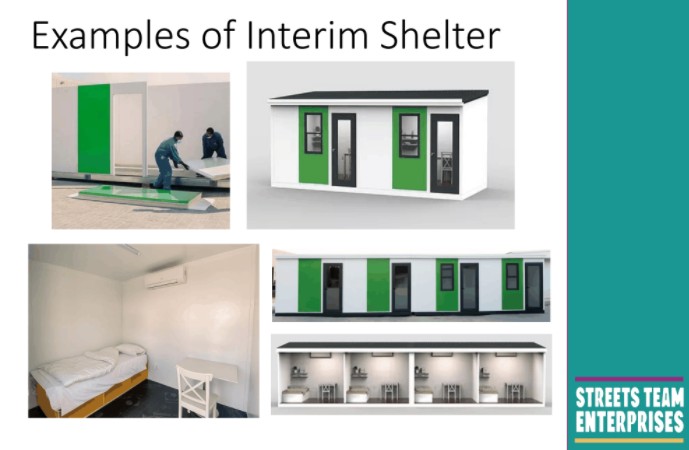 DignityMoves has already done one such village in Mountainview, and they have a detailed blueprint for building these units that are heated, have WiFi, allow for pets, and can be locked by the tenant. In the case of the 180 Jones site, it would not really add much capacity and would still house the same 21 or so people living there now. But these units can be disassembled and relocated, so the hardware could be reused at other sites.
"We believe that permanent housing is a solution for homelessness, but that waiting line for housing should not be on our streets," RescueSF co-founder Mark Nagel told the Examiner. "We think that's unacceptable. So we are advocating to do a small pilot with these units that we think are a much better alternative to leaving people sleeping on the sidewalk there, on a parking lot."
The 180 Jones site is notable because it was slated last year to become the city's first meth sobering center, a plan that was shelved by the myriad of other challenges of COVID-19. (The Examiner reported in late January that the search is back on for a new site for that proposed center.) And 180 Jones is still ultimately slated to become a supportive housing complex, with half its residents transitioning from homelessness. That project has a target completion date of 2022, though the pandemic has clearly set that completion date back.