If things go according to plan, 2021 should see a lot of returning-to-normal moments. For San Jose hockey fans, one of them came this week, when the San Jose Sharks practiced at SAP Center for the first time this season.
The hockey team has announced that it's set to play at SAP Center on Feb. 13, ending its COVID-driven exile from its home city. The Sharks will play out the remainder of their home games for the season in San Jose, the team said.
The Sharks will play the Vegas Golden Knights for their first game back home, not the Anaheim Ducks as originally scheduled.
San Jose had been due to take on Vegas this week, but the National Hockey League rescheduled those games when a Golden Knights player and three coaches were put in isolation under the league's COVID protocols.
With an unexpected gap in their schedule due to the postponement of the games, the Sharks players are back in San Jose and already practicing in their home rink after spending the whole season so far on the road.
The team's been away for five weeks, since heading to training camp in Scottsdale, Ariz., Dec. 30. Its "home" games against the Golden Knights would have taken place in Glendale, Ariz. this week if not for the postponement.
"I think today it was a noticeable difference," captain Logan Couture said of the return home, according to the National Hockey League site. "There was just a sense of, this is dragging on a little long, we'd love to get home … An hour here, and the energy has completely changed. Guys are excited, refreshed. A lot of smiles this morning so it was a good day."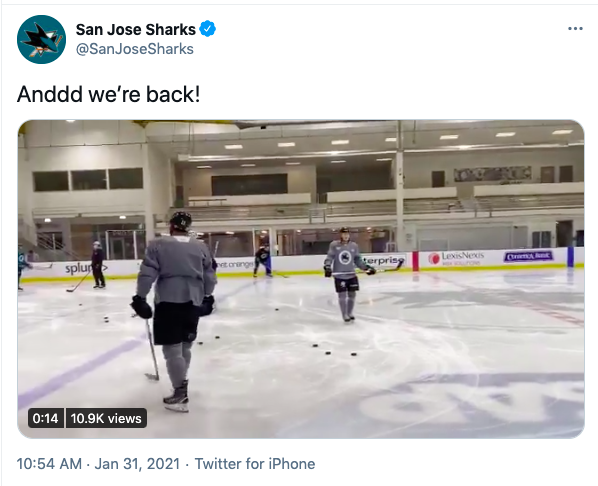 Photo: SJ Sharks/Twitter
Santa Clara County gave the green light for sports to resume last week, when California's regional stay-at-home order ended, putting the county back in the purple tier on the state's COVID risk metric.
However, the Sharks organization said that after consulting with the National Hockey League and the National Hockey League Players' Association, the team would hold off on returning until the Feb. 13 game.
"While we are pleased to have received permission for the team to return to Santa Clara County, there are numerous health and safety issues – both from the County and League level – that need to be implemented to ensure the safety of the returning players and staff," the Sharks said in a statement.
Spectators will not be allowed at the games under county rules, the Sharks said.