They've been called "Oakland's cutest couple" and "Ebony and Ivory" and various other things, but a pair of domesticated ducks that were evidently dropped off at Lake Merritt last year to fend for themselves have officially settled into new digs at a rescue sanctuary for injured or neglected farm animals in Marin County.
Hoodline brought you the story of the ducks' rescue in January, several months after they rose to fame on Reddit and elsewhere on the web as residents took joy in seeing the bonded pair out on the lake. One with a white poofy pompadour of feathers atop her head, and one mostly black with a green head, one Twitterer joked that they exuded "hardcore goth/normie couple energy."
So there's a bonded duck couple that lives on lake Merritt. They're always together. *always.* and they are perfect. Hardcore goth/normie couple energy. pic.twitter.com/DnKHxUg97S

— Arthur Gies (he/him) (@aegies) October 18, 2020
It took some experts, though, to look a little closer and see that these ducks — while happy to be together, perhaps — were not necessarily living their best lives in the wild. In addition to allegedly being mistreated by other ducks on the lake, they had lost their nest due to flooding, and both needed treatment for some minor ailments that may have been a result of being out in the elements. (For one, both ducks had a case of bumblefoot, a bacterial foot infection that is fatal if not treated.)
Some Redditors noticed that the ducks may not be in the best shape, but, as KALW reports, they didn't seek help from Oakland's own rescue service, through Oakland Animal Services. Instead, a couple of volunteers at Nicasio-based Rancho Compasión, Dawn Rogers and her daughter Kat Despain, took a look at photos of the ducks and decided that they needed to intervene.
"I saw that the white duck was in an unnatural position. She was kind of laying on her side with her neck extended and she looked like she was actually dead. And the black duck was next to her in a protective position. And that's when I made the decision that we were going to go ahead and pick them up. And if Rancho couldn't take them, we'd take them someplace else," Dawn says.
As reported earlier, the ducks were taken temporarily to Funky Chicken Rescue in Vacaville, but they're "now at their new forever home at Rancho Compasión." As the organization says on their website, they are happy and healthy these days and back where they belong in a food-rich and prey animal-free environment.
Rogers says of the trip north that the black duck seemed to miss human companionship. "He actually sat in my lap and put his head up against my shoulder and made little cooing noises," she tells KALW.
Rancho Compasión is now selling t-shirts featuring the ducks and the words "Oakland Love" on them, in order to raise money to build a new waterfowl house by the pond on the property.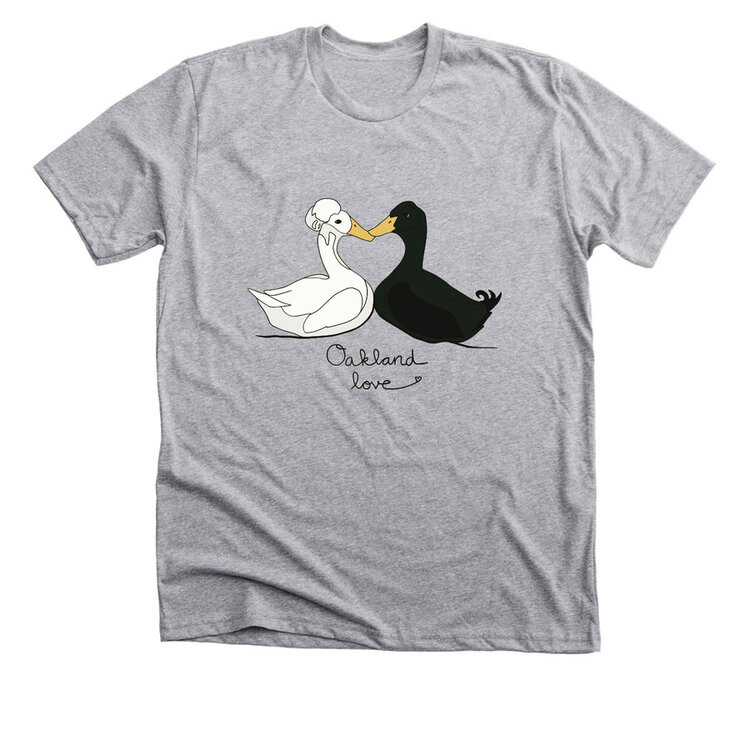 "You can help us provide care and medical attention for these two lovebirds, recently relocated from Lake Merritt in Oakland," the organization says. "In order for us to accommodate these two ducks, and add more in the future, we need to build a waterfowl house in which to quarantine them before we introduce them to the rest of our duck and goose family."
Rancho Compasión now has 16 ducks and geese to accommodate, and if you want to help, you should buy a t-shirt — or you can just donate here.