Castro residents and visitors looking for a place to satisfy their sweet tooth now have a new option. Turkish and Greek dessert shop Aegean Delights is now open at 545 Castro St, formerly Best in Show.
Aegean Delights is owned by the husband and wife team Petros and Dilber Dimitra Fanourgiakis. Dilber Dimitra is originally from Turkey and her husband is from Greece.
Dilber Dimitra explained that Aegean Delights is the combination of the two cultures, Turkish and Greek, that don't typically get along. "We wanted to bring both sides of the Aegean Sea together," said Dilber Dimitra.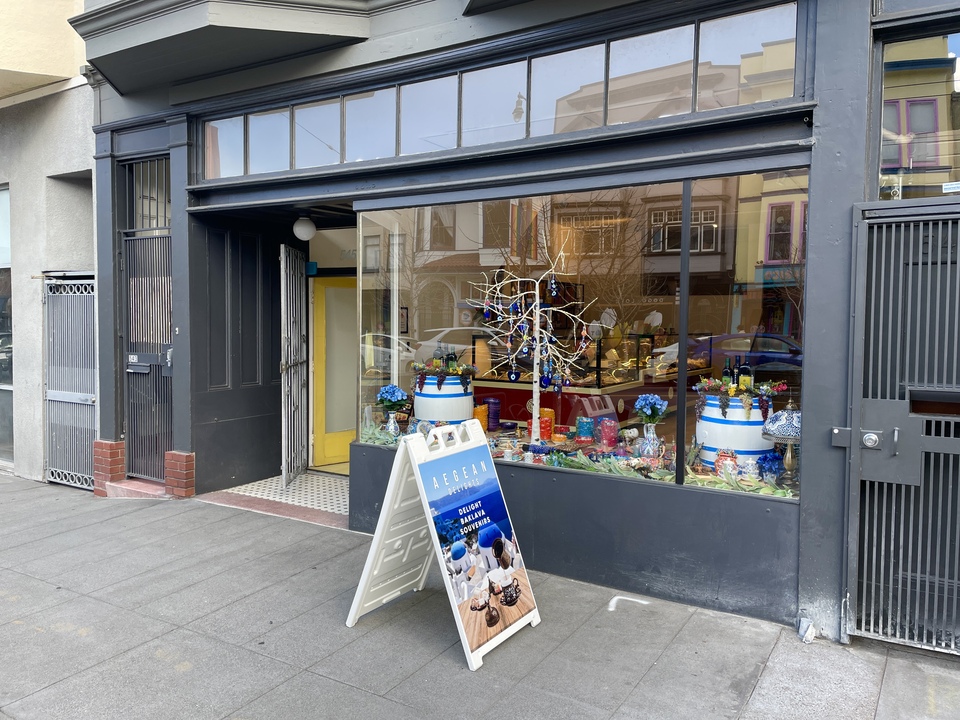 Aegean Delights is now open at 545 Castro St. | Photo: Steven Bracco/Hoodline
Prior to opening Aegean Delights, Dilber Dimitra Fanourgiakis served for a decade in the United States Military at the Monterey Defense Language Institute teaching Turkish to military officers. Dilber Dimitra says when her department was moved to Washington D.C. five months ago she decided it was time to try something new.
"It was always our dream to open this store," said Fanourgiakis. She also works as a psychologist. "I'm so proud to have served for the U.S. Military and now I'm so proud and excited for serving the Castro Community."
While Dilber Dimitra primarily focuses on the store, Petros Fanourgiakis also works as a special education teacher at San Francisco's Abraham Lincoln High School in the Sunset.
Aegean Delights offers customers a variety of baklava, Turkish delights, and assorted nuts. For drinks, customers can order Aegean coffee, Turkish tea, and herbal teas imported from the Aegean Islands. Spanakopita, a Greek savory spinach pie, will also soon be available.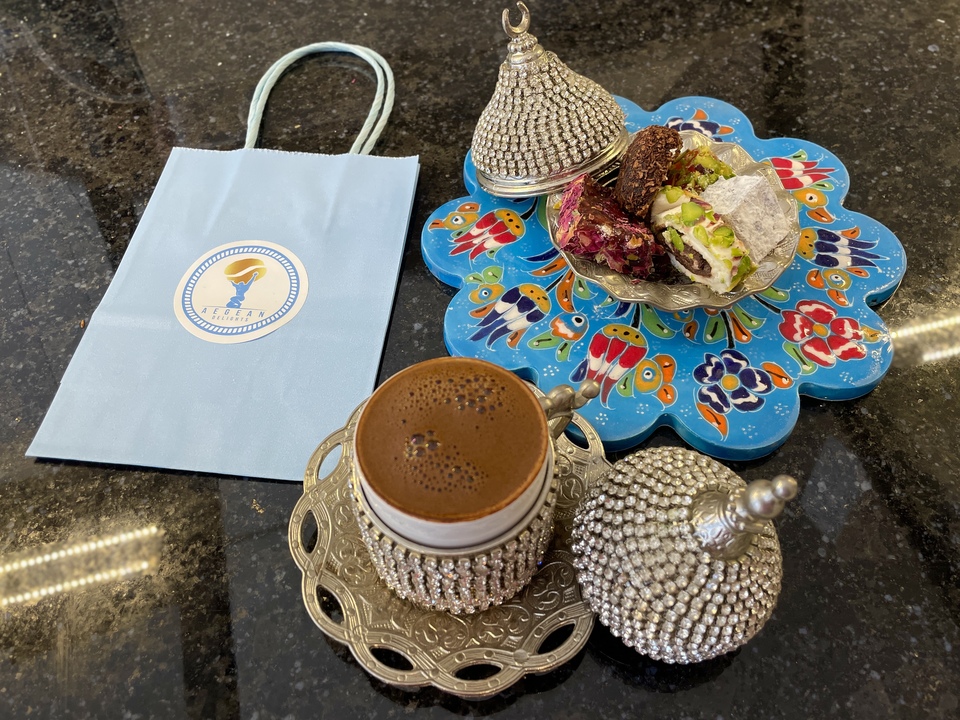 Turkish coffee and Turkish delight at Aegean Delights.
Each Turkish delight has a different name referencing either Greek mythology or the Ottoman Empire like Aphrodite's Beauty (rose petals, pomegranate, vanilla, pistachio, hazelnut, coconut, walnuts), Sultan's Desire (chocolate brownie, coconut, hazelnut), and Apollo's Charm (banana, chocolate, pistachio, walnut, hazelnut). All the desserts are either available by the pound or by individual pieces.
On a recent visit to the store, a Hoodline reporter spoke with Castro resident Michael Gonzalez who's visited three times now. "I like the candy, I think they're delicious," said Gonzalez.
Aegean Delights also has a variety of ceramics, antique Turkish carpets, jewelry, and imported extra virgin olive oil. In the future, Dilber Dimitra says more items will be coming soon including Turkish leather shoes, purses, towels, and additional jewelry.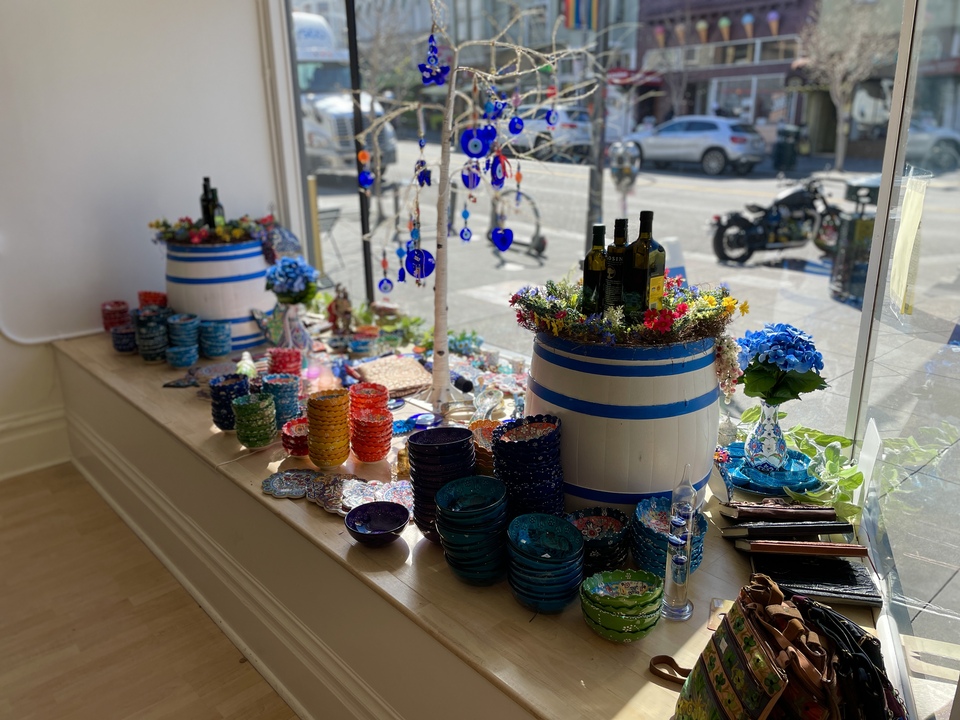 Ceramics, purses, and jewelry are also available at Aegean Delights.
According to Dilber Dimitra, Aegean Delights imports all of its products from Turkey and Greece through the help of family members who operate a wholesale business and olive oil factory in Turkey and Greece.
She says they decided to open in the Castro because "I love this community." "I love the people, they're very positive and we wanted to be around the positive people."
"The Castro shows love and that love wins," she said.
Petros tells Hoodline his connection to the Castro goes back to when he was eight years old. His uncle owned the former Capri Ristorante Pizza (now Canela Bistro & Wine Bar) for 30 years. "Back then the Castro was really crowded, I mean it still is, but times ten," said Petros.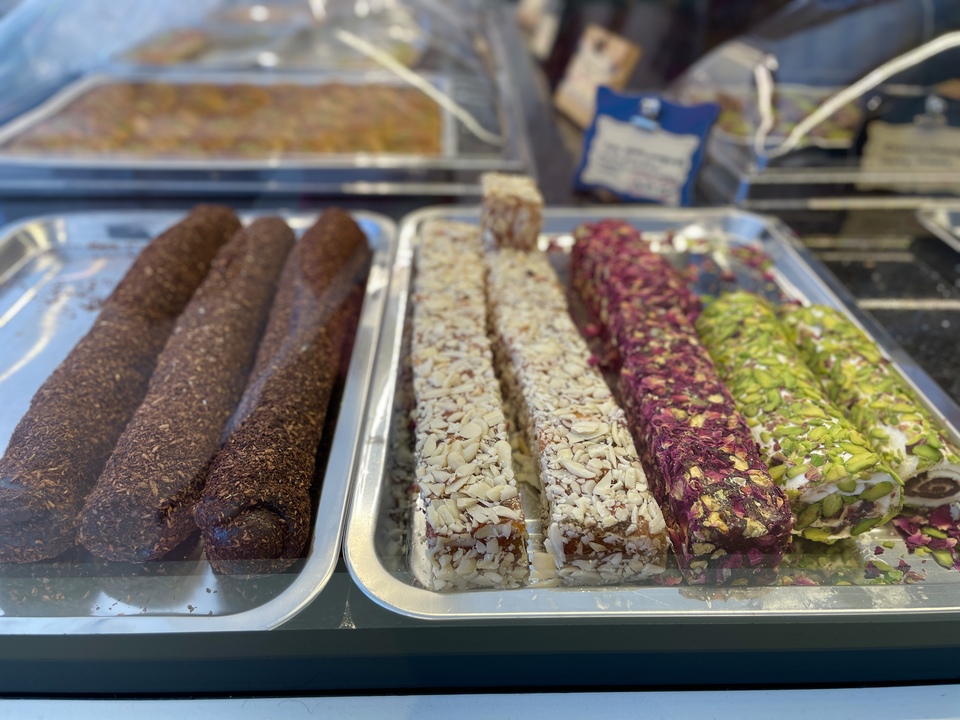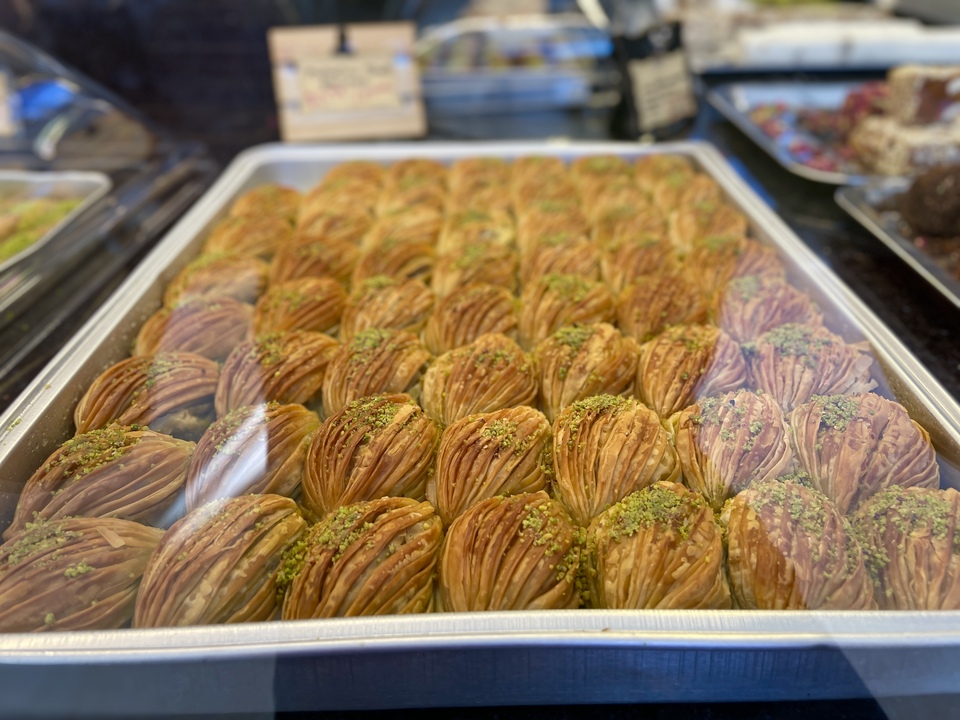 Opening during a pandemic did not deter the couple. "I'm a go girl," said Dilber Dimitra. "It was my dream and I just wanted to try."
"If it doesn't work out I'll continue working with the military or as a psychologist," she explained.
"I'm thrilled to have this new business in the neighborhood," said property owner Helen McClure. "Aegean Delights is a positive addition to the diversity and inclusiveness of the Castro."
Aegean Delights is currently open seven days a week from approximately 11 a.m. to 7 p.m. but Dilber Dimitra said the hours are subject to change as they see what works for the neighborhood.
---
Thanks to Hoodline tipsters Todd Y. and Gary V.! If you've seen something new (or closing) in the neighborhood, text your tips and photos to (415) 200-3233, or email [email protected] If we use your info in a story, we'll give you credit.