Walgreens posted signs last week at its location on the corner of Bush and Larkin streets announcing it will close permanently at 3 p.m. on March 17, 2021.
According to staff, customers, and city officials, the closure was not anticipated. Walgreens also recently closed its location on Van Ness and Eddy without any clear communication to neighbors, according to District 3 Supervisor Peskin aide Sunny Angulo.
One neighbor who witnessed the nearby Eddy and Van Ness store closure, Sebastian Luke, said staff at the Bush Street store told him that they have been relocated as Walgreens close across the city. He's also familiar with elderly residents that live further down the Van Ness corridor who have been struggling to access their medications since the locations at Van Ness and Market and Van Ness and Eddy streets closed in August 2020 and November 2020, respectively.
"These closings really hurt vulnerable people," Luke added.
"We are definitely concerned about their corporation communicating clear information to the neighbors who have historically relied on this pharmacy," Angulo said.
Of key concern is how residents subscribed to Healthy San Francisco (HSF), a city-run program that offers prescription and health services to residents that lack insurance, will access their medications. The HSF customer information packet provides a list of 27 Walgreens that accept HSF patients, including the one at 1300 Bush St.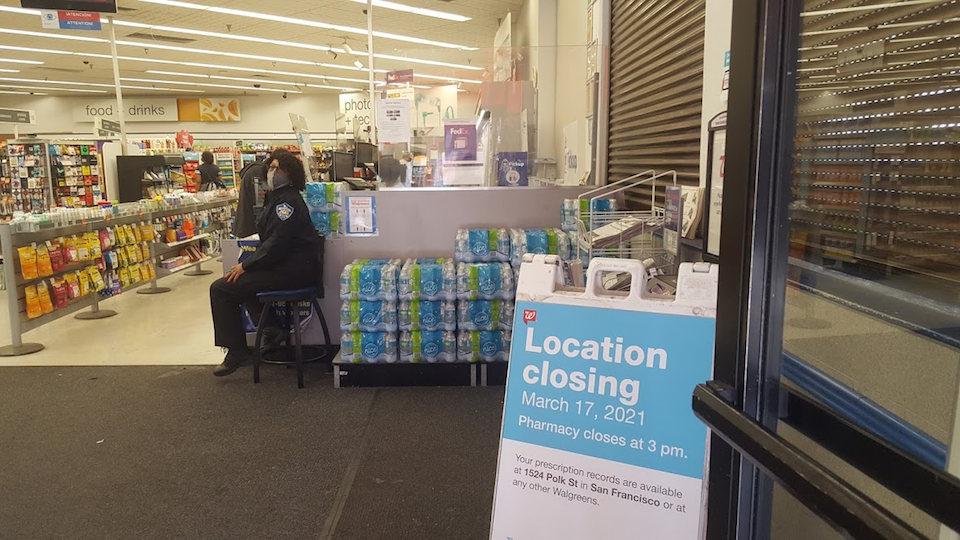 The closest Walgreen location, where the Bush Street location pharmaceutical records will be transferred, is 1524 Polk St. (at California), further up a hill and not on the HSF list of participating pharmacies.
"HSF has a process in place to respond to pharmacy closures," according to San Francisco Department of Public Health (DPH) spokesperson Zoe Harris. Harris said that DPH had received notice that Walgreens was closing the location. The pharmacy is responsible for (1) notifying HSF so staff are aware, (2) identifying patients that have prescription(s) that need to be transferred, and (3) communicating to HSF providers about the pharmacy closure. Harris did not say whether Walgreens had conducted all of those steps, but said that HSF patients should be able to access their medical needs at any other HSF pharmacy.
"Patients can simply go to their new Walgreens and request that they get their medications there," Harris said. "The pharmacist will be able to access the patient's current prescriptions from their old Walgreens." Harris added that information on how to refill or pick up prescriptions from any eligible location —which includes more than 20 Walgreens locations and the Zuckerberg San Francisco General Hospital pharmacy — is being distributed to all affected San Francisco Health Network patients and providers.
But community members remain concerned that the Polk Street location isn't handicap accessible and the extra three blocks are an undue burden, especially for customers who have already started traveling further to reach a Walgreens location since the store at Eddy and Van Ness closed. They have launched a petition asking Walgreens to reconsider the store's closure. Other regular customers have expressed concern for neighbors, and also their own convenience.
"I like this Walgreens mostly because it's so easily accessible between several neighborhoods," tipster Britta S., who alerted us to the store's closing, said. "This location is a longer walk from my home than other pharmacies, but I got my prescriptions filled here because the store was so large [and] I could easily pick up a lot of supplies in one stop."
According to a report by Mission Local, some, if not most, Walgreens locations in the city have seen rampant theft and shoplifting with little recourse for the affected employees or the corporation itself.
No one from Walgreens corporate relations responded to questions about the reasons for this location's closure, but it seems likely to occur as planned regardless of outstanding community concerns.
Thanks to tipster Britta S. for flagging the planned closure.