Last week the Friends of Harvey Milk Plaza (FHMP) held two virtual town halls seeking community feedback about its plans to redesign Harvey Milk Plaza (Castro and Market streets), and the new design team offered multiple new conceptual approaches.
Brian Springfield, Interim Executive Director for FHMP, began the meeting with an overview of the project. FHMP kicked off the plaza redesign process in 2017, selecting local firm Perkins Eastman's design after an international competition.
In December 2018 the proposal received Phase 1 Approval from the SF Arts Commission. Then in January 2020 it was awarded a $1 million state grant and received Phase 1 Historic Resource Determination from SF Planning in July. Earlier this year FHMP selected SWA Group as its new design firm.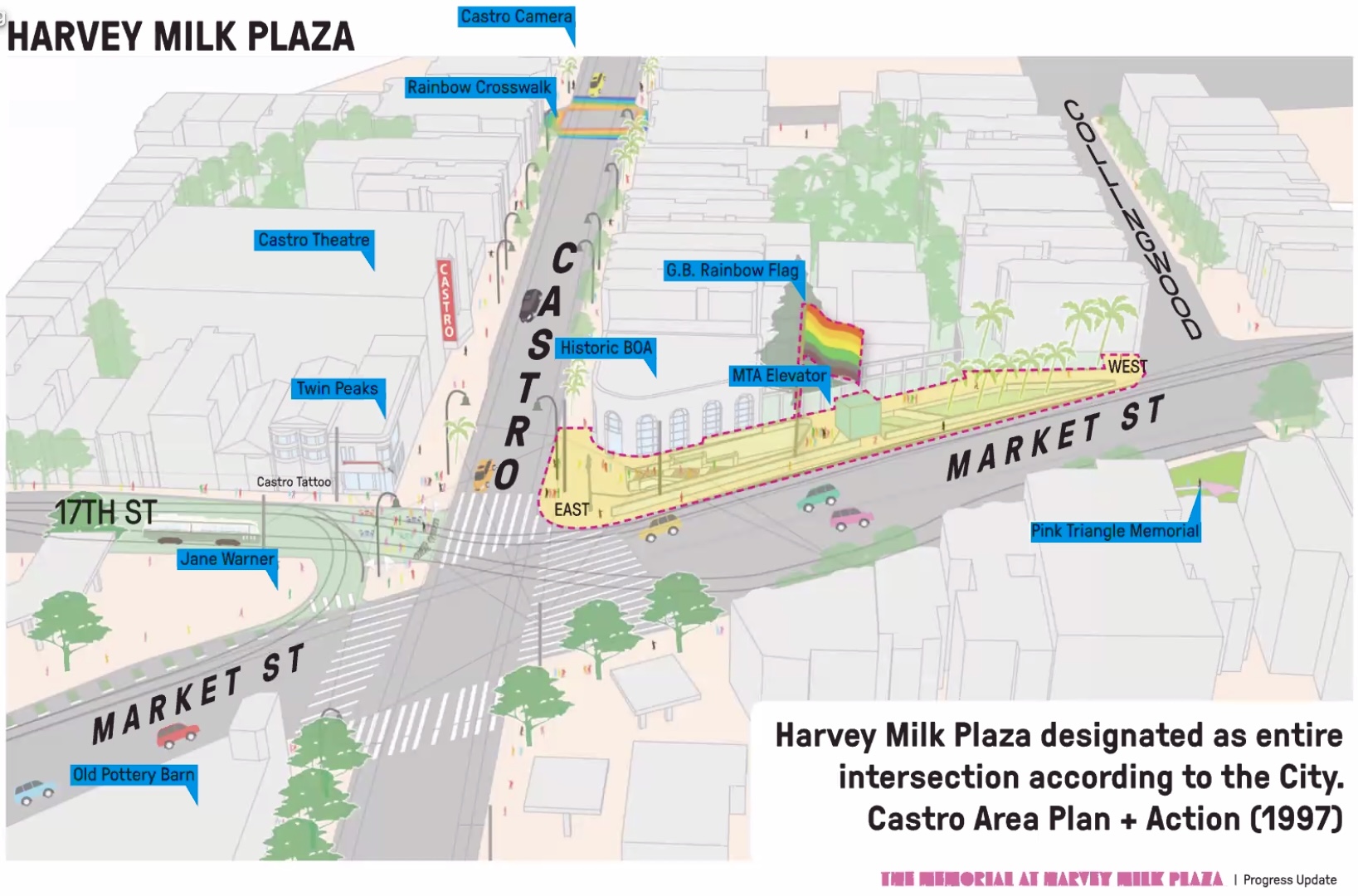 "It feels great to be back in front of the community again after a quiet period," said Springfield.
A separate $14.5 million, 18-month SFMTA Castro Station Accessibility Improvements Project was delayed until fall 2021. A new glass elevator will be constructed in the fenced-off area behind the plaza's display of photos honoring Milk. The project will also widen the sidewalk, replace the plaza's existing lighting, and regrade the pavement above Castro station to make it more accessible.
Daniel Cunningham, SWA Group Project Manager, provided an overview of significant high-profile memorial projects that the firm has previously produced, which include the Sandy Hook Memorial in Newtown, CT; the Harry Truman Memorial at the Harry S. Truman Presidential Library and Museum in Independence, MO; and the Grand Candela Memorial, dedicated to the victims of the 2019 Walmart shooting in El Paso, TX.
"We are really landscape- and public space-focused," said Cunningham. "We are focused on listening to the community and making it feel authentic to the community."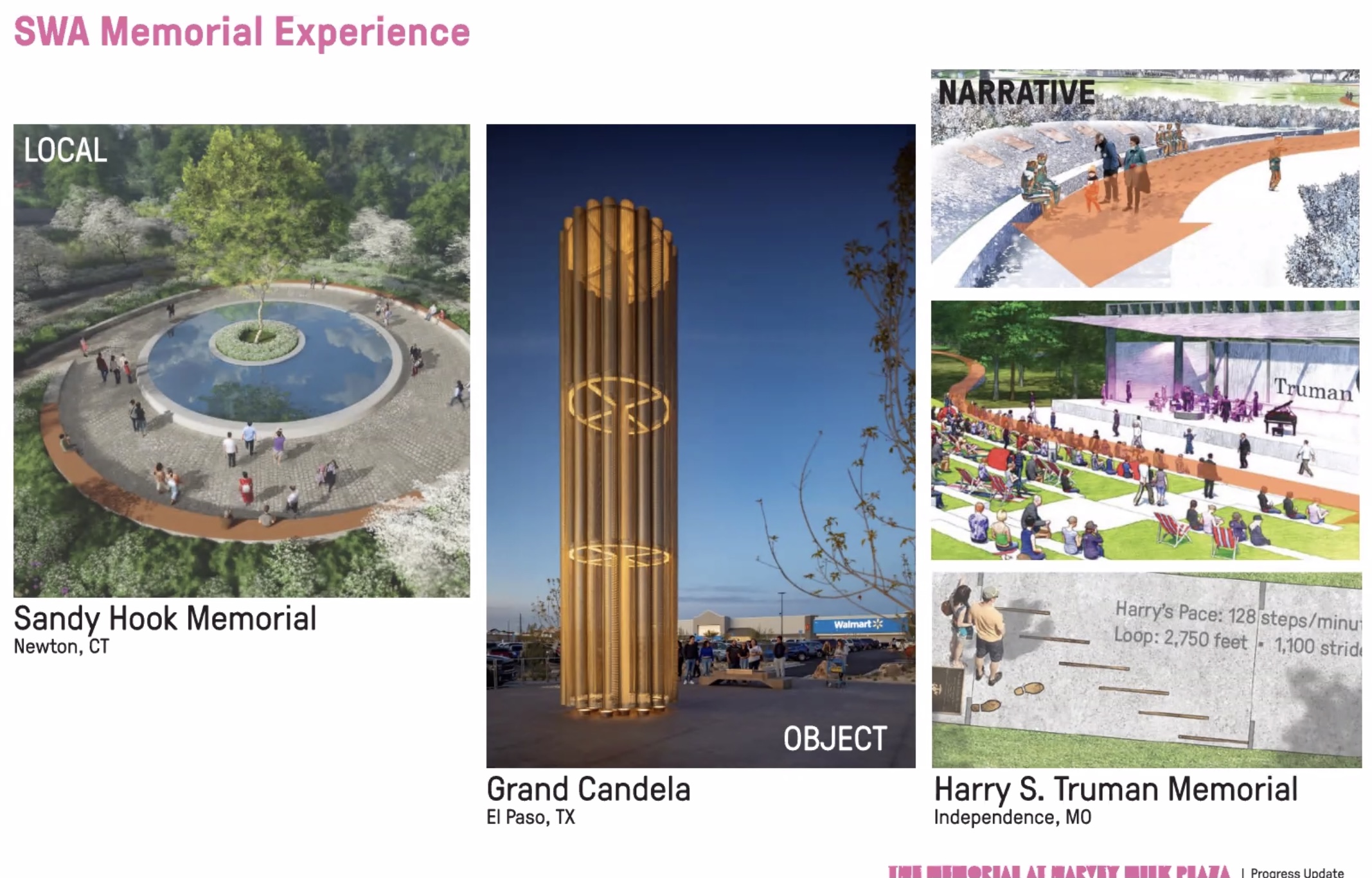 SWA Group's previous work. | Image: SWA Group
Cunningham began by polling attendees with four questions:
Is this memorial about Harvey Milk the person or the movement?
Is this more of an object approach or a narrative approach?
Is this a traditional memorial or something more unconventional?
Is this a local memorial for Castro residents, or more a global piece?
Cunningham then broke down the design concepts into two categories: a memorial consolidated to the current footprint, or one dispersed throughout the Castro and across the city.
For the consolidated approach four designs were shown including one called "Pedestal" which would provide a stage on which people could speak at rallies or events; "Beacon of Hope/Visibility" which would be a projected light installation; "Memorial Grove" which would focus on the garden area; and "Activation" which would provide a gathering space for community members.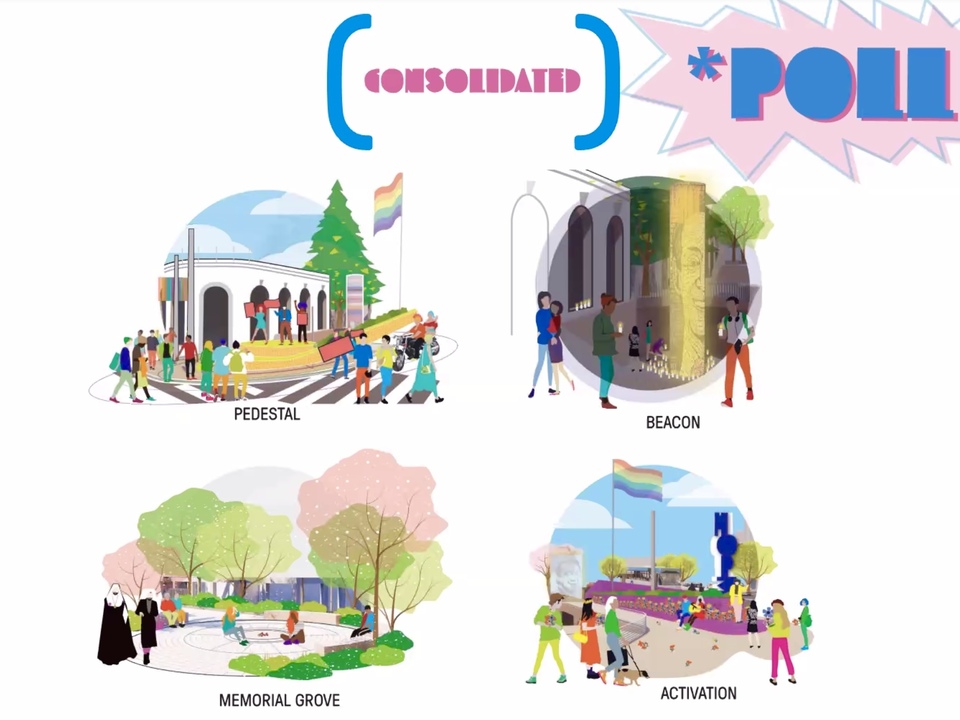 SWA Group's consolidated designs. | Image: SWA Group
Looking at a dispersed approach, the first design concept was "Stitch the Divide," which would connect Harvey Milk Plaza to the former Bank of America Building (now SoulCycle), Jane Warner Plaza, Pink Triangle Park, the former Pottery Barn building, and the Castro Gas station (376 Castro).
The second design proposal was called "Ribbon": This would use a ribbon of words to connect the plaza to the underground Muni station.
The third, "Call to Action," would focus on Milk's inspirational words.
Finally, "Engage the City" would bring the memorial to Milk's former camera shop at 575 Castro, his former residence on Henry St., and his old office at city hall.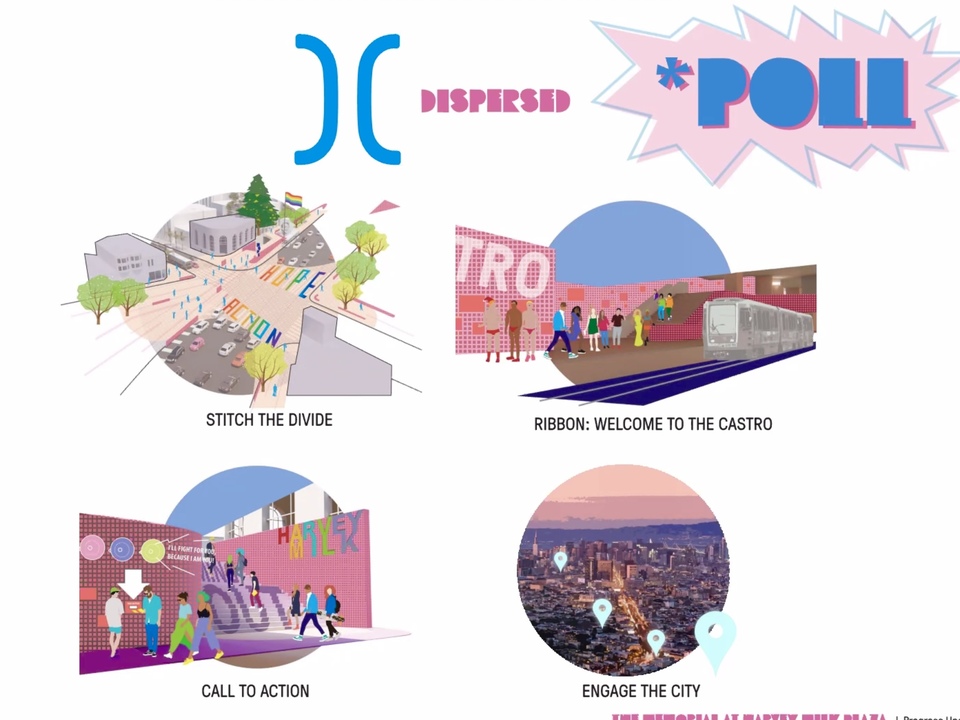 SWA Group's four dispersed design proposals. | Image: SWA Group
After the design presentation, Marianne Glaser, Civic Edge senior project manager, moderated the public feedback portion of the meeting.
Feedback was shared through the question box as attendees' microphones and video were turned off for the virtual meeting. An attendee list was not visible to the public.
Opinions of the proposal varied between support and opposition. At one point Glaser called on some attendees to not overrun the chat.
"This larger view is so important," said Donna Sachet, former Empress and First Lady of the Castro. "Harvey Milk Plaza, as it exists, does not need to be such a major remodel, but more simply, it should employ the elements determined to be most important by the public."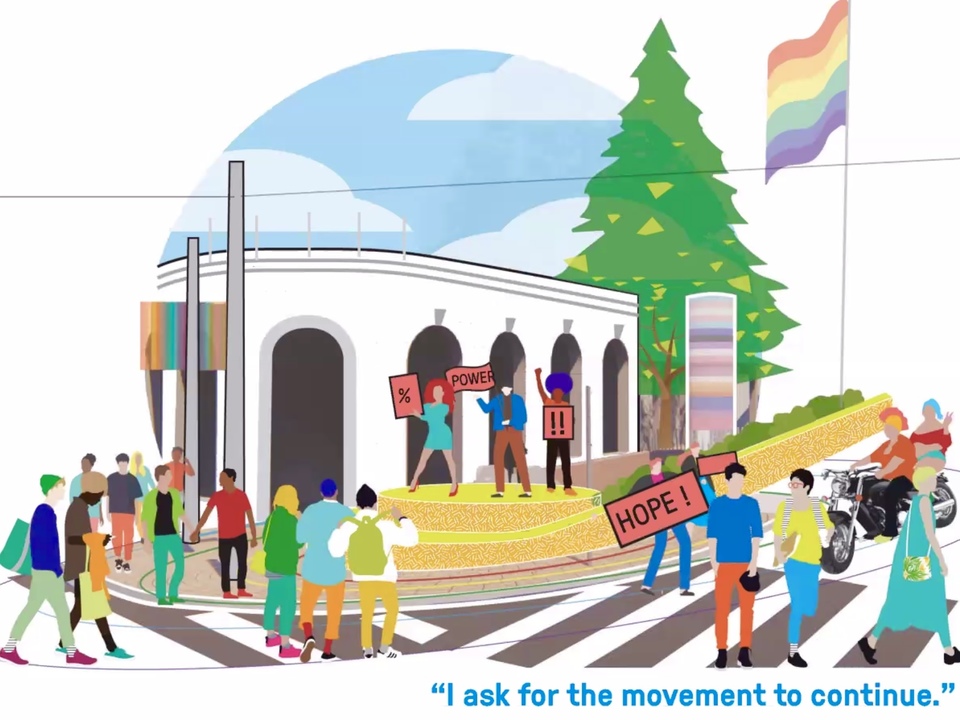 Image: SWA Group
"It's great to see the ideas extending into the surrounding neighborhood," said Jeffrey Miner. "Tying it with Jane Warner Plaza is a good idea, both gas stations are eyesores."
"It would be wonderful to be on Muni and know exactly what station you're at just by glancing briefly out of the train window," Miner added.
"The memorial should not be in the subway station, it should be separate from the station," said Alan Martinez in opposition to the memorial expanding to the platform level. "The subway is utilitarian, having the memorial in the subway feels demeaning."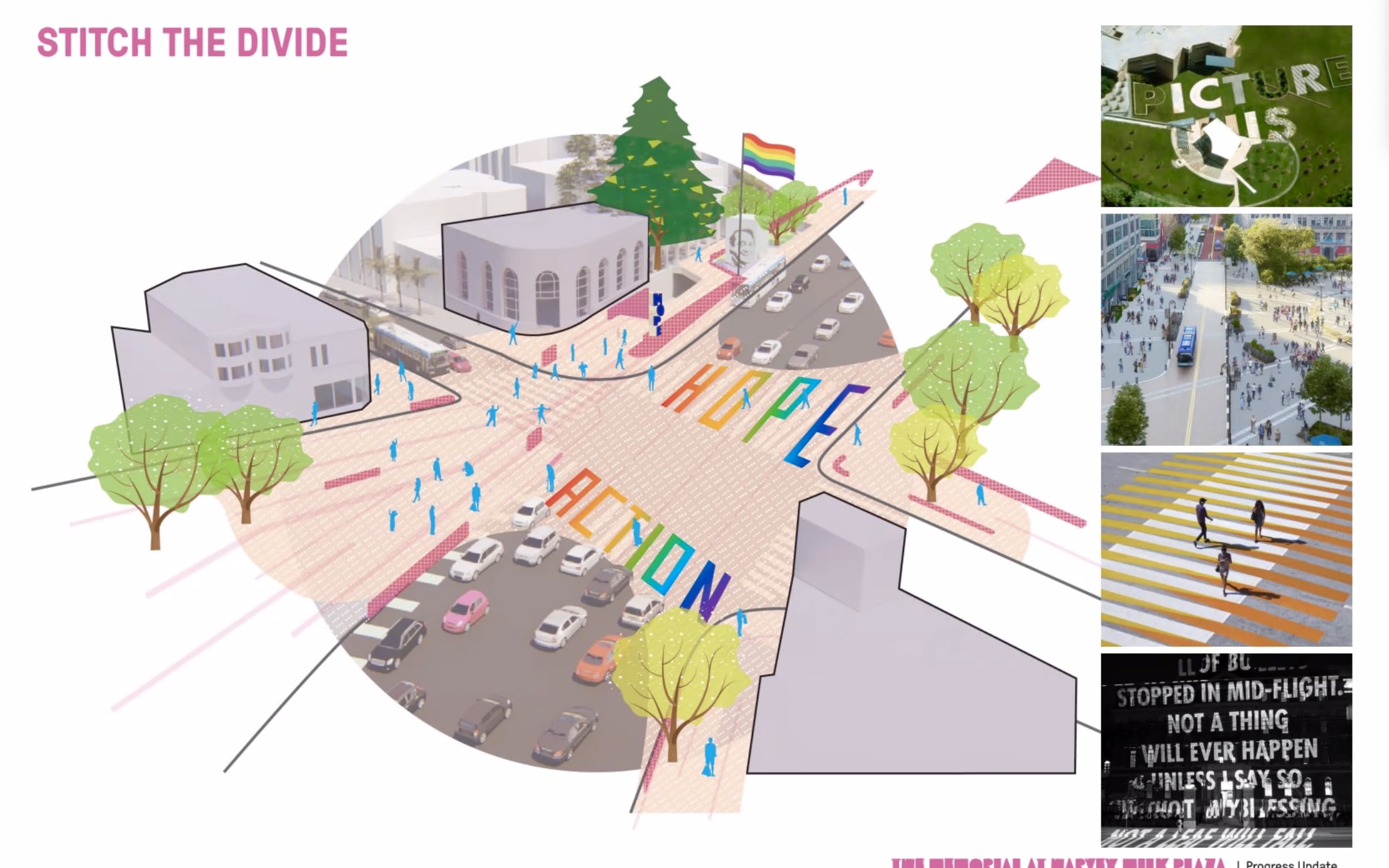 Image: SWA Group
"I think incorporating the entire intersection and giving space back to pedestrians is so needed," said Ryan Wassum.
"Are we ignoring the gas station and old Pottery Barn across the street?" questioned Theo about the feasibility of taking over private property. "May have no choice if those are private property."
"No more rainbows please," said Dave Karraker, co-owner of MX3 Fitness and Castro Merchants board member.
Karraker asked how FHMP would address unwanted street behavior and maintenance of the space. In response, Springfield said, "It's a big issue, it's an issue faced by many neighborhoods and the city."
"Harvey's message was about inclusivity," said Springfield. "It's especially challenging because we don't want to exclude people, many of [whom] are LGBTQ."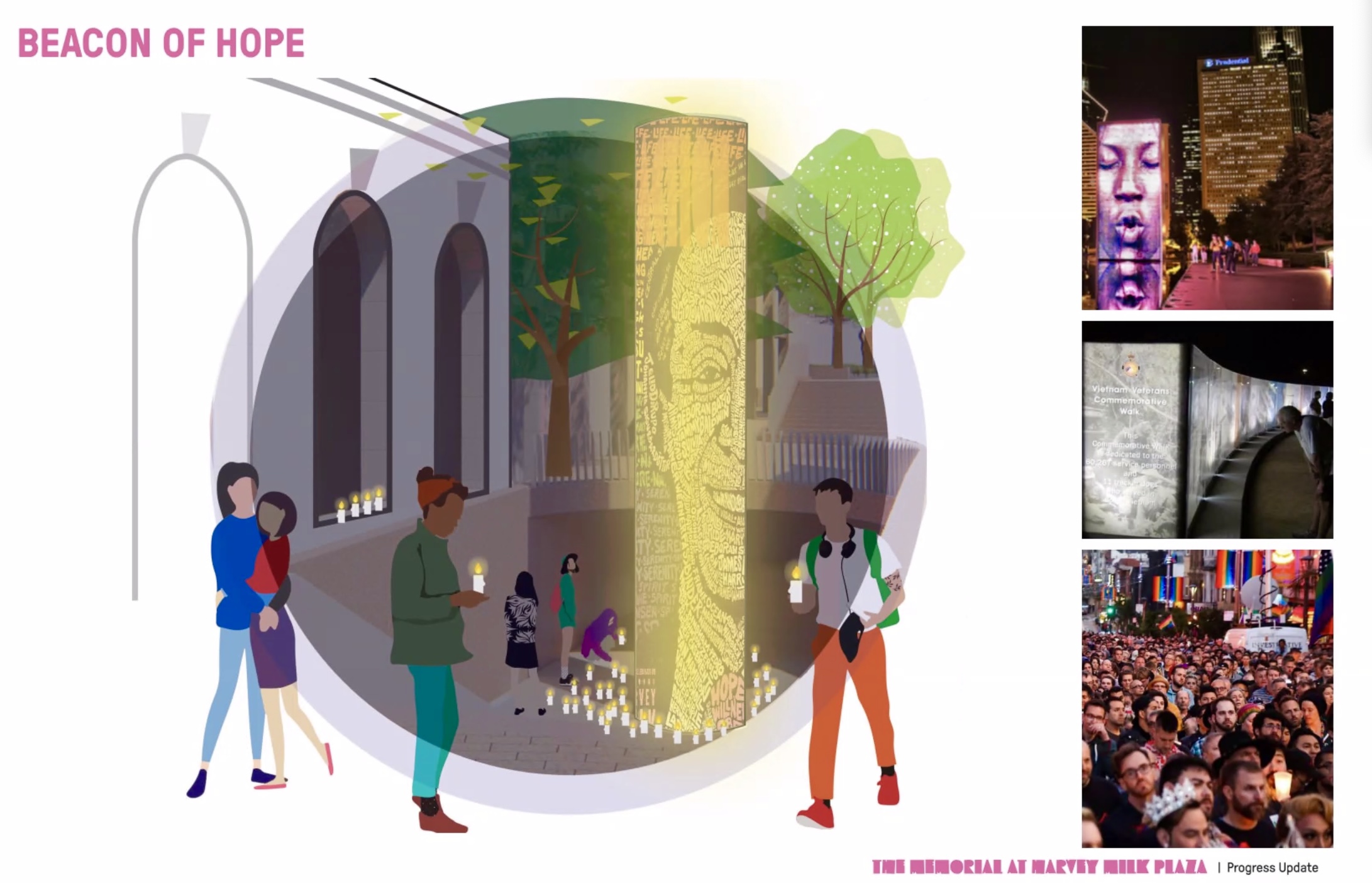 Image: SWA Group
"They deserve a safe place too," Springfield added. Springfield said FHMP plans to coordinate with the Mayor's office and city agencies on the best ways to activate the space and creating a safety plan.
In address maintenance issues, Cunningham said SWA plans to use durable and long-lasting materials. "We want to make the space feel safe for everyone," said Cunningham.
A representative from the Castro Merchants asked if creating a memorial for Harvey Milk at Castro Station was redundant now that a Harvey Milk National Historic Site has been proposed for Milk's former camera shop at 575 Castro St. In response Springfield said that those plans aren't certain right now and that there is no reason there can't be two memorials to Milk.
Multiple attendees asked whether anything from the four-year Perkins Eastman effort could be salvaged. "Yes we have so much information and feedback," said Springfield. "We have information of what people don't want, which is just as valuable as what people do want."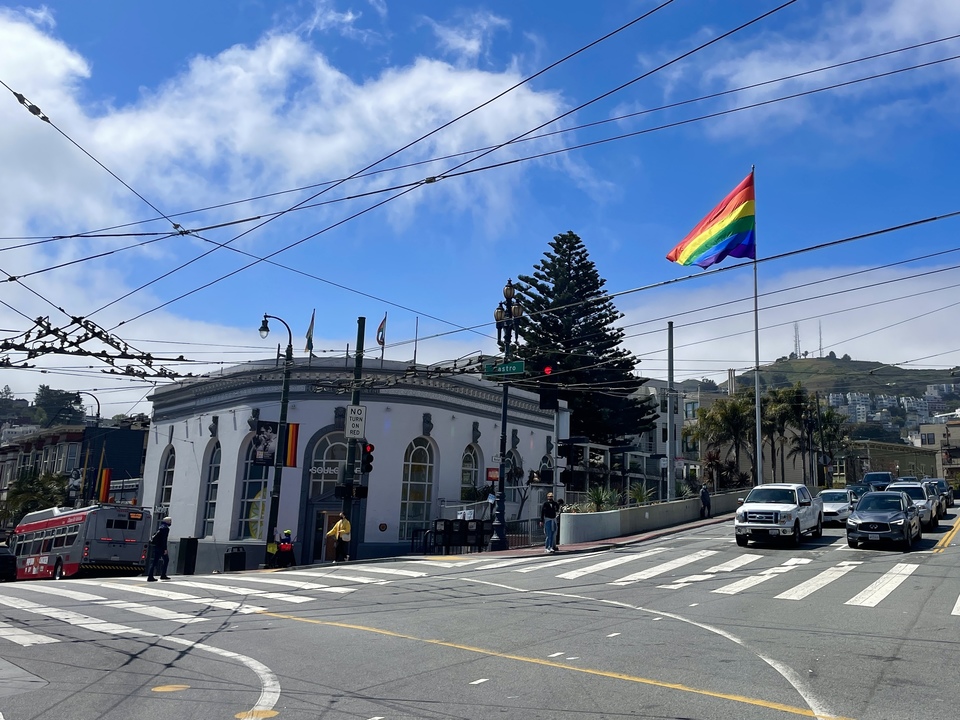 The current Harvey Milk Plaza and Castro Station. | Photo: Steven Bracco/Hoodline
Howard Grant, designer of the current Harvey Milk Plaza and organizer of Save Harvey Milk Plaza has been a vocal opponent of the revamp. "Clearly, the new team doesn't appreciate anything about the existing plaza, station, or green belt," said Grant. "Brian Springfield talked as if the Arts Commission Phase 1 approval remains in effect — and that involves demolishing and replacing the plaza and paving over the green belt."
John Goldsmith, Castro resident and creator of an online petition arguing it should be preserved and updated, also shared his critiques. "I would like to see the existing envelope used, enhance what is there, with demonstration gardens," said Goldsmith. "Why can't we have a nice space like the Pink Triangle Park."
"Let's rename the Mezzanine/Concourse at Castro Station to the Carole Migden Mezzanine," Goldsmith added. "She has done wonderful things for the LGBT community and the environment."
Now that the town halls have been completed Springfield says, "the design team will take the info gathered from the community meetings and develop a full project vision that incorporates the most favored ideas."
"I'm excited that the idea of engaging areas beyond those generally understood to define what is Harvey Milk Plaza was embraced by the town hall participants—this opens up many more possibilities for integrating the plaza into the neighborhood and to start connecting some of the individual elements at the intersection to become a greater whole," Springfield added.
Continued community feedback is welcomed by the FHMP, and you can add yours via this online survey which will be up through May. If you want to be informed of the next public meeting you can add your name and email to the group's mailing list here.