After an international design competition and two weeks of public comment, a winning design has been chosen for Harvey Milk Plaza.

Led by New York-based Perkins Eastman, the redesign aims to turn the corner of Castro and Market into a metaphorical soapbox and community space that creates a slanted amphitheater over the Castro Station's southern entrance.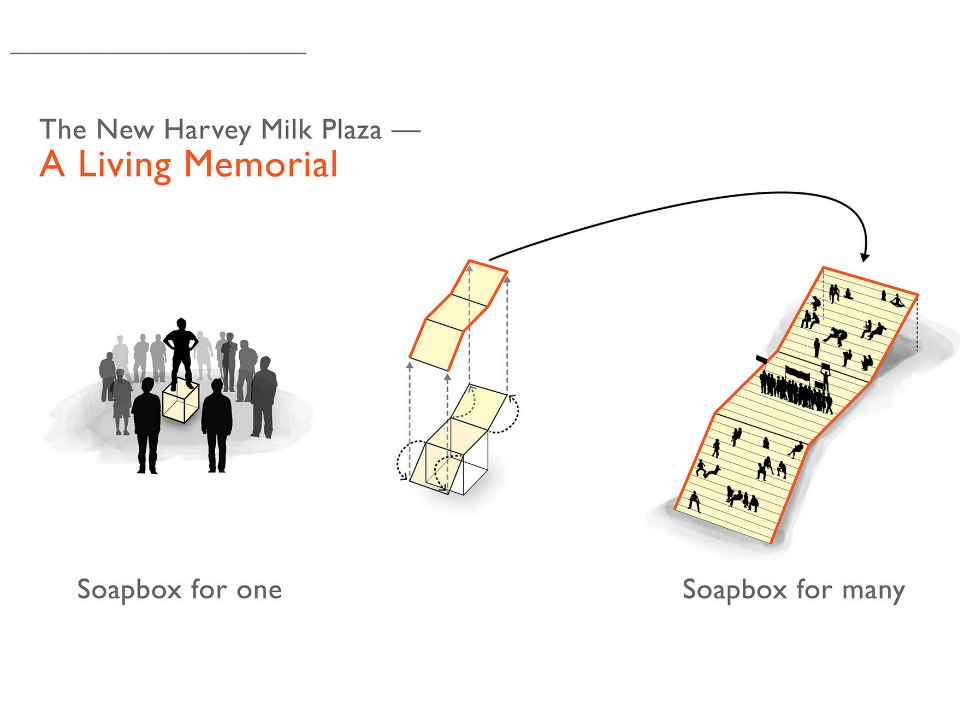 According to the project's description, an amphitheater comprised of stages connected by ramps and benches will rise from the plaza, rising up towards Sutro Tower.
Although the sloped amphitheater is intended to serve as a place for people to sit and look out over the neighborhood and city, the reimagined space was designed with community rallies and marches in mind.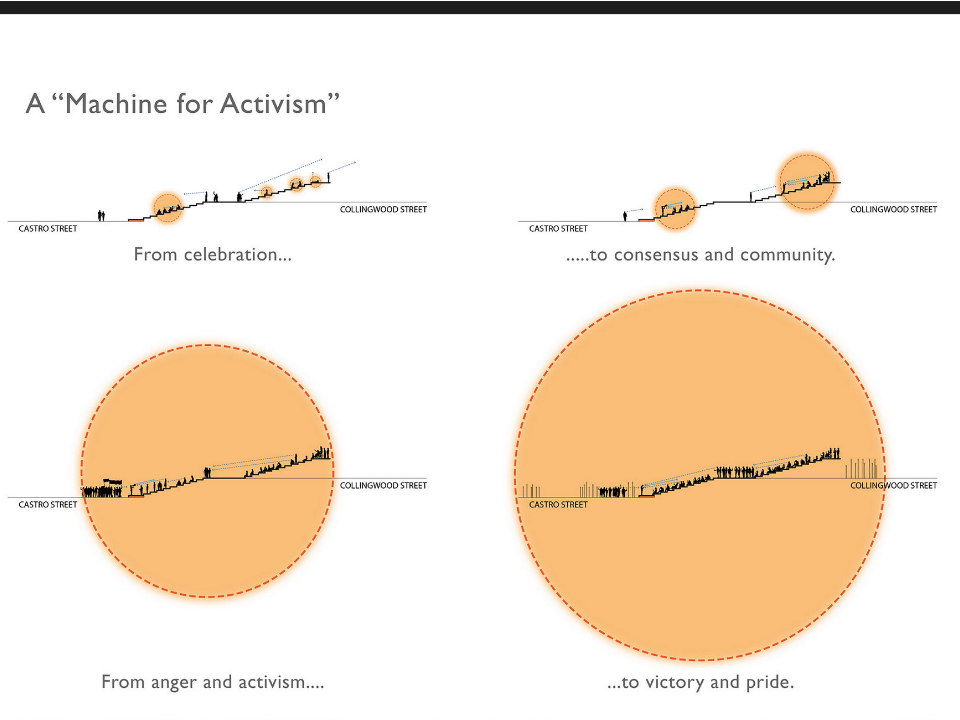 The amphitheater will include a timeline of Milk's life — called "bronze memorial thresholds" — that leads visitors through his biography and milestones of the LGBTQ civil rights movement. A glass monolith will sit at the ramp's highest point, and blank thresholds will be included to reserve space for future happenings.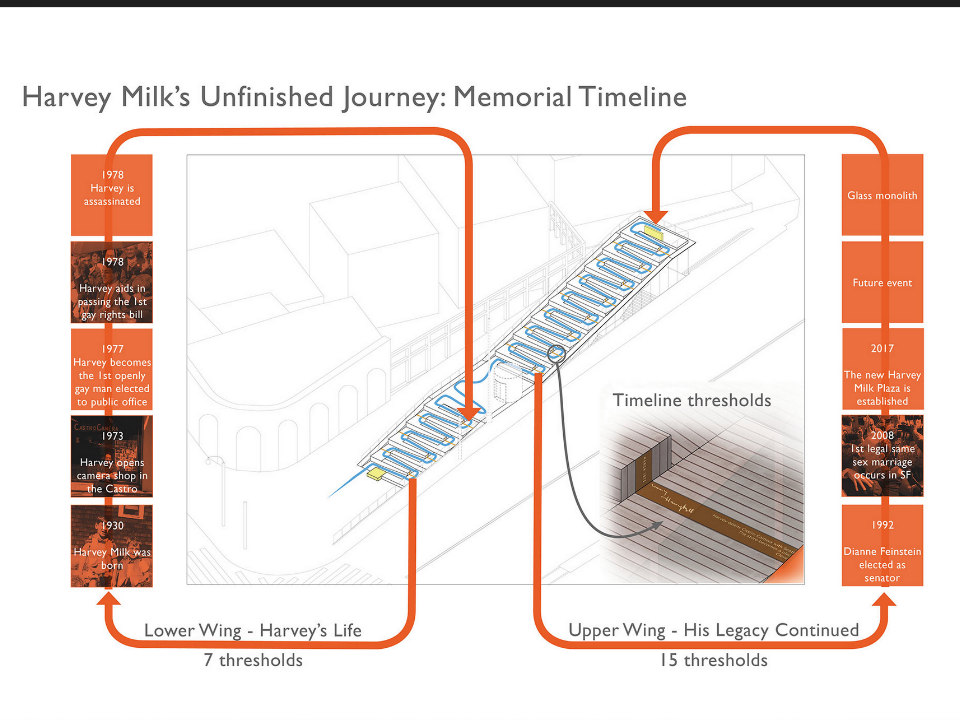 The amphitheater will be set within a field of LED candles, an apparent nod to the hundreds of candlelight vigils that have been hosted at the intersection over the decades, including the night Milk was assassinated in 1978.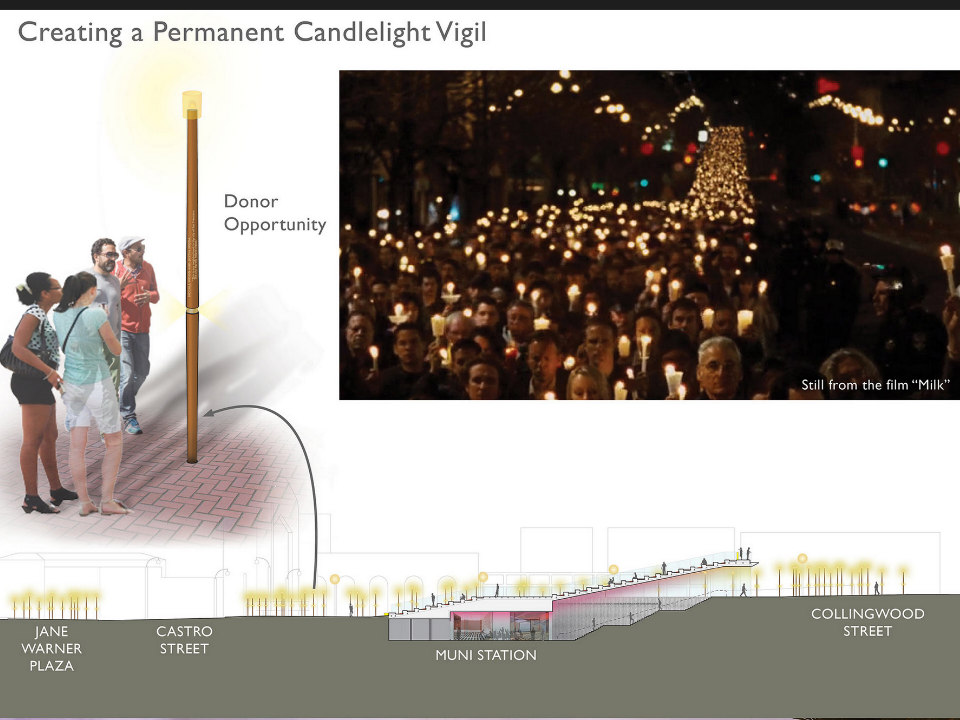 Candles will stretch across Market Street into Pink Triangle Park and across Castro Street into Jane Warner Plaza, where the F-Market turnaround is located, and will be activated at sunset.
The light features will be an important fundraising opportunity for the plaza: donors will reportedly be able to purchase one of the permanent vigil candles and have it engraved with their names and a quote.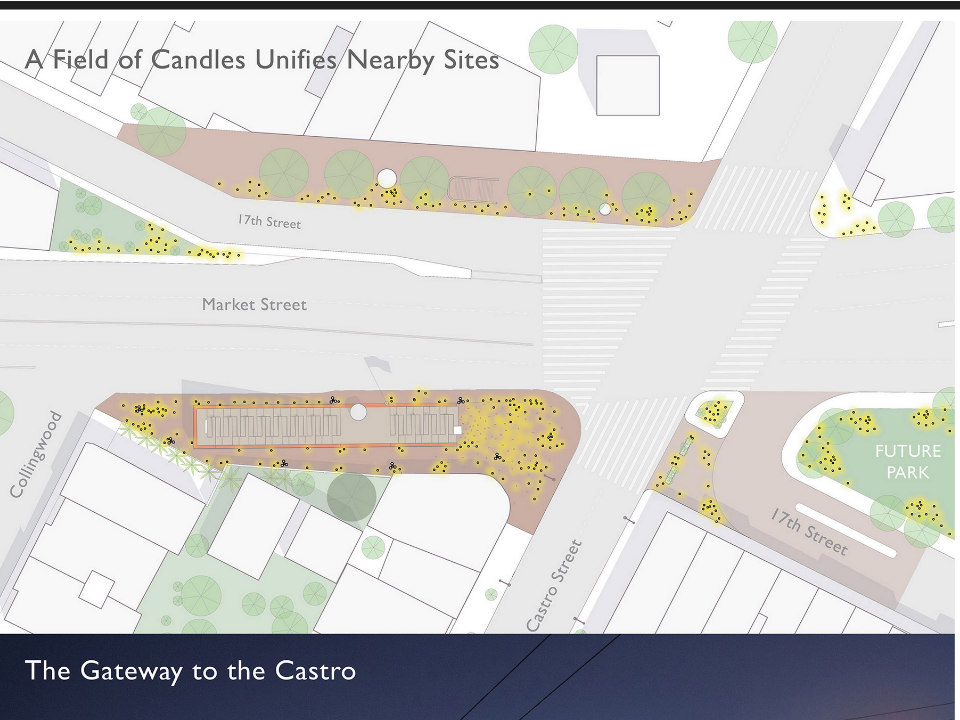 Underground, Perkins Eastman proposed to shift the Muni entrance to face westward, creating a larger plaza at street level.
At the station level, there will reportedly be a meeting room to provide space for community activities (complete with a bathroom), as well as a video installation.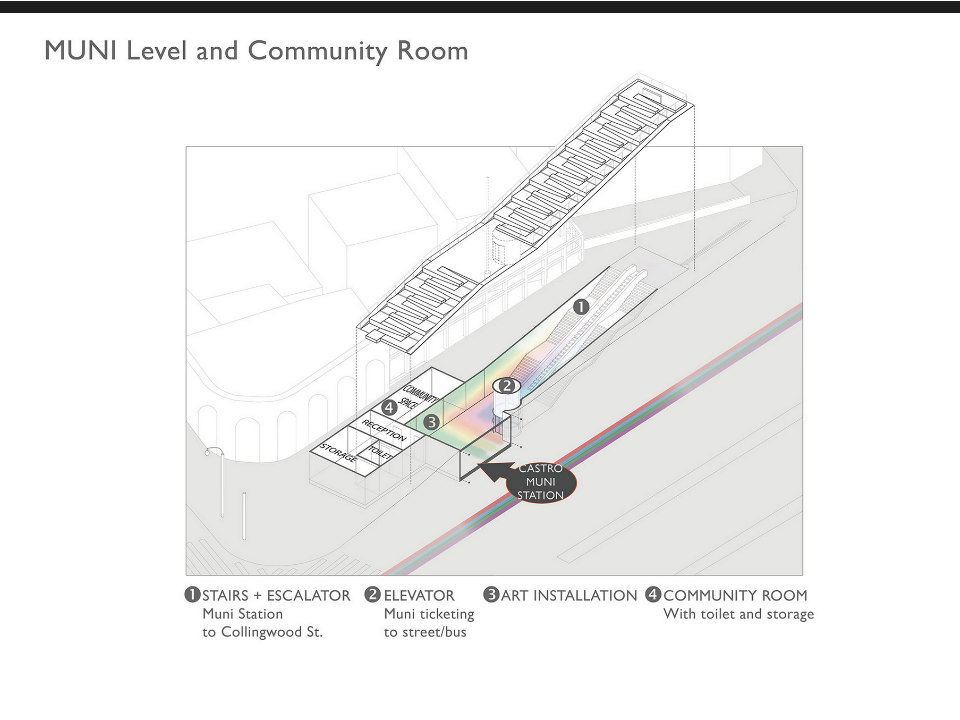 Although Castro Station was built in 1980, the plaza wasn't named for  Harvey Milk until 1985. For years, the plaza and surrounding intersection have been a nexus for political rallies and marches, as well as community celebrations. 
As we previously reported, 33 entries were submitted to neighborhood organization Friends of Harvey Milk Plaza as part of the international design competition. Proposals were submitted from as far away as Canada, Sweden and Alabama; and in September, three finalists were selected by a panel of city officials and architects. 

With input from the design jury and staff from various city agencies, Friends of Harvey Milk chose Perkins Eastman as the winner. The announcement will be made at a press event at 1pm today.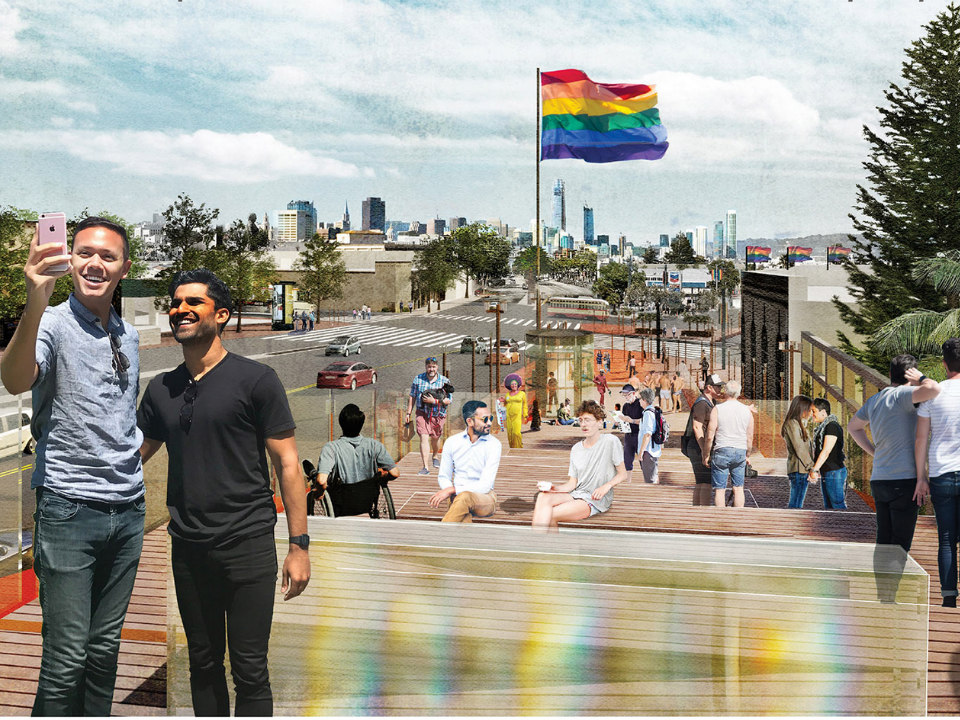 Nearly 9,650 people left more than 20,000 responses using the online platform Neighborland during two weeks in September, making it the most heavily trafficked survey in the platform's history.

"Once the competition got underway and we heard from the community, our own ideas and vision for the plaza expanded," said Andrea Aiello, president of Friends of Harvey Milk Plaza and executive director of the Castro Community Benefits District, in a press release.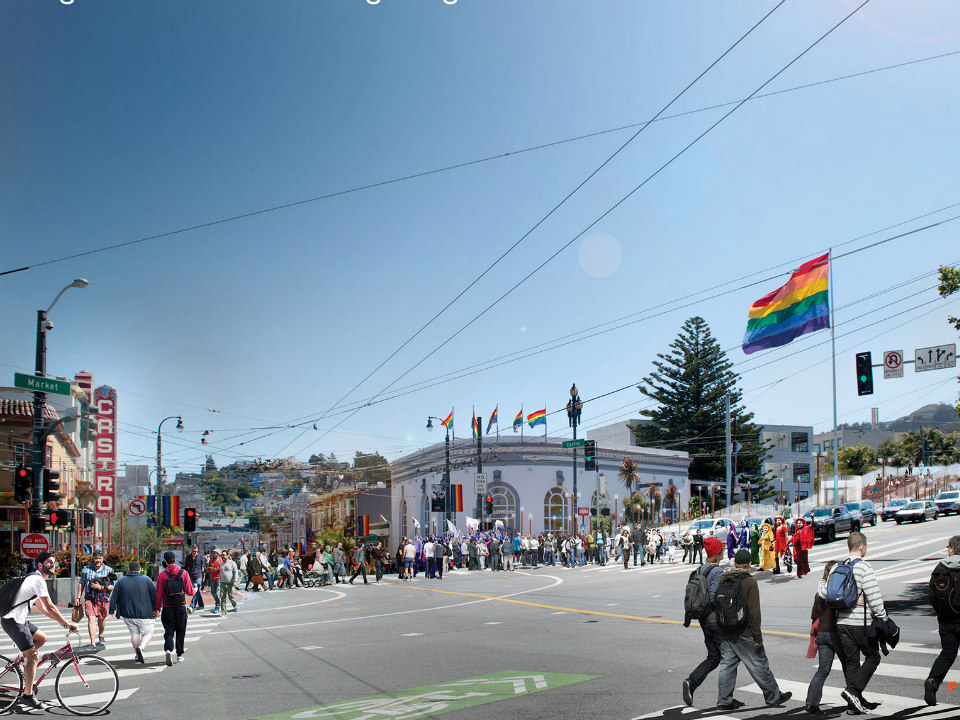 "While each of the three finalists delivered wonderful concepts for the future plaza, what set the submission from Perkins Eastman apart was their bold, immersive idea; passion for Harvey's message; and willingness to iterate the design based on feedback during the competition process," said Aiello.
According to the Neighborland pages, Perkins Eastman outperformed the other proposals submitted by Kuth Ranieri Architects and Groundworks Office.
Nearly 60 percent of respondents said they strongly agreed with the statement that the Perkins Eastman design "is a public space that I would visit and use myself, beyond simply using it as a transit station," compared to less than 30 percent of respondents for the other two firms.
Additionally, more than 45 percent of participants said they strongly agreed that the winning "design solves most of the problems that are present in the current plaza," which is more than 20 percent higher than the other two firms.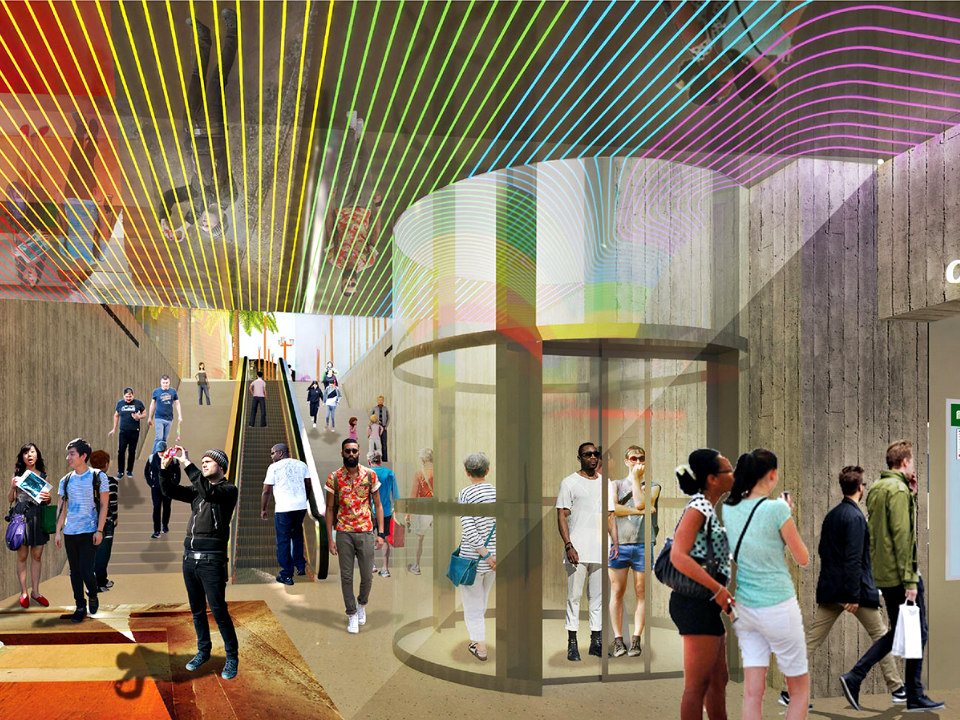 As we reported earlier this year, the city is required to make the plaza surrounding Castro Station compliant with the Americans with Disabilities Act (ADA); however, those plans were pushed back a year so project plans could take the plaza's historical significance into consideration.
The larger project, known as the Harvey Milk Plaza Accessibility Improvements Project, is scheduled to begin construction in 2020.
Should there be any delays to the larger SFMTA project, the plaza's redesign would also be delayed.
The design competition and subsequent plaza development were supported by a $500,000 donation from an anonymous community member, and Friends of Harvey Milk Plaza is raising funds an additional $10 million for the plaza's redesign, construction and maintenance.
"Now that we have our team, fundraising will begin in earnest," Aiello told via email.
Now that a winner has been selected, Friends of Harvey Milk and Perkins Eastman will meet to determine a plan and a timeline, said Aiello.
The team will be looking for opportunities to coordinate with SFMTA, since doing the plaza's redesign and the plaza's accessibility overhaul in parallel is expected to save both time and money.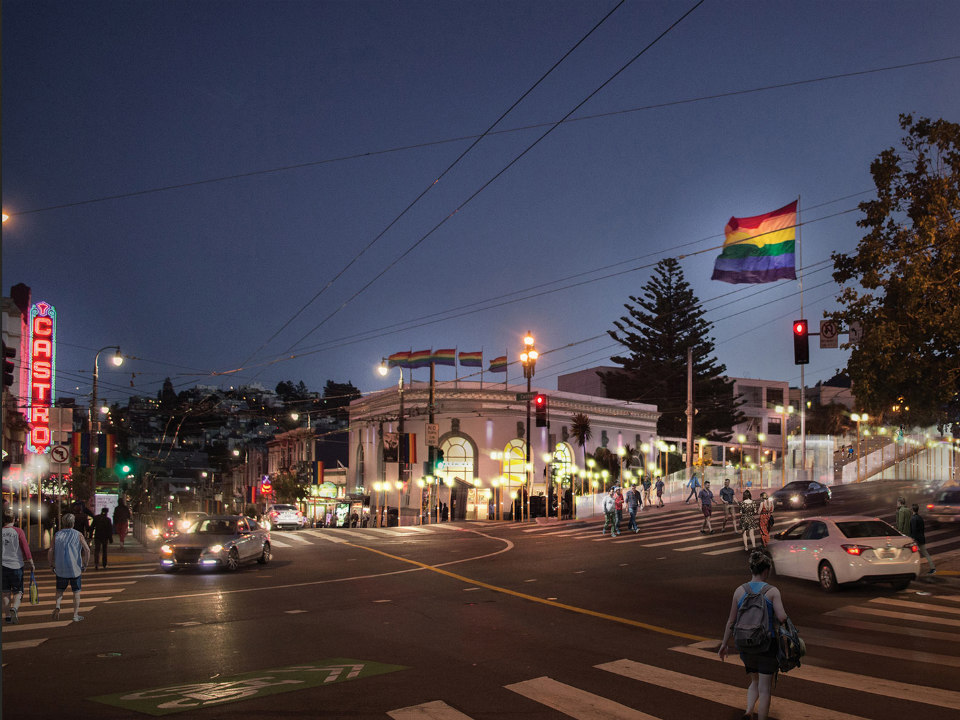 Even though the Perkins Eastman design was selected, the proposed features aren't final.

According to Friends of Harvey Milk Plaza, substantial changes are expected to stem from yet-to-be-determined technical and engineering concerns, as well as public feedback. The San Francisco Arts Commission will make the final decision on the plaza's redesign.
Future public meetings will be hosted by Friends of Harvey Milk to discuss the plaza's design; however, nothing has been planned yet. 
In the meantime (and for the next few years), the intersection will continue to be lit up by the six abstract LED dandelions towering 13 feet over Jane Warner Plaza, and will soon feature a temporary installation called "Harvey's Halo" that will beam up 15 colored lights from the top of the SoulCycle building.
The ephemeral rainbow halo will be visible for seven nights over two weekends, beginning on November 8th. The installation was designed to commemorate the 40th anniversary of Milk's election to the Board of Supervisors as California's first openly gay elected official.

The winning design team, led by Perkins Eastman, is made up of engineer firm Arup, graphic design firm Propp + Guerin, visual design firm Lightswitch SF, Inc. and artist Cybele Lyle.