Today, the Friends of Harvey Milk Plaza (FHMP) announced that the state of California has awarded their organization a $1 million grant for a planned redesign of Harvey Milk Plaza, located above the entrance to the Castro Muni station. 
The grant was initiated by State Senator Scott Wiener's office, and will be managed by the San Francisco Parks Alliance, who will now serve as the new fiscal agent for FHMP. The state legislation authorizing the grant also includes $100,000 for another LGBTQ+ monument: SoMa's forthcoming Eagle Plaza.
"Harvey Milk Plaza, in its current form, isn't up to the task," said Wiener in a statement. "It's not usable as a public space, and does very little to educate the public about our history."
"We have a huge opportunity to make Harvey Milk Plaza a place of which we can all be proud," he said.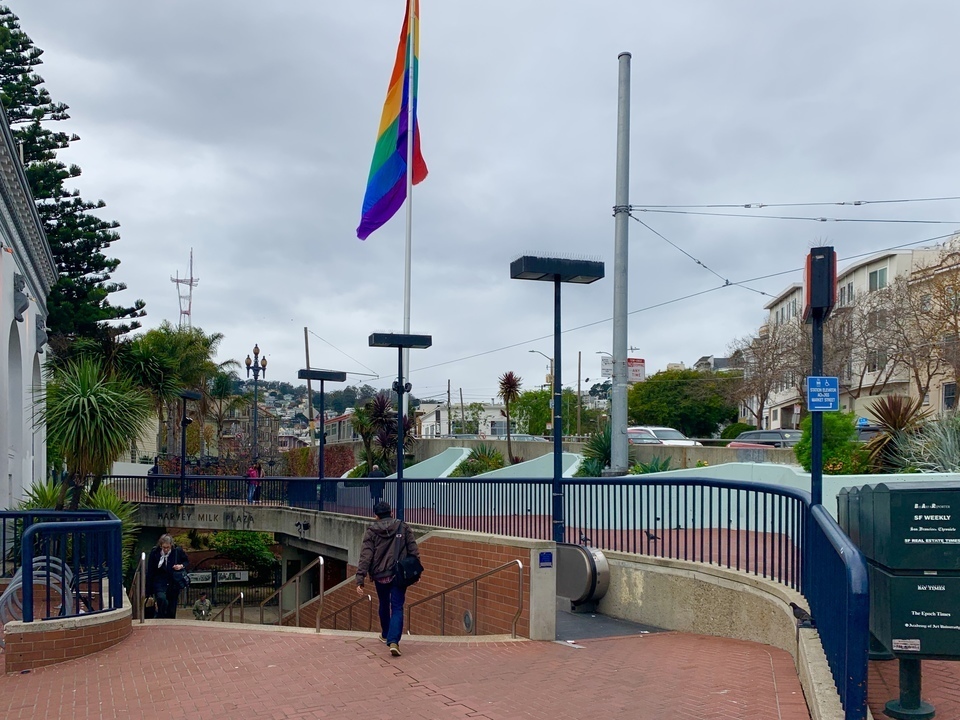 The $1 million grant will primarily be directed towards completing and finalizing the design for the plaza. FHMP had previously received a $500,000 donation towards the design process from Lawrence Cushman (owner of the adjacent building that houses SoulCycle), but that money has since been spent.
FHMP first kicked off the plaza redesign process in 2017, selecting local firm Perkins Eastman's design after an international competition. Semifinal plaza designs were released in May 2018, and final renderings were revealed in October 2018.
The final set of renderings called for an elevated terrace, which was removed after significant community pushback. Opponents argued it would attract unwanted behavior and crime.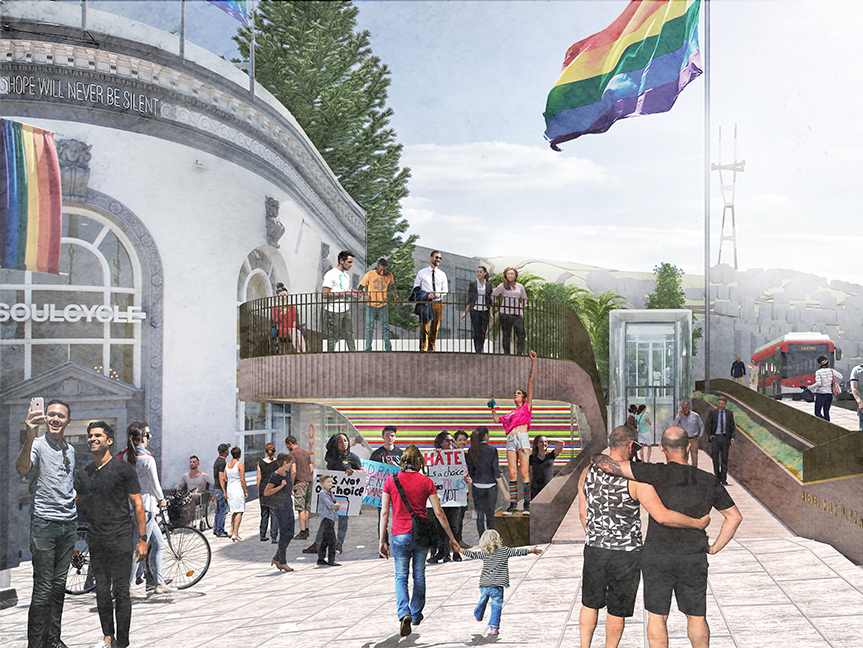 In new renderings, Perkins Eastman replaced the terrace with a freeform structure with a metal canopy.
The project received Phase I approval from the SF Arts Commission in December 2018. But the proposal didn't make further headway in the city's approval process during 2019.
In December, FHMP's Brian Springfield told Hoodline the freeform structure would be removed from the design as well.
"Even though this element was intended to be a conceptual placeholder, many misunderstood it to be an actual design proposal for an art installation at the plaza," said Springfield.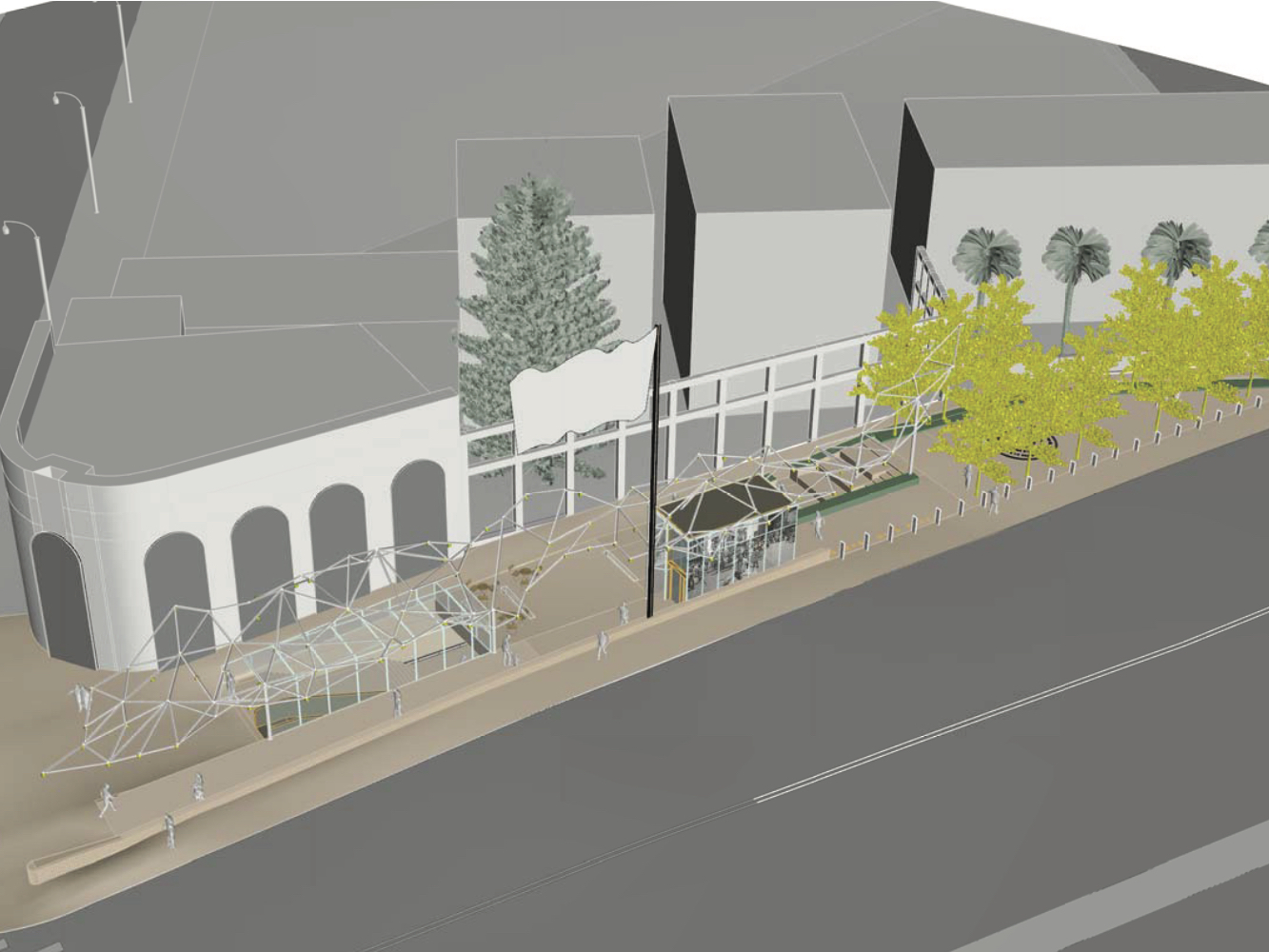 The revamp of Harvey Milk Plaza was supposed to occur in twain with SFMTA's addition of a new glass elevator, as part of the Castro Station Accessibility Project. The elevator is required to bring the station into compliance with the Americans with Disabilities Act.
According to FHMP president Andrea Aiello, the group realized about a year and half ago that doing the two projects together would be unachievable. In December, the SFMTA announced that the $14.5 million, 18-month elevator project is set to kick off without the plaza in late 2020.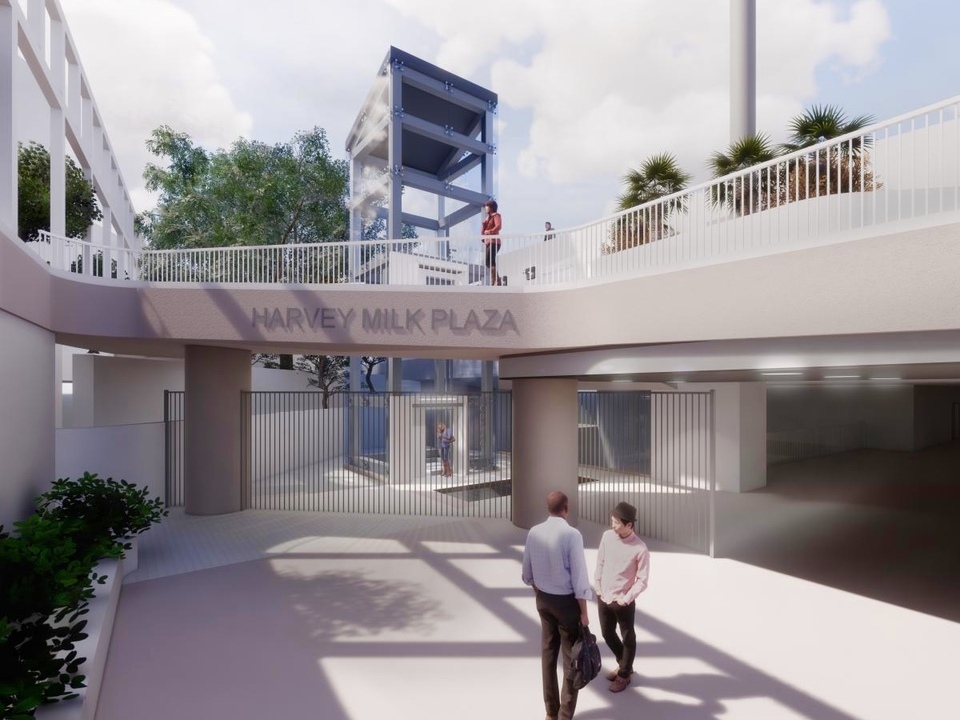 Aiello says that FHMP has been working on a pro-bono basis with ROMA Design Group, designers of Washington D.C.'s Martin Luther King Jr. National Memorial, to develop a design that could potentially take the project from Phase I approval to Phase II.
An initial rendering of ROMA's design is pictured below, but Aiello cautioned that it's not meant to be interpreted as the final design.
"This model shows the project is evolving," said Aiello, who noted that a new design team will be selected once again through a competitive process. "The community should not get stuck on a certain aspect of any one set of images at this point."
Aiello expects new designs to be released this summer, once a new design team is selected. 
"The project will be brought back to the community several times before a final set of renderings and inspirational elements are developed," she said.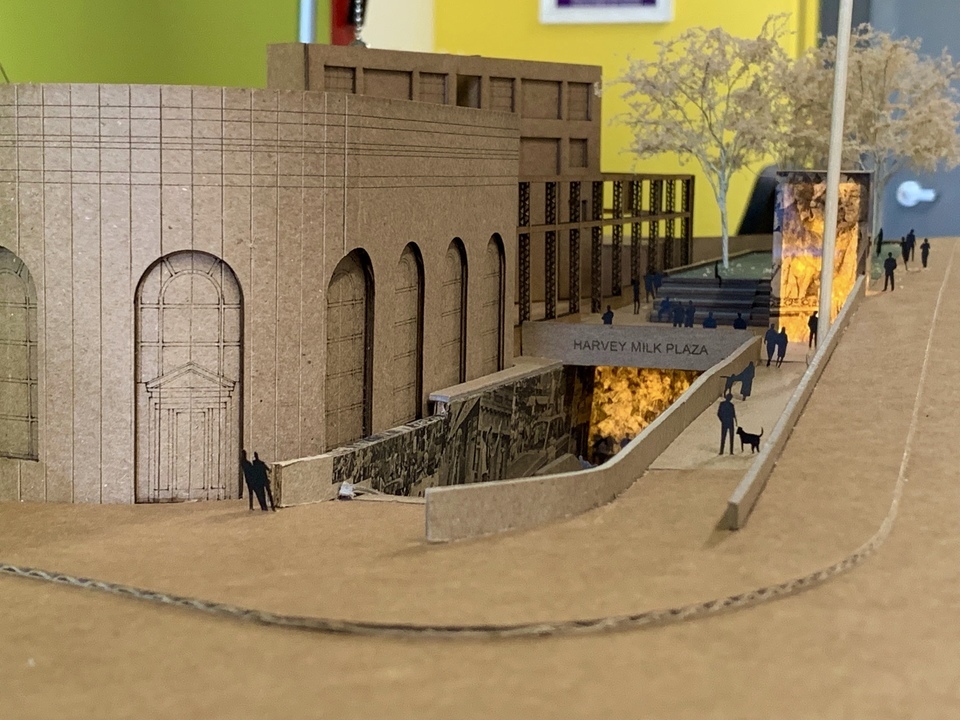 The redesign of the plaza has not been without its detractors. Howard Grant, designer of the current Harvey Milk Plaza, has been a vocal opponent of the revamp.
"I am opposed to spending $10 million or more to demolish & replace a site dedicated to Harvey Milk that embodies a significant period of our LGBTQ+ history," said Grant, noting that the revamp would expose thousands of Muni riders to "an unnecessary, prolonged demolition and heavy construction."
Grant also had harsh words regarding the new funding.
"How did Sen. Wiener justify giving State Park and Rec funds to a group that plans to pave over all the landscaping between Castro and Collingwood?" he asked. "Or to a group that has proved incapable of producing a plan that the community can endorse, despite spending over two years and $500,000?"
Another critic of the plaza project, John Goldsmith, has created an online petition arguing that it should be preserved and updated.
The GLBT Historical Society, released a statement in June calling for the preservation of the current plaza, and requesting more research be done on its historical importance.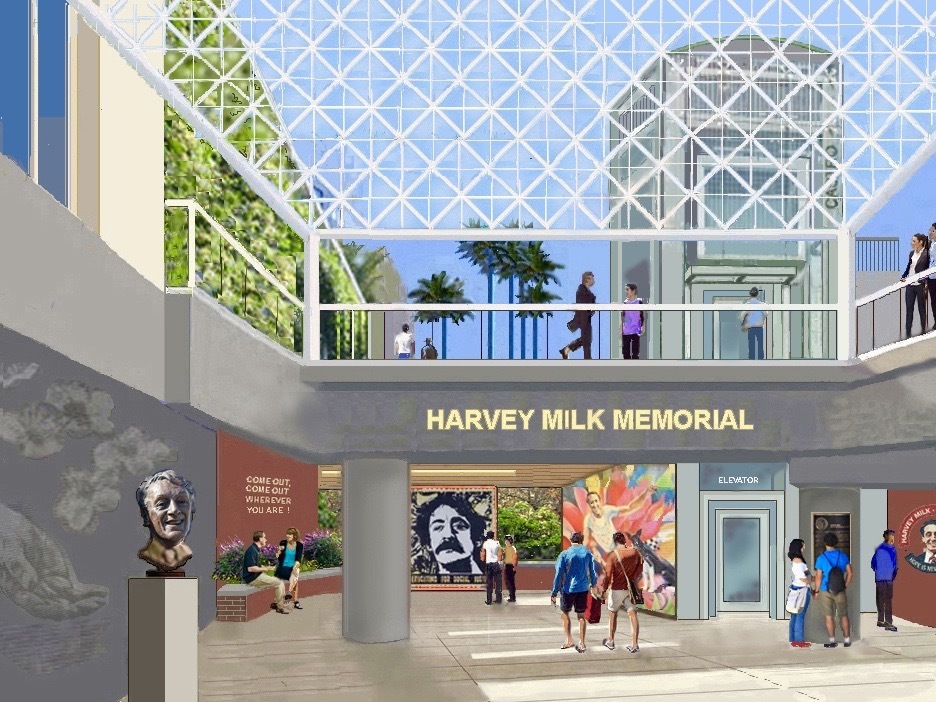 The San Francisco Chronicle's architecture critic, John King, also chimed in with criticism of the plaza in 2018.
"The location is awkward, at best, in terms of a plaza intended to be a tourist destination and local gathering space, especially in a neighborhood with so many other draws," King wrote. "It might be easier to freshen up the current plaza and create an ongoing fund for its maintenance."
But FHMP's Springfield argues that the current plaza is also "exacerbating behavioral issues being experienced by neighbors," and that improving the design could discourage unwanted street behavior.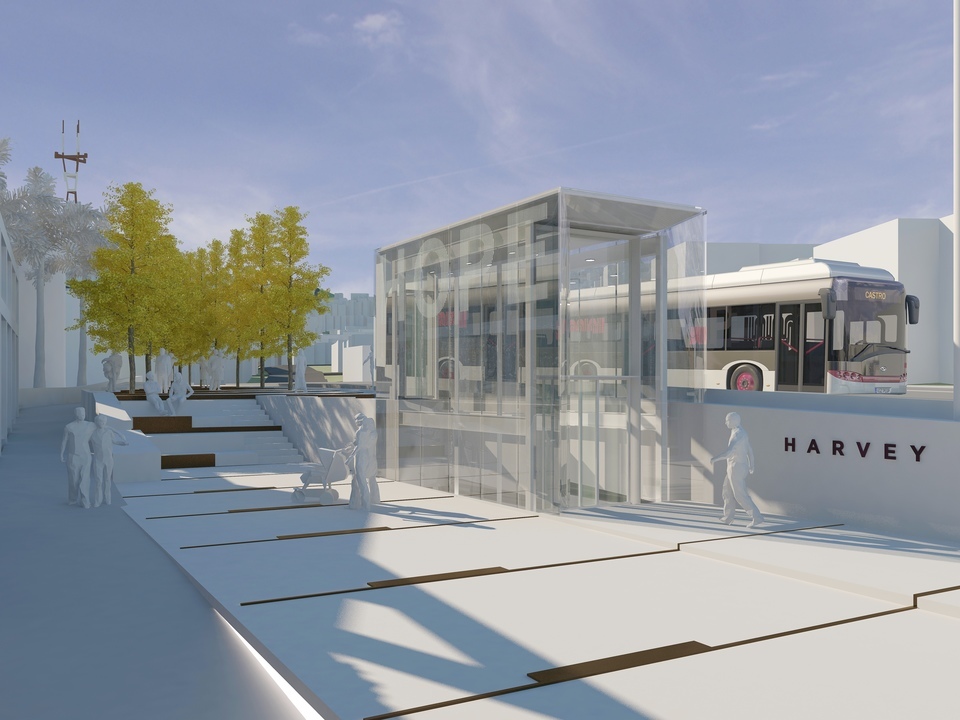 When the Milk Plaza renovation project kicked off, the FHMP estimated it would have an overall budget of $10-20 million. But without final designs in place, Aiello said she's no longer able to comment on a potential budget.
Later this year, the FHMP's management board, honorary board members and volunteers will officially launch a national fundraising campaign to augment the state grant, and raised the additional capital needed.