Tomorrow, a coalition of Castro neighborhood organizations will celebrate Harvey Milk Day on what would have been the former Supervisor's 91st birthday.
Harvey Milk Day Community Recovery Celebration will take place in the Castro from 11 a.m to 6 p.m. at various locations.
In 1977, Harvey Milk was the first openly gay person elected to office in San Francisco and in the state of California when he won a seat on the San Francisco Board of Supervisors. A year later in November 1978, Milk and Mayor George Moscone were assassinated by disgruntled ex-supervisor Dan White.
Milk's birthday comes one day after the anniversary of the White Night Riots, which took place on May 21, 1979, after White was only convicted of involuntary manslaughter.
The event is sponsored by the Castro LGBTQ Cultural District (CQCD) along with Castro Merchants, LYRIC, The GLBT Historical Society, Harvey Milk LGBTQ Democratic Club, Openhouse, Strut, SF Office of Transgender Initiatives, Castro Community On Patrol, Friends of Harvey Milk Plaza, Castro/Upper Market CBD, Lookout, and District 8 Supervisor Rafael Mandelman. [Full disclosure: Steven Bracco, Hoodline's Castro reporter, is a board member of the CQCD.]
Event organizers will be setting up a stage at Jane Warner Plaza for speakers, DJs, and performers.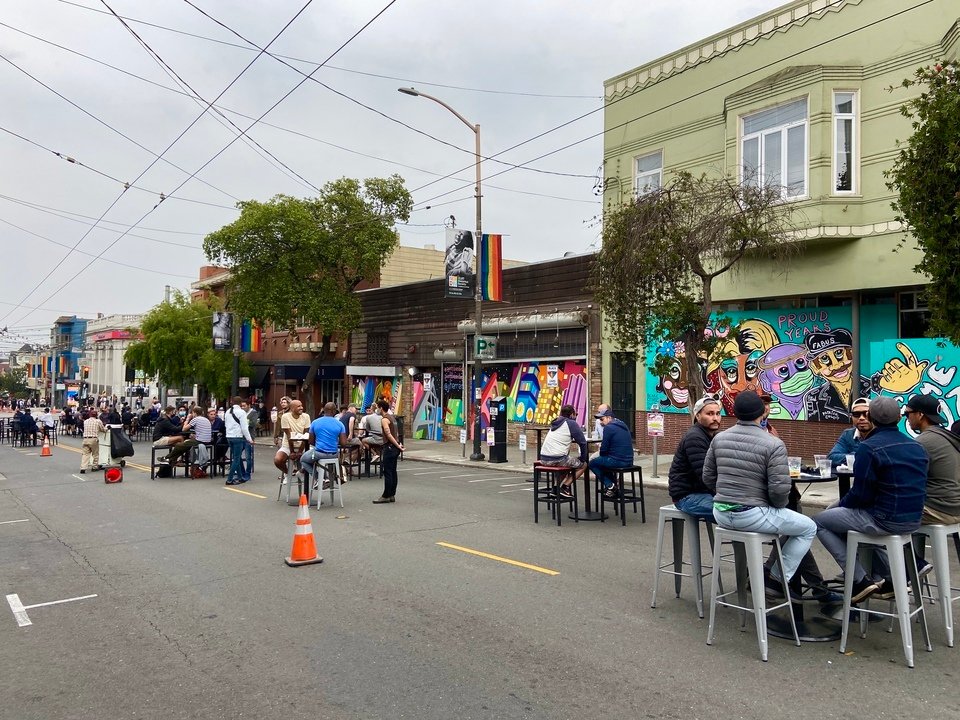 Information booths will be set up along 18th St. | Photo: Steven Bracco/Hoodline
200 doses of the single-shot Johnson & Johnson vaccine will be available along Noe Street between Market and Beaver. Typically closed on Sundays for the Noe St. Shared Spaces street closure, event organizers were able to close the street for the extra day with the help of Lookout owner Chris Hastings, Noe Art Mart manager Christopher Vasquez and the Castro Merchants.
Local non-profits and neighborhood groups will be setting up informational booths along 18th St. between Collingwood and Hartford streets, which has been closed on weekends as part of the Shared Spaces program.
"We want to break the chill in the air after a long winter of the pandemic," said CQCD board member Stephen Torres. "We want to make people feel more comfortable."
Attendees are being asked to follow the latest COVID-19 health and safety guidelines. Anyone interested in volunteering can sign up here.