After a year of closed or low-capacity dining rooms, restaurants were forced to reinvent themselves. Embracing digital platforms and offering take-out and delivery food, new business models will likely have a lasting foothold in the restaurant industry — and delivery businesses involving so-called ghost kitchens had already been proliferating before the pandemic began. The San Francisco Chronicle reports that food delivery is expected to become a $365 billion industry by 2030.
At "digital food halls," which are the next thing to come of the ghost kitchen movement, customers can order either online or from onsite kiosks. With multiple restaurants under the foodhall umbrella, patrons can order off numerous menus. The concept has been championed by South Bay company Local Kitchens, according to San Jose Inside, a Palo Alto-based company founded by former DoorDash employees Jon Goldsmith and Andrew Munday. Goldsmith, the CEO of Local Kitchens, told San Jose Inside that even before the pandemic, there was demand for alternatives to the traditional restaurant model.
"We bring several of the Bay Area's best local restaurants under one roof and closer to home," Local Kitchens said on their website. The company has three locations in the South Bay, including Cupertino, San Jose and Menlo Park, and an East Bay location in Lafayette. The newest to open are in San Jose and Cupertino. San Jose Inside reported that Local Kitchens has so far partnered with nine restaurants: Curry Up Now (Indian street food), Glaze (teriyaki grill), Humphry Slocombe (ice cream), The Little Chihuahua (sustainable Mexican), MIXT (gourmet salads), Proposition Chicken (chicken sandwiches, salads, and entrees), Saucy Asian (Korean, Latin and California mash-ups), Señor Sisig (Filipino street food), Wise Sons (deli-style dishes) and Sajj (Mediterranean food).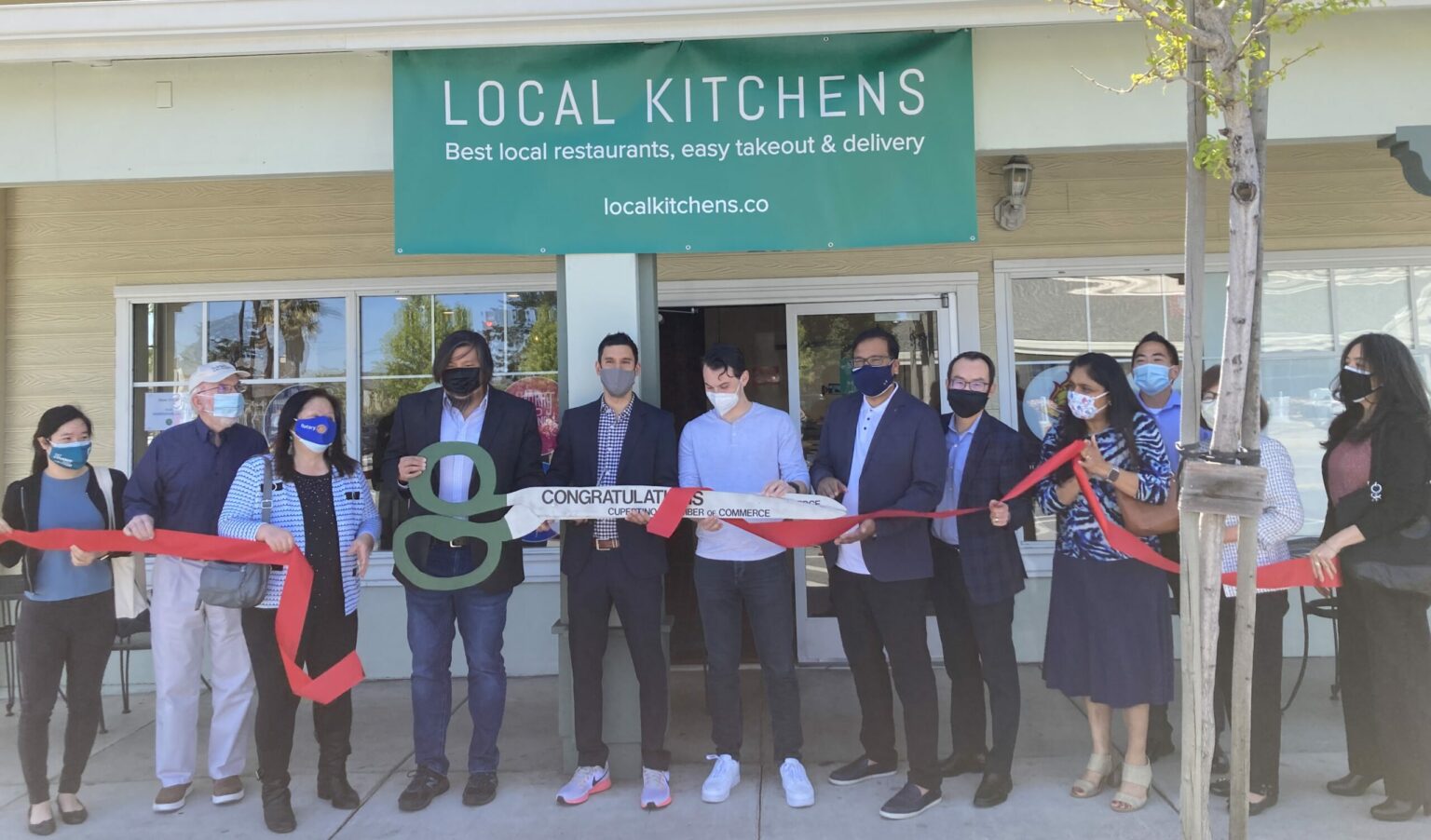 Local Kitchens newest "digital food hall" in Cupertino recently celebrated its grand opening. Source: Local Kitchens
A ghost kitchen is a commissary kitchen without a dining room designed specifically for delivery food. "Today, [ghost kitchens] are home to some of the Bay Area's most popular independent restaurants, including Brenda's French Soul Food, Señor Sisig and Vegan Mob," the Chronicle reported. Uber co-founder and former CEO Travis Kalanick is now at the helm of Cloud Kitchens, which — along with other ghost-kitchen ventures — specializes in real estate and logistics. These companies buy warehouses and convert them into small commercial kitchens where restaurateurs can work, the Chronicle said.
In yet another paradigm-shattering business model, the Bay Area is also home to facilities with a single commercial kitchen where staff are cooking meals from several restuarants, the Chronicle reported. "San Francisco's Virtual Kitchen Co., a company from ex-Uber employees that's raised $35.3 million in funding, operates 10 Bay Area locations, which show up as 'Local Food Hall' on delivery apps," the Chronicle reported.
These new models address some of restaurant's traditional weaknesses, such as high rent in high-traffic, prime-real estate markets, high staff costs, and high overhead from expensive kitchen equipment. "Ghost kitchens pay rent, handle the staffing and even pick up the food or ingredients from the restaurants," the Chronicle said, adding that restaurants can potentially expand their number of diners because they aren't limited by dinning-room space.
Ghost kitchens take a "deep cut" of sales for compensation, the Chronicle reported, making restaurateurs' bottom-line profits more elusive. But as all aspects of the brick-and-mortar economy continue to migrate online, there are likely to be more digital food halls and ghosts kitchens in our foody future.