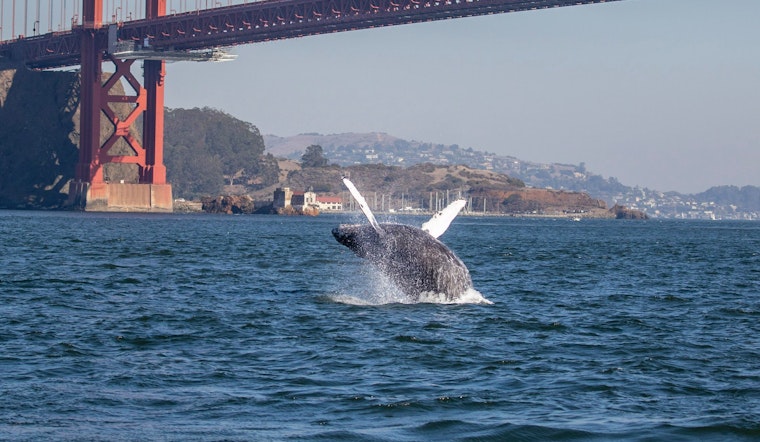 Published on June 25, 2021
This summer, Hoodline's Bay Area Day Trips series is taking you on local outings near and far. And this week, we're exploring the heart of it all — the Bay itself. Cruise around the Bay or out the Golden Gate in search of views, majestic whales, or other wildlife, or disembark on one of the Bay's beautiful and historic islands. Hop on board a fishing boat for some old-fashioned sportfishing (and to catch a bit of dinner) or take to the air for a stunning tour on board a seaplane. However you choose to enjoy it, San Francisco Bay is a big part of what makes the Bay Area a global destination. So why not take some time to explore it for yourself?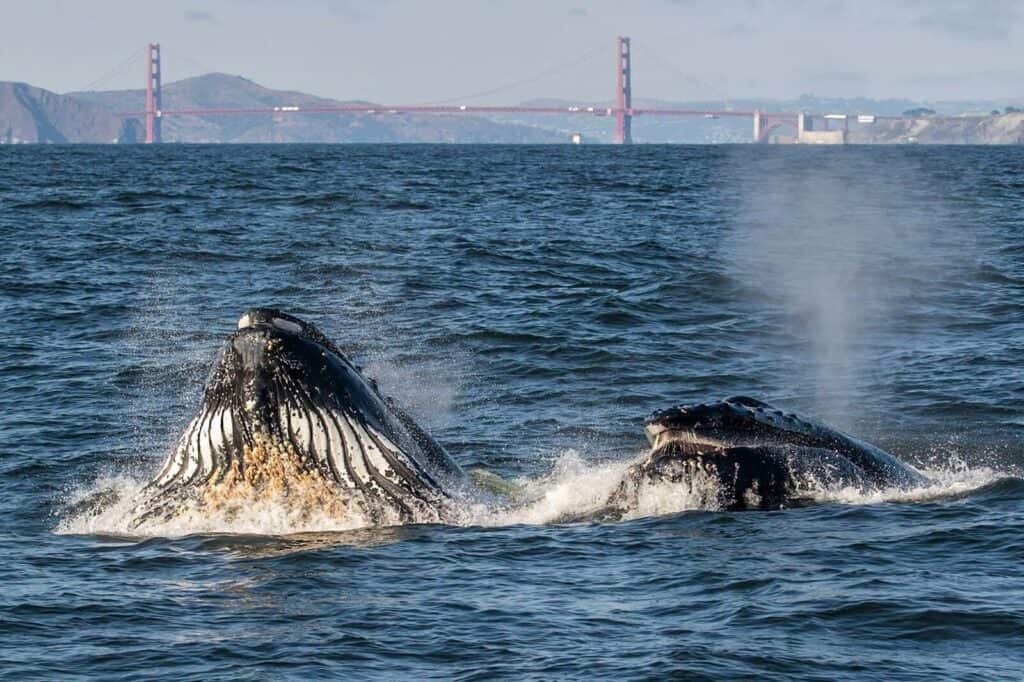 Humpbacks near the Golden Gate Bridge | Photo: Oceanic Society
Cruise the Bay, go whale watching, or explore the Farallon Islands by boat
Summertime is the season to see gray whales and even blue whales, the biggest animal that's ever lived (bigger than dinosaurs!). You can even spot orcas (the animals formerly known as killer whales). Cruise out the Golden Gate to see these marine giants, plus spot all kinds of other wildlife, from harbor seals and dolphins to all kinds of sea birds. The views of the coast, Golden Gate Bridge, and San Francisco aren't bad, either!
San Francisco Whale Tours offers a 2.5-hour Golden Gate Whale Watch trip that starts at Pier 39, from $120. (They also have a Fourth of July fireworks cruise!) Or check out the nonprofit Oceanic Society's 7.5-hour Farallon Islands Wildlife Expedition for a truly epic day viewing this rocky preserve just off our coast, starting at $450. They also run a 3-hour Golden Gate Sailing Cruise from Sausalito that starts at $180. The Blue & Gold fleet offers a number of tempting bay cruises, too.
To save money: If these prices seem a little steep and you don't mind driving, whale watching trips out of Monterey are a lot more affordable. Check out Hoodline's guide to Monterey County day trips for other things to do while you're down south. Or for the poor man's bay cruise, take a ferry! The ferries to and from Vallejo offer a good long trip.
Be sure to take warm clothes, layers, sun protection, and plenty of food – plus of course your camera and binoculars. The water gets rough outside the Golden Gate (and can even get rough on the bay), so make sure you eat well before you go, stay hydrated, and consider seasickness medication if you're prone to motion sickness.
More information: sanfranciscowhaletours.com, www.oceanicsociety.org, www.blueandgoldfleet.com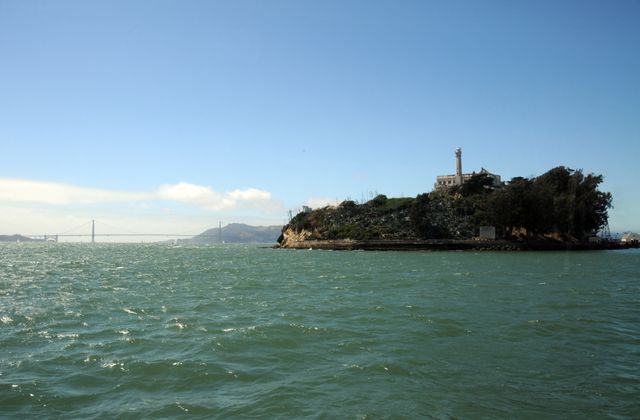 Alcatraz island with the Golden Gate in the background | Photo: Alcatraz City Cruises
Explore local history at Alcatraz
It sometimes seems like one hallmark of a Bay Area native is never having been to Alcatraz. With tourism down and crowds limited due to the pandemic, this summer could be the time to change that! This former prison offers so much to see and experience, from its fascinating history to the nature and views from its rocky shores.
Ferry trips to Alcatraz run from San Francisco's Pier 33. Your ticket covers the 15-minute ferry trip, access to Alcatraz Island, including the historic Alcatraz Cellhouse, and a self-guided audio tour. Due to current social distancing requirements, there can be quite a wait for the cellhouse tour, so guests are recommended to allow three hours for their trip (including the boat ride).
All trips to the island itself are run by Alcatraz City Tours. Plan ahead, as tickets can sell out! And of course check current regulations and recommendations. Cost: $41/$38.65 (62+ years)/$25 (5-11 years). There's also a family Pack (2 Adults + 2 Kids ages 5-11) for $119.60. However, the Blue & Gold Fleet also offers a 90-minute Escape from the Rock cruise that circles the island and gives its history, without letting guests disembark.
More information: www.nps.gov/alca/index.htm
Picnic, bike, hike, or relax on Angel Island
A ferry trip to enjoy Angel Island is always a great way to spend a summer day. You can get as active as you like, biking or hiking around this scenic island (bike rentals available), or you can take it easy and picnic or relax on the beach not far from the ferry landing. Check out the historic Immigration Station or enjoy the wildlife and views all around the Bay.
Currently, everything on the island is open except Immigration Station guided tours (you can explore on your own) and some restrooms (but don't worry, others are open!). Do note, though, that the museum at the U.S. Immigration Station is closed on Mondays and Tuesdays. And be sure to check the latest restrictions and guidelines before you go. Bring a lunch or get a pickup order from the Angel Island Café.
You can get a ferry to Angel Island from San Francisco or Tiburon. Plan ahead, as ferry schedules can be limited!
More information: www.parks.ca.gov/?page_id=468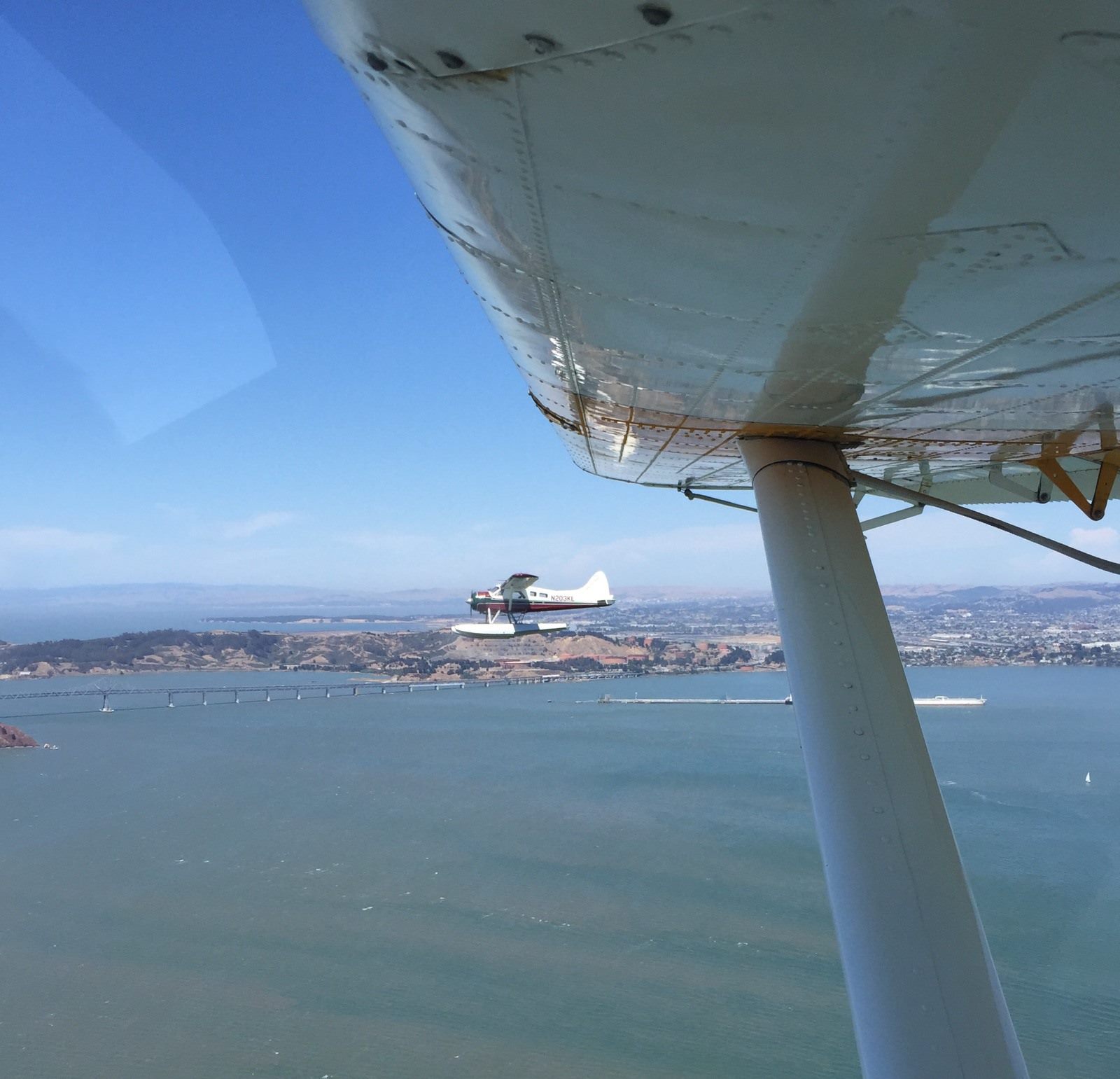 Seaplane flies over the bay Photo: Seaplane Adventures / Facebook
Go big and see the Bay and coastline from the air with a seaplane tour
If you're ready for a real adventure, consider taking to the air with a seaplane tour over the Bay. Seaplane Adventures has been running airborne explorations over the Bay Area for more than 70 years. These scenic flights take off from Sausalito.
Tours include a 30-minute Golden Gate tour ($219/$191 for children), an hour-long coastal tour ($319/$280 for children) or a decadent 40-minute sunset champagne tour ($279/$244 for children ... we're guessing that's without the champagne). They even offer trips as long six hours if you really want to go big!
More information: www.seaplane.com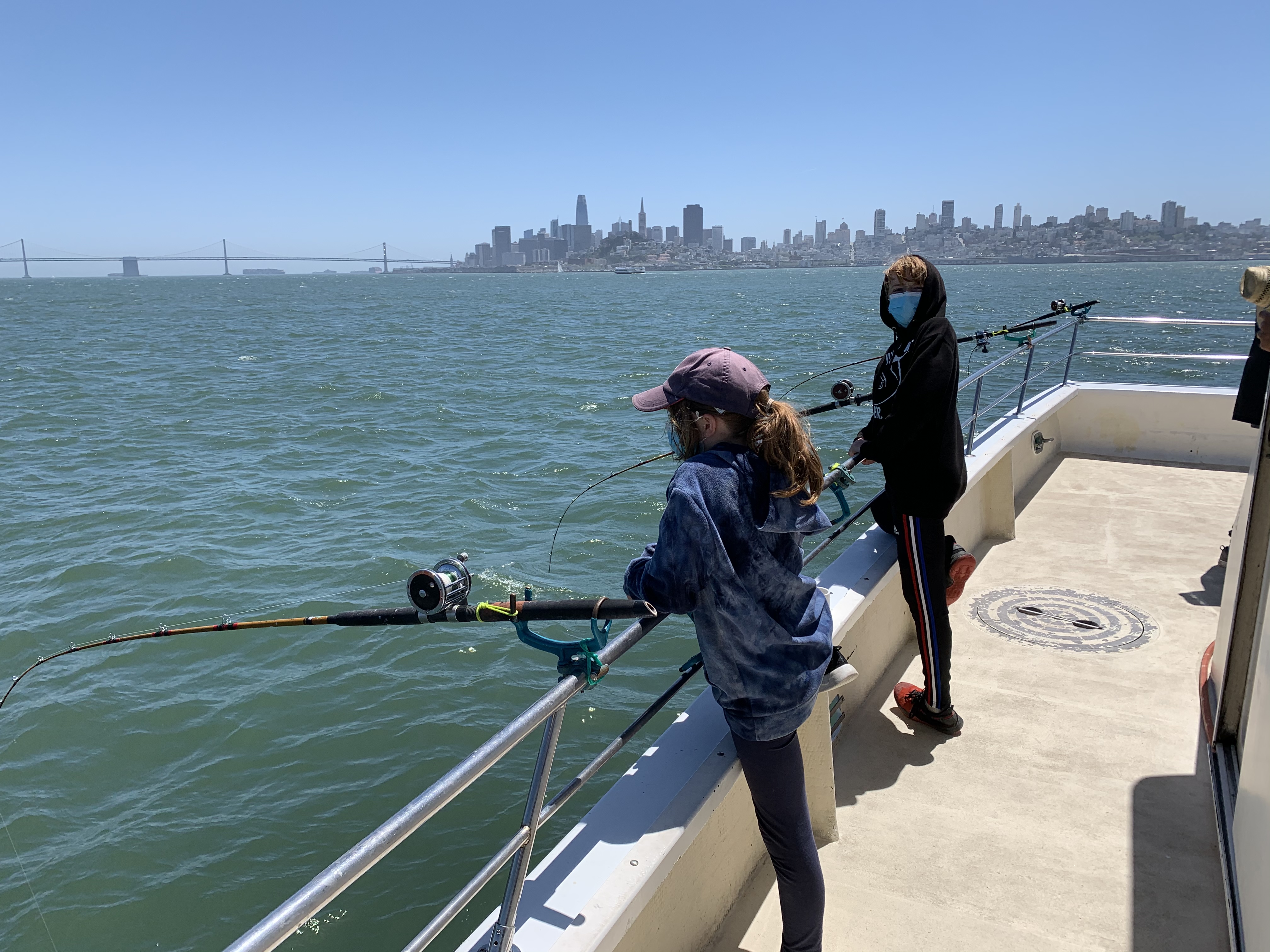 A fishing charter from Goldeneye 2000 stops in front of the SF skyline Photo: Laila Weir
Catch dinner (and then some) on a bay fishing boat trip
Whether you're a seasoned fisherperson or an enthusiastic beginner, a day trip on a fishing boat is a satisfying way to indulge your interest if you actually want to catch fish. Unlike shore or pier fishing, which can yield zero to a few fish, passengers on fishing boats tend to come home with some serious fish. Depending on the day and season, you'll catch different kinds of fish, and you may wind up sticking around the Bay or heading out the Golden Gate for some ocean fishing.
There are numerous sportfishing companies that run trips from various locations around the Bay Area. Tickets start well upwards of $100, but you'll likely bring home enough fish to offset the cost. You'll also need a fishing license; talk to the company running your trip. As with any boat trip to the open water, seasickness is a serious risk, so plan ahead by eating right and considering medication if you have a sensitive belly. Layers, sunscreen, water, and snacks are a must.
Tip: Pay a little extra to have the boat staff clean and filet your fish for you, unless you're an expert (and a glutton for punishment). Then plan for a summer of fish fries and fish tacos!
There are a LOT of sportfishing companies in the area, from bigger companies to smaller outfits, so poke around for the best fit. Some larger companies include San Francisco Fishing Charter, TigerFish Sportfishing and Fish Emeryville. One good smaller operation is Goldeneye 2000. But there are many others; a search online is the best bet to see the various options.
www.sportfishingsf.com, www.tigerfishsportfishing.com, www.fishemeryville.com, www.facebook.com/goldeneye2000sportfishing