On Friday, a suspected drunk driver ran into an outdoor dining area outside a San Jose bar, killing one person and injuring two others.
Thirty-five-year-old Diana Prieto Chacon and two other victims were hit by a full-sized work truck traveling in reverse, which slammed into the sidewalk dining area of the Agave Sports Bar and Grill in San Jose, according to the Mercury News. Prieto Chacon was taken to the hospital, but ultimately died of her injuries. The other two victims are expected to recover.
The mother of a young child, Prieto Chacon was a server at the Agave Sports Bar; it's not clear if she was working when the accident occurred. Prieto Chacon had immigrated from Columbia, where she had been a teacher, and moved to San Jose, according to NBC Bay Area. A friend of Prieto Chacon's told Telemundo 48 that she was "always the life of the party; always 'the happy one.'"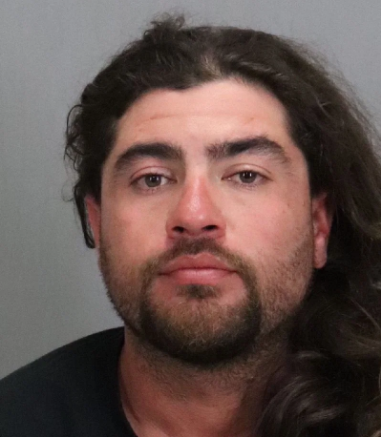 Alex Moreno, who was suspected to be driving under the influence, is being held on $275,000 bail for killing one person and injuring two others in a traffic accident on Friday night. Source: San Jose Police Department
The suspected drunk driver, 32-year-old Alex Moreno of San Jose, was charged with gross vehicular manslaughter and driving while intoxicated, according to the Mercury News. Moreno was driving a work truck from a Benicia-based construction company; neither Moreno, nor a woman traveling in the truck, were injured, the Mercury News said.
In a gut-wrenching cell phone video taken immediately after the crash, people can be heard screaming as the truck idles in the outdoor dining area. Prieto Chacon's body was reportedly pinned by the truck, and is blurred out in the video.
Friday's accident marked San Jose's 25th traffic death of the year, according to the Mercury News, and the eighth pedestrian to die in a vehicle collision. On Thursday, 19-year-old Jamie Pech died in a crash in South San Jose; police are investigating that accident as a suspected street race.
Previously, in an October incident, a Toyota 4-Runner crashed into an outdoor dining area at San Jose's Dynasty Chinese Seafood Restaurant at the Grand Century Plaza mall. That crash injured eight diners at the restaurant, one of whom died from her injuries.