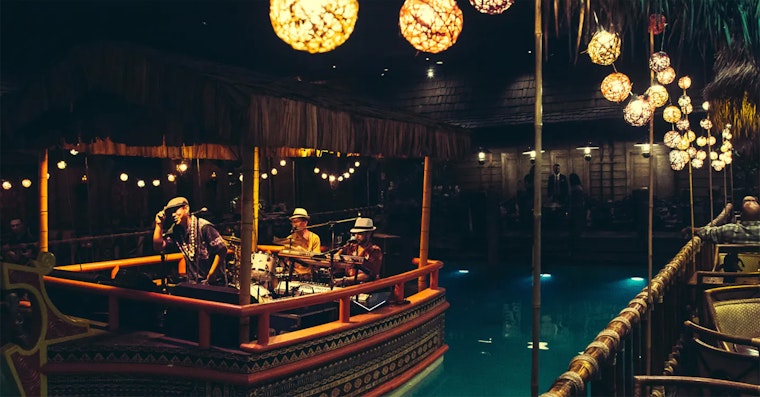 Published on June 17, 2021
SF's kitschiest Tiki bar experience, The Tonga Room at the Fairmont Hotel (950 Mason Street), will be welcoming guests and people who just want to Instagram the rainstorms starting July 9.
Its full name is, of course, The Tonga Room & Hurricane Bar, and it was designed and built back in 1945 by MGM set decorator Mel Melvin, complete with the lagoon that's still there with its floating, thatch-covered barge for a live band. The Island Groove Band still performs top-40 hits on that barge on weekends, and the dancefloor was notably built out of the remains of the S.S. Forester, "a schooner that once traveled between San Francisco and the South Sea Islands," as the hotel website tells us.
The Tonga Room has endured through the decades, even during a period when Tiki kitsch wasn't so popular as it was in the mid-century and then became again in recent years. And while the acclaimed Smuggler's Cove in Hayes Valley counts the Tonga Room among its inspirations, Smuggler's Cove and other modern-retro Tiki bars in recent years have strived to update or improve the cocktails they serve — which as of the 1960s or 70s were more likely to be ruined by canned sour mix and cheap grenadine.
The Tonga Room underwent a revamp of its food and drink menu back in 2013, which added back some fresh juices and better ingredients. But you're still better off sticking to the simplest things like a Mai Tai if you don't want a terrible hangover.
Eater caught wind of the July 9 reopening, which was announced this week on the Tonga Room website. It will reopen without reservations for drinks and dinner on Friday and Saturday only, to start. Dinner will be served from 5 to 10 p.m., and the bar stays open until 11 p.m.
And, yes, the periodic indoor rainstorms will return. I'm pretty sure they happen every half hour, but don't quote me.