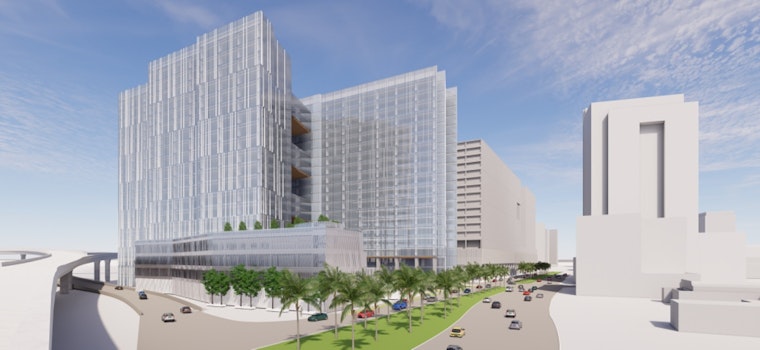 Published on July 01, 2021
The skyline of San Jose will be getting a shiny, new addition in the coming years after the San Jose City Council gave final approval to the project on June 30th. The pair of 20-story glass office towers will be built on a three-acre site at 276 Woz Way, just northeast of the Interstate 280/Highway 87 interchange.
The two buildings will have a combined space of 1.85 million square feet inside. 10,000 square feet of that space will be dedicated to retail space on the ground floor. The rest will be devoted to commercial office space and a massive eight-story parking garage that will hold 1,200 cars, according to Mercury News.
The firm that designed the structure is C2K Architecture. Spokesperson Timothy Boylan believes the dual high-rises will be hard to miss when looking at the San Jose skyline. "The majority of buildings end in a horizontal line, ours contradicts that. It chooses to have a curvilinear form on its roofline, really creating this iconic landmark," Boylan told Mercury News.
The buildings are expected to become headquarters to a large tech or medical firm because of how much square footage is available. It's also just a short walk away from Diridon transit station which should help attract a large-scale company.
An elevated public walkway and a small street will be built between the two towers that will take pedestrians and vehicles between Woz Way and South Almaden Boulevard to the Guadalupe River Trail.
The developer, KT Urban, could begin construction on the project within the next year and according to city documents obtained by Mercury News, the project is expected to take two-and-a-half years to build. 16 homes sit on the property right now and will have to be demolished or relocated. Five of them were viewed as possible landmarks of the historic district downtown.
Mayor Sam Liccardo and other city leaders believe that office space is a much better use of that land because of how close it is to freeways and the downtown core. Liccardo said in an interview with Mercury News, "It was inevitable that there was going to be some very significant urban scale development here."
Liccardo also explained why he believes the project displays optimism saying, "It's certainly encouraging to see the confidence that so many have in our downtown at a time when most major cities are still licking their wounds and trying to recover from a painful pandemic."